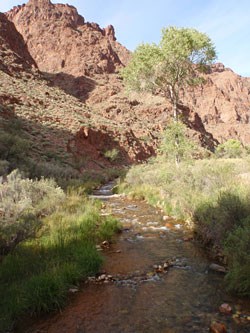 The National Park Service is conducting a multi-year project to reduce the number of non-native brown and rainbow trout in Bright Angel Creek in order to benefit native fish populations in Grand Canyon National Park. Grand Canyon's native fish are uniquely adapted to the characteristics of the Colorado River and its tributaries and have suffered serious declines due to human-caused changes to their habitat. Bright Angel Creek once supported large numbers of native fish, including the endangered humpback chub. Today, Bright Angel Creek is the main spawning site in Grand Canyon for non-native brown trout, which are voracious predators of native fish.

Biologists are using two methods for capturing and removing non-native trout in the lower reach of Bright Angel Creek during the winter months: a weir, or fish trap, and electro-fishing. The weir captures large trout that live in the Colorado River as they enter Bright Angel Creek to spawn. Electro-fishing allows fisheries biologists to monitor and assess the fish population of the creek and also remove non-native trout that live in the stream.

This project is funded by the Bureau of Reclamation and National Park Service, with staff contributions by the University of Missouri and volunteers provided by the Grand Canyon Trust.