Bison
Transcript
There is no audio track since this is b-roll video. For descriptions of the visuals, view the audio described version.
Visit our keyboard shortcuts docs for details
Duration:

1 minute, 36 seconds
Bison are only found on the North Rim of Grand Canyon National Park. They are wild animals and are unpredictable. We recommend maintaining a distance of 100 feet (30 meters) from them, and when they are within 100 feet of the road, it is recommended to view them from inside your vehicle. Please use established gravel or paved pull-outs to park vehicles completely off the roadway (all wheels right of the white line). Do not walk or park in the road. B-roll video by L/Cisneros, July 2022.
By 2025, the National Park Service will reduce the size of the overpopulated Kaibab Plateau (formerly House Rock) bison herd. Grand Canyon National Park is reducing the size to under 200 in order to protect park resources—including vegetation, water, archaeological sites and traditional cultural places. Learn more about the effects of bison overpopulation on the impacts and monitoring website.

Bison Reduction to Date
Since reduction efforts began in 2018, park staff have removed 203 bison from the North Rim with 182 transferred to eight different American Indian tribes through the InterTribal Buffalo Council. In total, more than 300 bison have been removed over the last three years. Other bison mortalities are also accounted for in this total (car-bison collisions, etc.).

Population Size
The Kaibab Plateau herd moved from House Rock Valley into Grand Canyon National Park in the 1990s.

The National Park Service (NPS), in partnership with the U.S. Geological Survey-Fort Collins Science Center, have completed its 2022 annual winter bison population abundance monitoring for the North Rim of Grand Canyon National Park. As of January 2022, the Kaibab Plateau herd on the North Rim is estimated to be 216 bison. This estimate is based on aerial surveys using a helicopter and fixed-wing aircraft over the Kaibab Plateau, including the North Rim. The estimate of 216 animals is down from the initial estimate of 600-800 animals. The current estimate is thought to be more precise than the previous calculations due to improved census techniques.

Also in partnership with the U.S. Geological Survey, park biologists have outfitted bison with tracking collars to assist in annual population counts in order to determine whether or not reduction goals are being met. In addition, these tracking collars allow scientists to study the bison herd migratory patterns and population size. Visit the bison history page to learn more about the history of the herd.

Lethal removal of bison will not occur in 2022.
Based on the success of bison reduction efforts, lethal removal operations will not be necessary in 2022 to reach the park's stated reduction goal of maintaining a bison population at or below 200 animals. Park managers will focus on live capture and transfer operations with the target of removing approximately 40-60 bison. Bison selected for removal will be transferred to the InterTribal Buffalo Council for distribution to American Indian tribes who request live bison to augment their own herds.

An operational summary report of bison management from 2018-2019 can be found in the 2018–2019 operations report.

The Environmental Assessment, Finding of No Significant Impact and other documents can be found on the NPS Planning Environment and Public Comment (PEPC) website.

If you have any specific questions related to bison management at Grand Canyon, please e-mail us.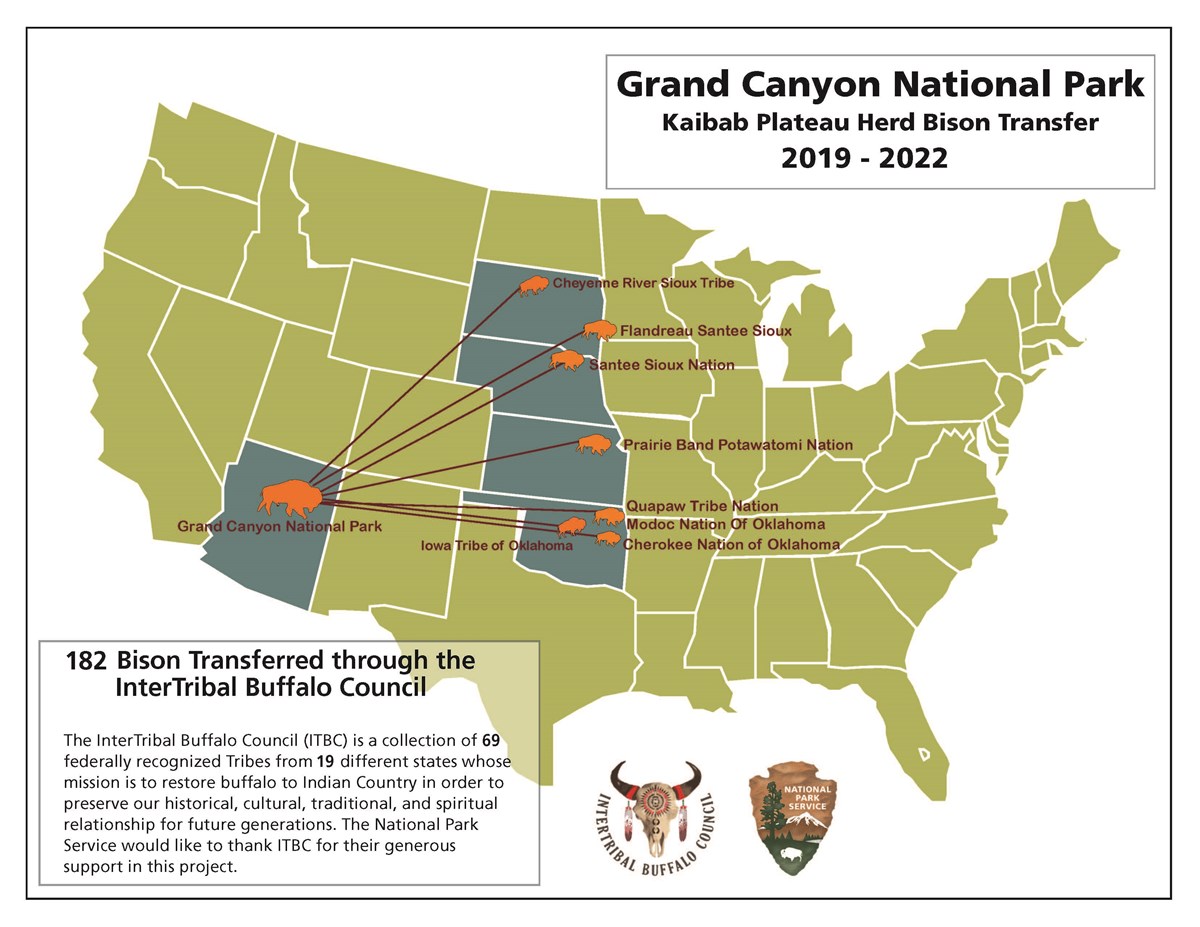 House Rock Bison On Kaibab Plateau
Grand Canyon National Park News Releases
Last updated: September 15, 2022