In the next three to five years, the National Park Service will reduce the size of the House Rock bison herd on the Kaibab Plateau through capture and relocation, and lethal culling. Grand Canyon National Park is reducing the size to under 200 in order to protect park resources from the impacts of the bison population.

No lethal culling will take place during 2020. Operational details of future herd reduction are being worked out. More information, including volunteer opportunities, will be announced at a later date through a news release.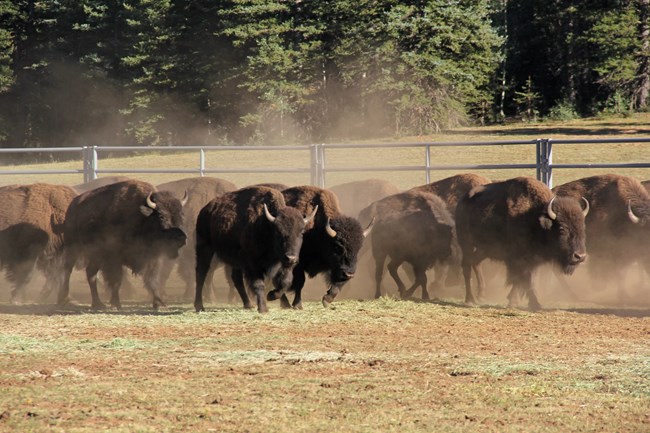 2019 Successful Bison Capture and Relocation
In September 2019, 31 bison were corralled and successfully transferred to the InterTribal Buffalo Council where they were transported to the Quapaw Tribe in Oklahoma. The transfer of the bison concluded the Grand Canyon National Park's pilot program for corralling and relocating bison from the North Rim.

Leading up to the corralling operations, a corral was regularly supplied with food and water to encourage bison to enter freely and increase their exposure to humans.

After a large group of bison entered the corral, during the operation period, staff closed the corral gates and began processing them in preparation for shipment. The processing included separating and releasing bison that were too young or too large or old to make the trip. They were guided into a squeeze chute, where the scientists took blood and genetic samples and tagged them per U.S. Department of Agriculture shipping regulations.

Several additional animals were outfitted with tracking collars and released during the corralling process. The collaring was conducted with the assistance of U.S. Geological Survey scientists for park wildlife biologists to study the bison migratory patterns and population size.

An operational summary report of bison management from 2018-2019: 2018–2019 operations report.

The Environmental Assessment, Finding of No Significant Impact and other documents can be found on the NPS Planning Environment and Public Comment (PEPC) website..

If you have any specific questions related to bison management at Grand Canyon, please e-mail us.
Related information: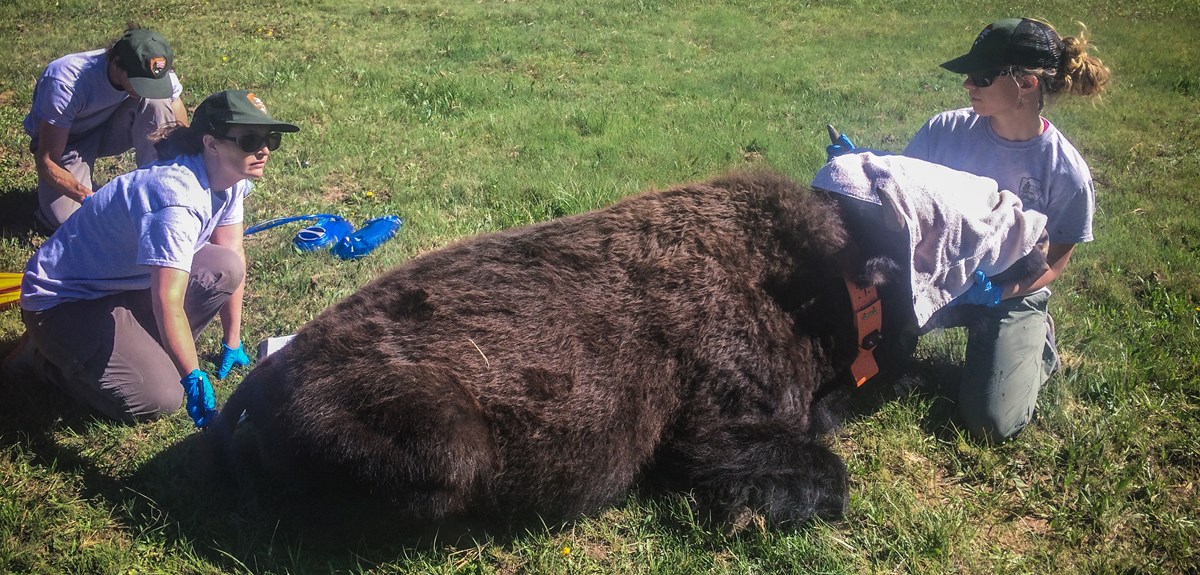 Prepared by Desiree Espericueta, Wildlife Technician, Grand Canyon National Park (February 2018).
Last updated: August 18, 2020