Jobs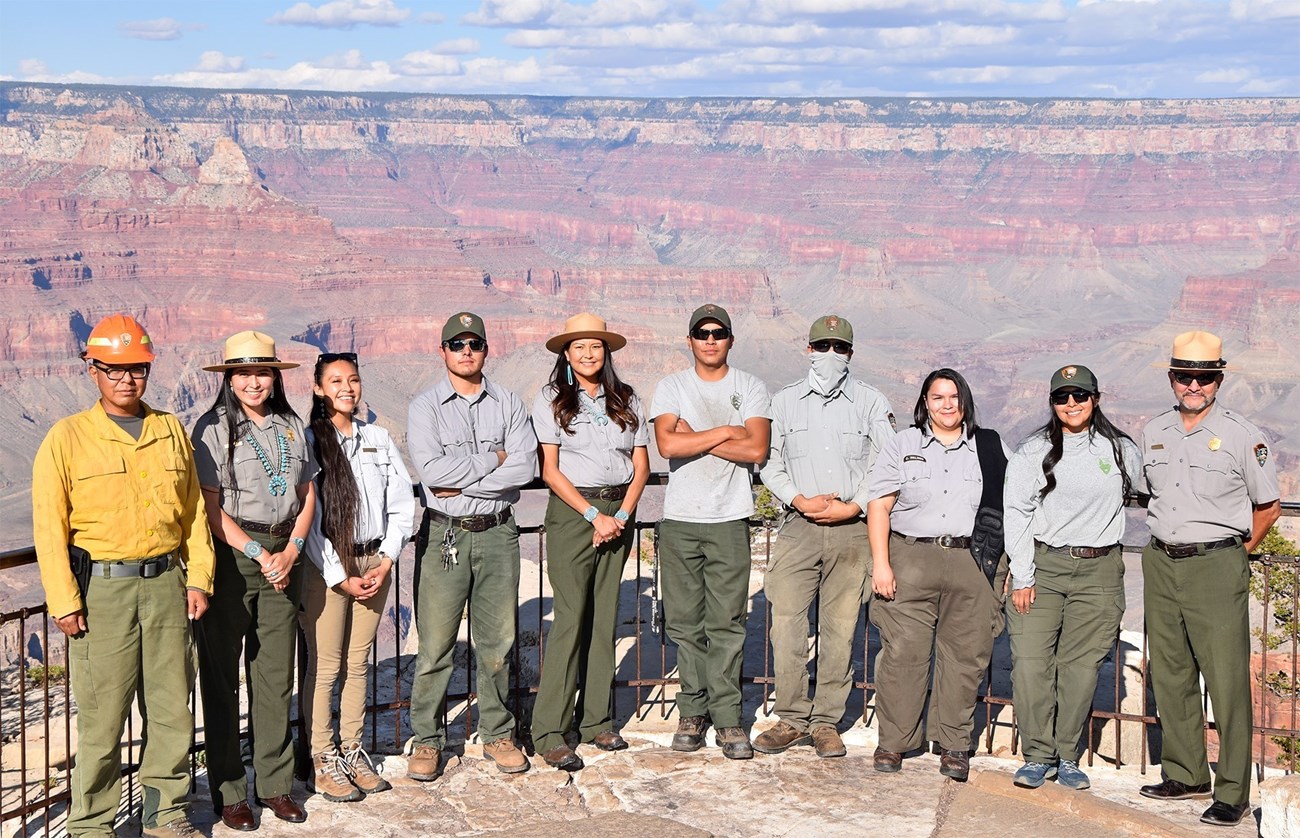 Why Grand Canyon?
Hear from our staff:
"I love my job because in my role, I am helping take care of this special place that has immense meaning to Indigenous and non-Indigenous people. I am able to educate others about why all the things on this earth are important and help people understand the deep meanings of resource management that are not taught in schools and can only be learned at places like the Grand Canyon." —Fire Archaeologist in the Science and Resource Management Division

"I serve as a caretaker and steward for the treasures we as the American people value so much. I have great pride in knowing the projects I have been involved with will benefit generations to come." —Program Manager for Projects, Environment, and Planning Division

"The expansiveness of the park and diversity of the operation." —Deputy Program Manager of Visitor and Resource Protection Division

"I can convey all of the important messages through my graphic/artistic skills. As a future leader of this wonderful agency, I feel that I will be able to carry out the intentional inclusiveness efforts to recruit diverse candidates." —Visual Information Specialist

"There's something about it that keeps calling us back. We initially were going to go to a different park each year [to volunteer], but the community keeps drawing us back. When we pull into the park, we're home." —North Rim Visitor and Resource Protection Volunteers
Federal Employment
Looking for employment at Grand Canyon or within other federal lands? Jobs are posted regularly at USAJOBS:
Pathways - USAJOBS creates opportunities for current students or recent graduates emerging into the work force.

Additional Job Opportunities
Grand Canyon Conservancy
Grand Canyon Conservancy (GCC) is the official nonprofit partner of Grand Canyon National Park, created in 1932 to cultivate knowledge, discovery, and stewardship for the benefit of the park and its visitors.

Do you have an RV and want to work at Grand Canyon this season? GCC is hiring seasonal staff to work in their retail locations throughout the South Rim of the park. This job is an entry-level position & the primary purpose is to ensure that every visitor receives world-class service in each of GCC's retail stores in the park. Visit https://www.grandcanyon.org/about-us/careers/ to learn more.
Paul Revere Transportation
Paul Revere Transportation provides the shuttle bus service on the South Rim of the park. You must have your own RV. Bus driver applicants must have a CDL. Select the "Grand Canyon" tab on their Jobs Webpage.
Concessionaires
Grand Canyon's concessionaires provide lodging, along with food and many other visitor services. Applications are accepted year-round. Positions are available with:
Volunteer
Grand Canyon National Park participates in the National Park Service's Volunteers in Parks program. Each year more than 85,000 volunteers donate more than 3,000,000 hours of service in the national parks. The program uses voluntary help in a way that is mutually beneficial to the National Park Service and the volunteer. Learn more about volunteer opportunities at Grand Canyon.

Youth Opportunities
Looking for a job or internship opportunity? The following programs are available at Grand Canyon and other federal lands:
Last updated: April 19, 2023