Centennial Themes (2019)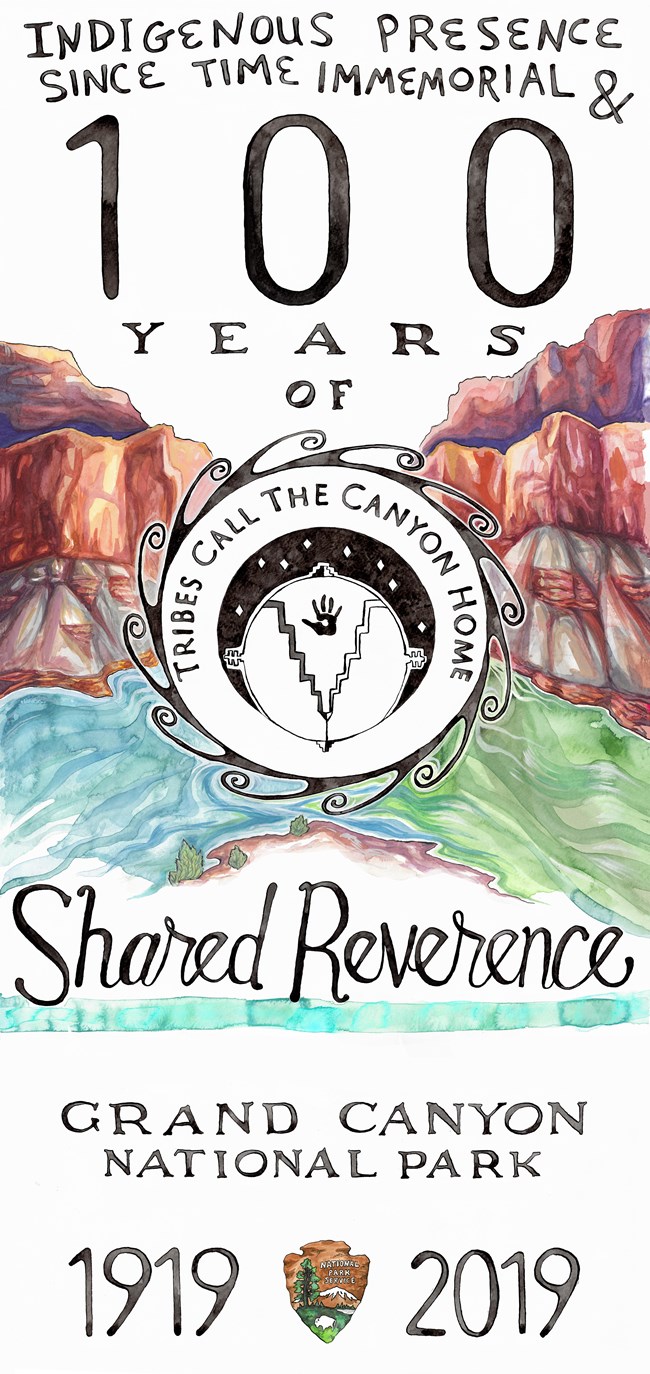 Reverence
Long before the Grand Canyon was established as a national park, people have been a significant driving force in the Colorado Plateau area.
Human cultures and the canyon have been shaping each other for over 12,000 years.
American Indians cared for, shared knowledge of and admired this special place. Grand Canyon's original stewards and their stories are still here today.
The cultures of American Indian tribes continue to be intermingled with this landscape and dedicated to its preservation. Learn more about Grand Canyon National Park's
11 traditionally associated tribes
.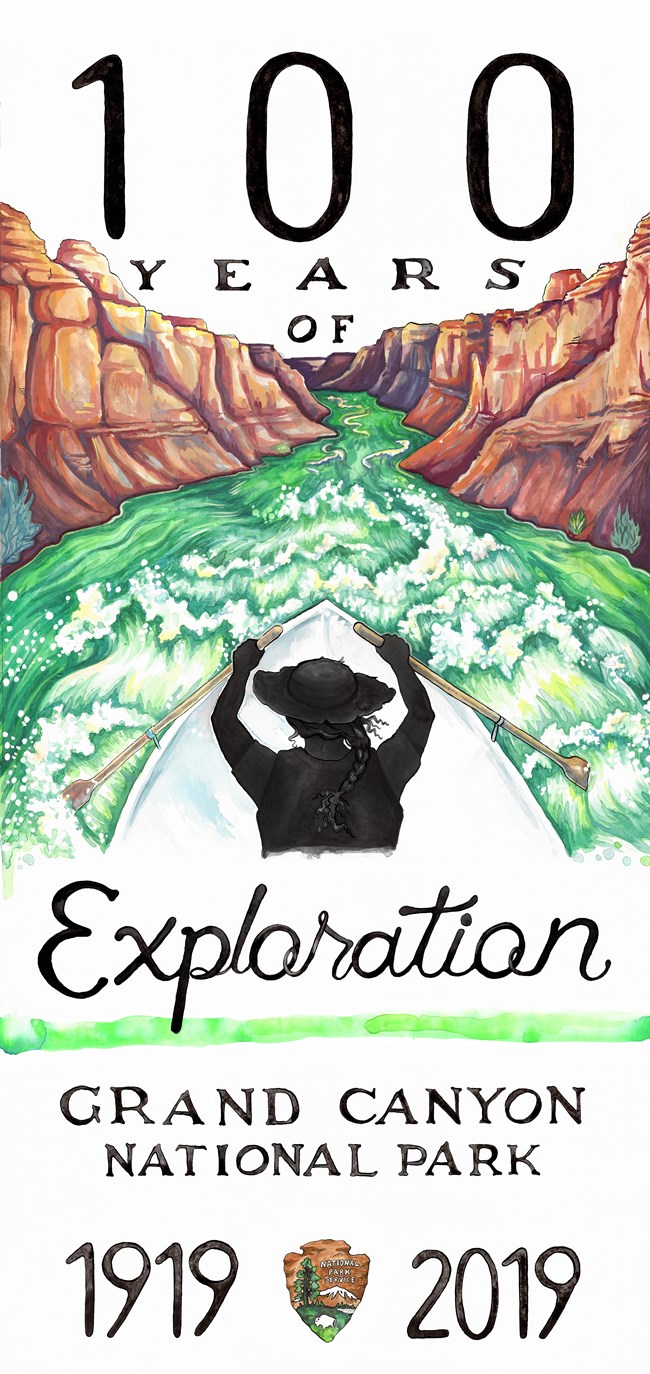 Exploration
One of the Grand Canyon's most enchanting features is its ability to seem infinite.
As one is hiking through the canyon or traveling down the Colorado River, true wilderness is experienced.
Early pioneers, scientist, and entrepreneurs like John Wesley Powell and the Kolb Brothers explored and documented the canyon's beauty to share it with the world.
Today outdoor recreationists from around the world seek out the challenges, inspirations, and life changing experience that the Grand Canyon wilderness provides.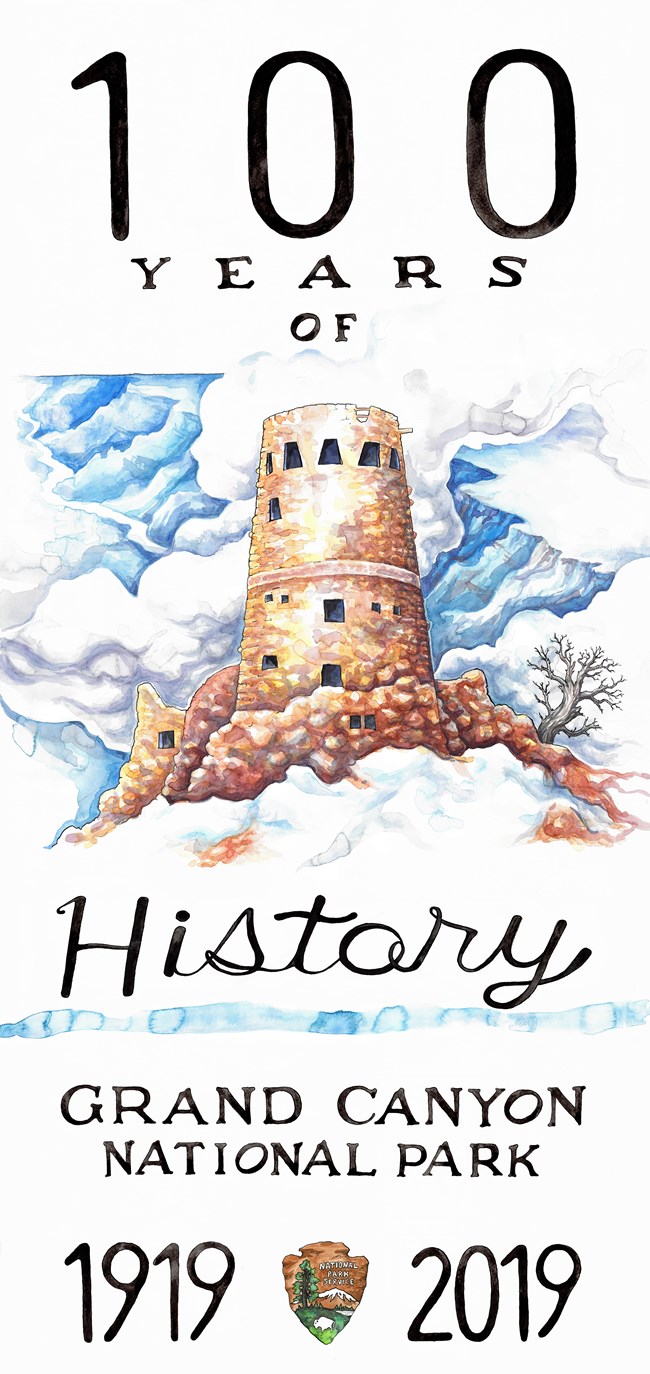 History
The centennial celebration is an acknowledgement of Grand Canyon National Park's place in American history. From the creation of the FAA to hosting astronauts, Grand Canyon National Park's has a far-reaching history. See what other important events have occurred at Grand Canyon-
February 26, 1919 – Congress elevates Grand Canyon National Monument to National Park Status
1923 – Painter Gunnar Widforss first visits Grand Canyon, eventually making his home on the South Rim

1931 – Ferde Grofe writes "Grand Canyon Suite," which would go on to become the best-known musical portrait of the canyon
1938 – Elzada Clover and Lois Jotter become the first women to boat the length of Grand Canyon
1969 – Neil Armstrong becomes the first man to walk in Grand Canyon and on the moon
1971 – The Brady Bunch visit Grand Canyon in a three-episode story arc

1979 – Grand Canyon is designated a World Heritage Site

1983 – In National Lampoon's Vacation, the Griswold family visits Grand Canyon

1991 – The first captive-bred California condors are released into the wild
2016 – Grand Canyon National Park receives Provisional Dark Sky Park status
February 26, 2019 – Grand Canyon National Park turns 100 years old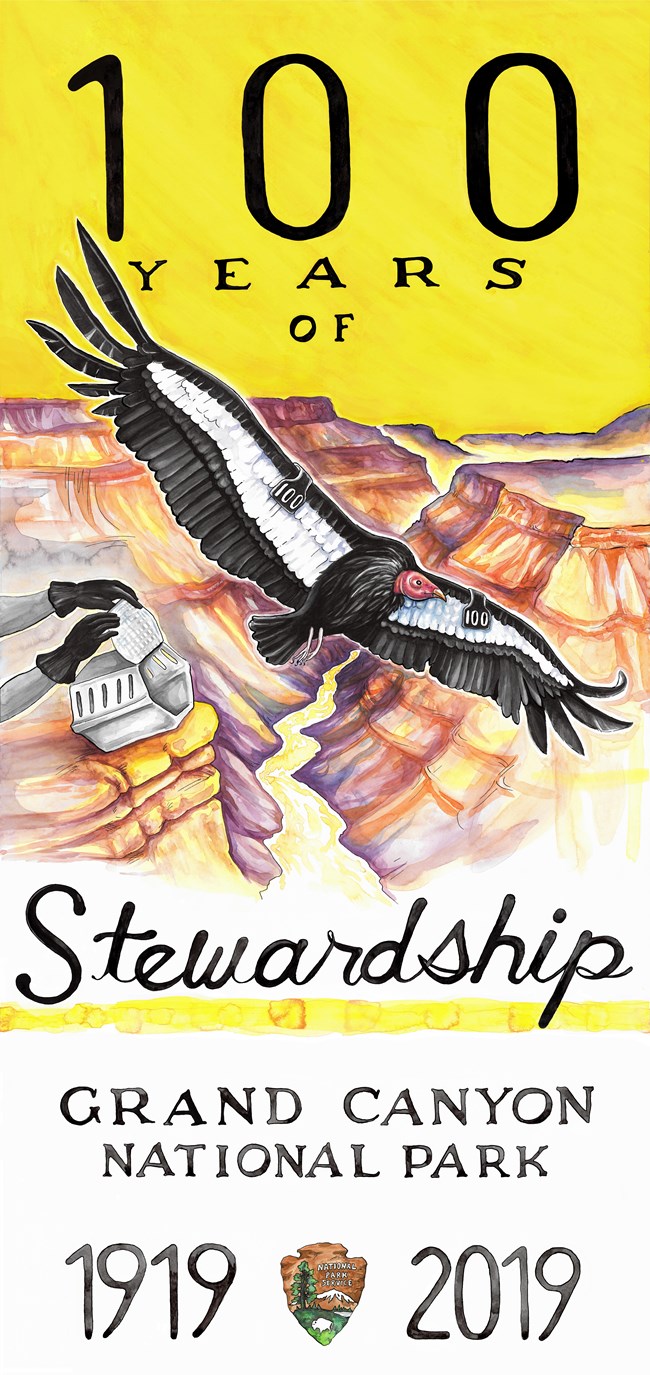 Stewardship
On February 26, 1919, Woodrow Wilson signed into law the Grand Canyon National Park Establishment Act (16 U.S.C. § 221-227), making Grand Canyon the nation's seventeenth national park.
Since 1919, National Park Service (NPS) staff have provided a world class experience to Grand Canyon visitors.
From monitoring California Condors to picking up litter along the rim trail and campgrounds, NPS employees ensure that the Grand Canyon landscape remains preserved for future generations.
To prepare for a new century of stewardship, the park's Centennial goal commemorates the past and inspires the public to experience, connect with, and protect Grand Canyon's unique resources.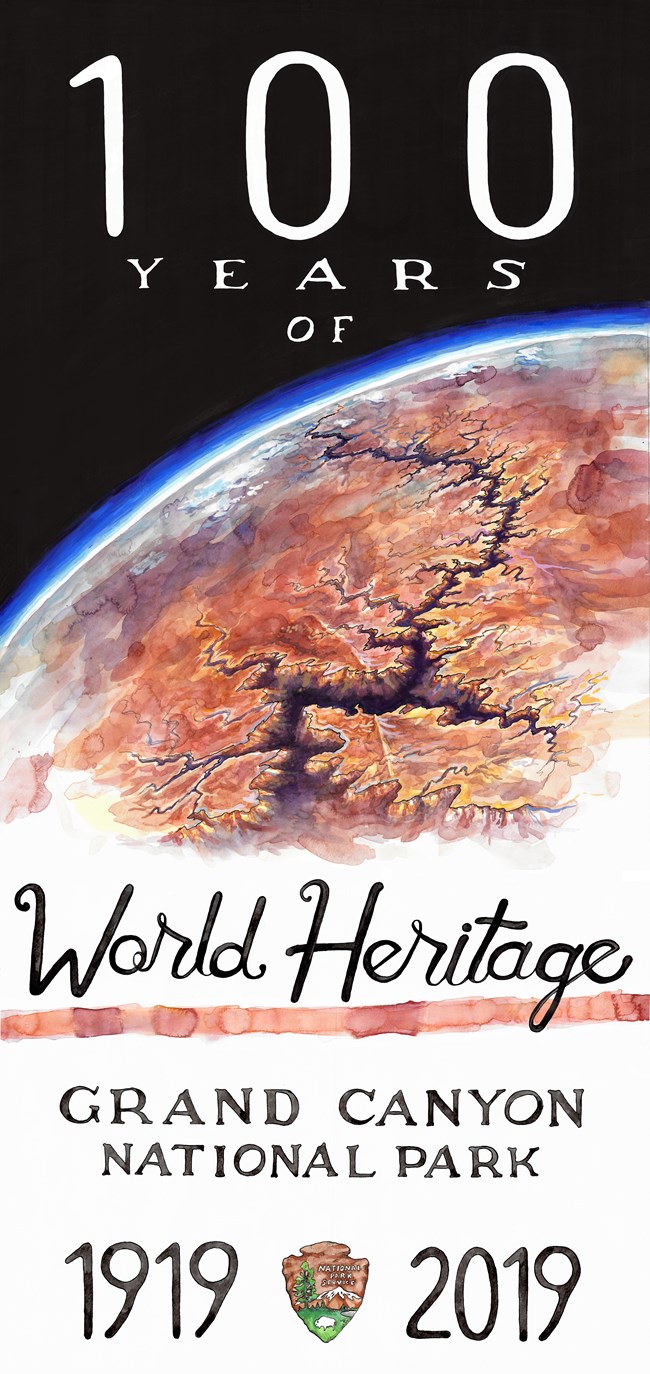 World Heritage
In 1979, Grand Canyon National Park was designated a UNESCO World Heritage Site.
The Grand Canyon is Arizona's most famous natural landmark, one of the "Seven Wonders of the Natural World," and a tourism destination that attracts visitors from across the world.
Looking forward to the next century, Grand Canyon National Park will continue to preserve a heritage that inspires, educates, and connects people from all over the world to the outdoors.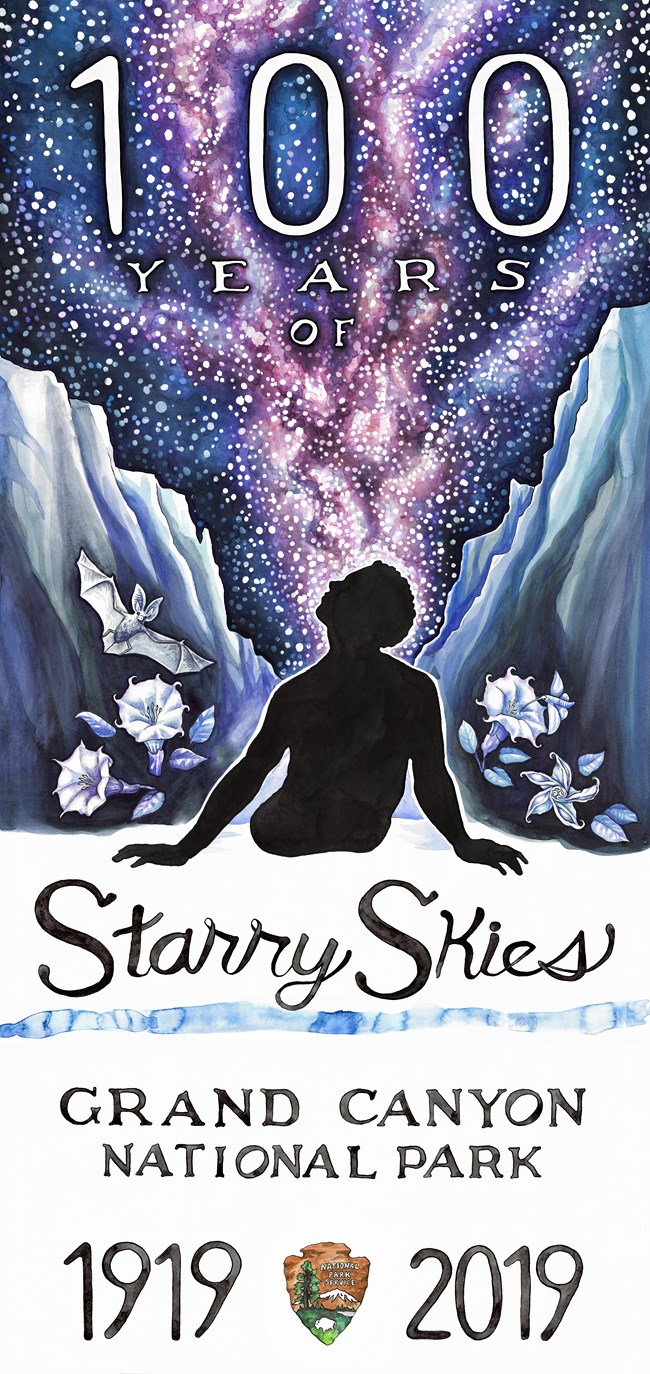 Starry Skies
For 60% of Americans today the Milky Way is no longer visible, national Parks like Grand Canyon are some of the last remaining sanctuaries for starry skies.
While experiencing pristine dark skies at Grand Canyon, one gains a deeper understanding of the natural world and become connected to past generations and the stories they told.
In 2016, the International Dark Sky-Association Awarded Grand Canyon National Park with Provisional Dark Sky Park Status.For the past three years,
Grand Canyon National Park along with Grand Canyon Conservancy have been working towards a full Dark Sky Park Status primarily by replacing outdated light fixtures with star-friendly alternatives.
The Grand Canyon Conservancy is currently fundraising for this special project. Come learn more about Grand Canyon's dark skies at the park's annual
Star Party
!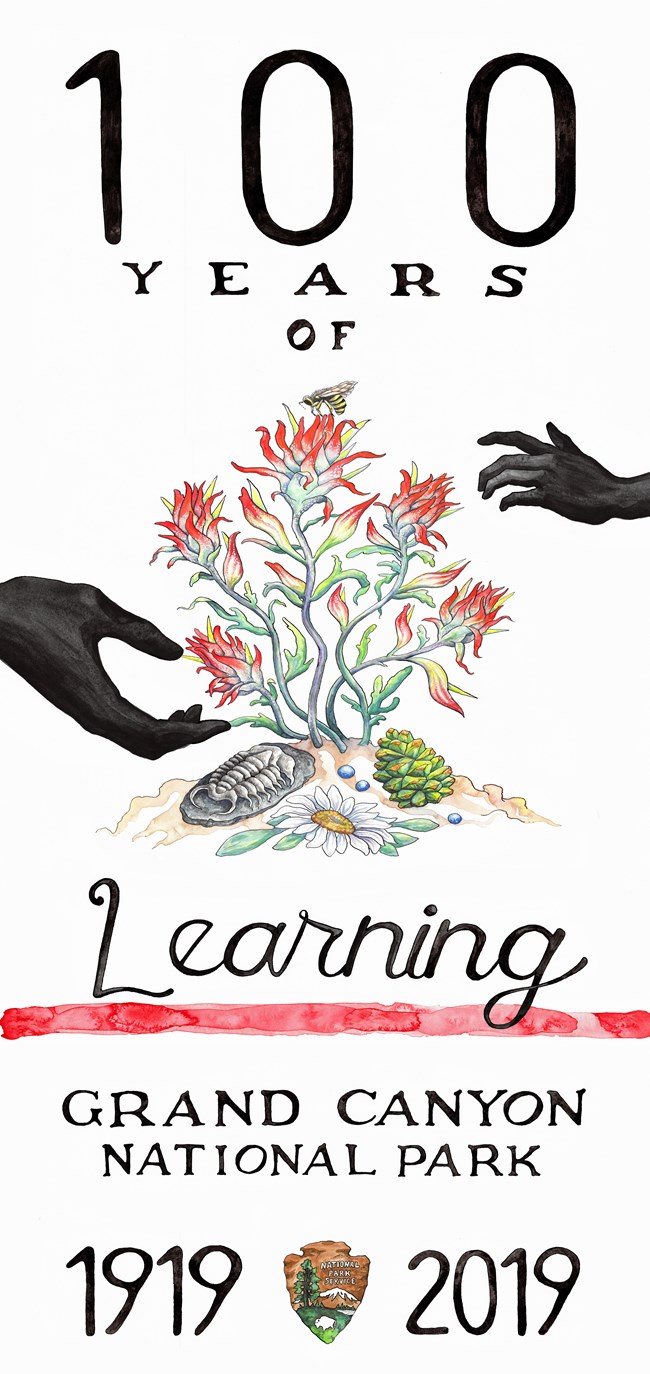 Learning

During the last six million years, water and wind have carved Grand Canyon; these same erosional and tectonic processes shape the canyon today.

Grand Canyon's exposed geologic layers span nearly half of Earth's history and record environments from erupting volcanoes to quiet seas.

With an elevation ranging from 2,000 feet to 8,000 feet, the Grand Canyon is home to ecosystems found from Canada to Mexico.

Whether it's geology, ecology, or history there is something for everyone and through daily ranger programs, Grand Canyon National Park rangers help visitors connect with and learn about the Grand Canyon's unique features.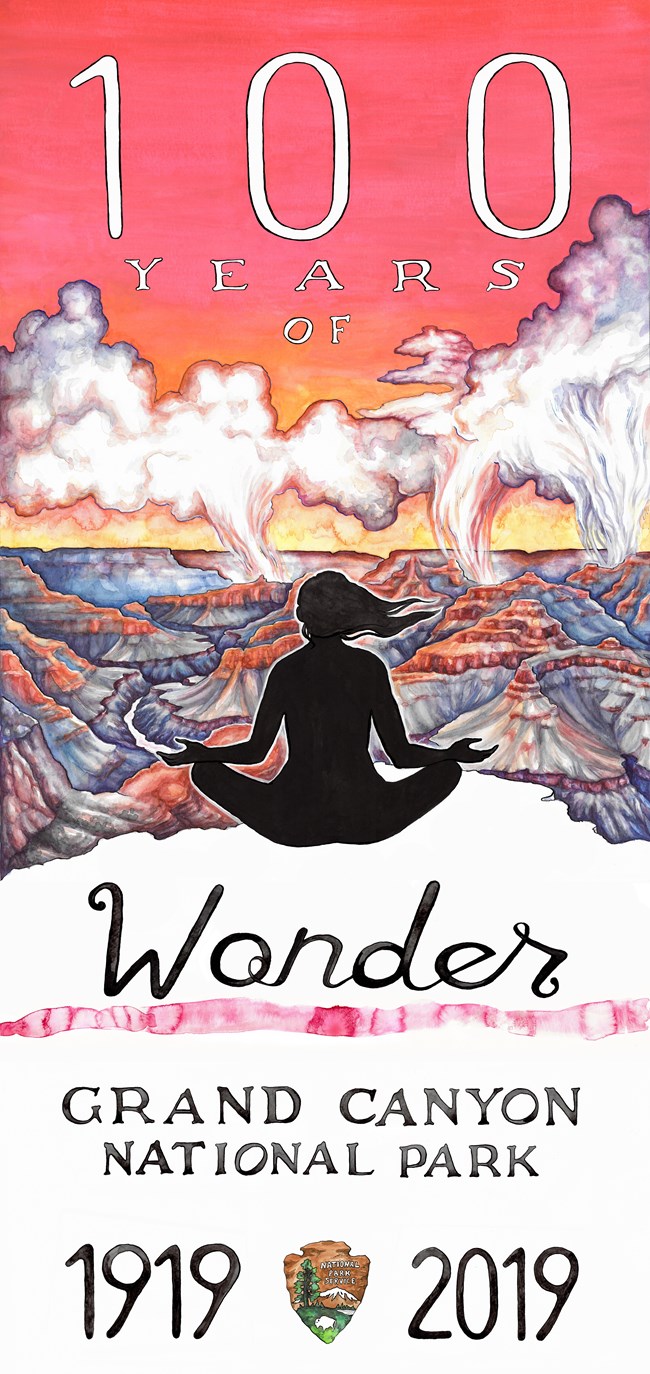 Wonder
Grand Canyon National Park is more than a view.
It is a place of residence and worship for America's first people, a collection of geologic record and natural resources, a place of learning and reflection.
While experiencing this timeless landscape you gain a better understanding of how interconnected we are with each other and our environment.
From writers, to painters, to pets and families Grand Canyon National Park creates awe and inspires.
Plan your visit
today and come celebrate 100 years of wonder!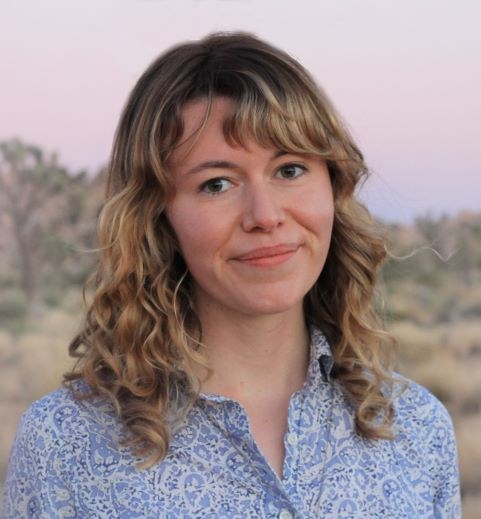 About the Artist

Claire Luce Baldwin is an illustrator and writer currently based out of Portland, Oregon. The centennial poster series was informed by her time working as an environmental educator and park ranger with Grand Canyon. Her work is inspired by a passion for wilderness and storytelling, and her mediums include watercolor, photography, and ceramics.
Contact information: clairelucebaldwin@gmail.com
Last updated: March 6, 2021