Ocean Beach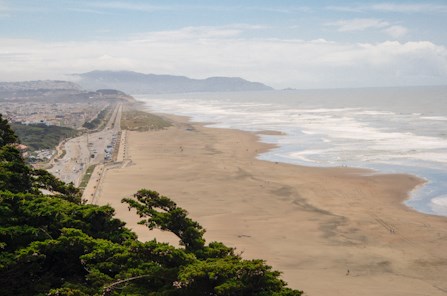 Picture a 3.5-mile stretch of white beach with few tourists and no highrises. It's just you and the waves and the seabirds at Ocean Beach, on the westernmost border of San Francisco, adjacent to Golden Gate Park. Great for strolling and flying kites, but the water is frigid and the currents hazardous for all but the most experienced surfers.
Tips and Highlights
The sunniest months for a beach walk are September and October.
The beach is almost always covered in fog throughout late spring and summer, with average temperatures in the 50s.
Please do not trample fragile plants on the dunes.
New fire rings were installed March 2017 as a way to allow and enjoy fires on the beach. If you love beach fires, please learn more by visiting our beach fire regulations page.
Volunteer regularly with hundreds of like-minded individuals and help keep Ocean Beach clean and safe!
Pack In and Pack Out Your Trash
Please help keep Ocean Beach clean by following "leave no trace" principles.

Nature
Snowy Plover
Look for the small, shy Western Snowy Plover (Charadrius alexandrinus nivosus)-a threatened species that rests here in the winter. In California, there has been a significant decline in breeding locations as a result of various forms of human disturbance. The species is being strictly monitored and protected by the National Park Service.
Last updated: August 4, 2017