Recreational Fire Regulations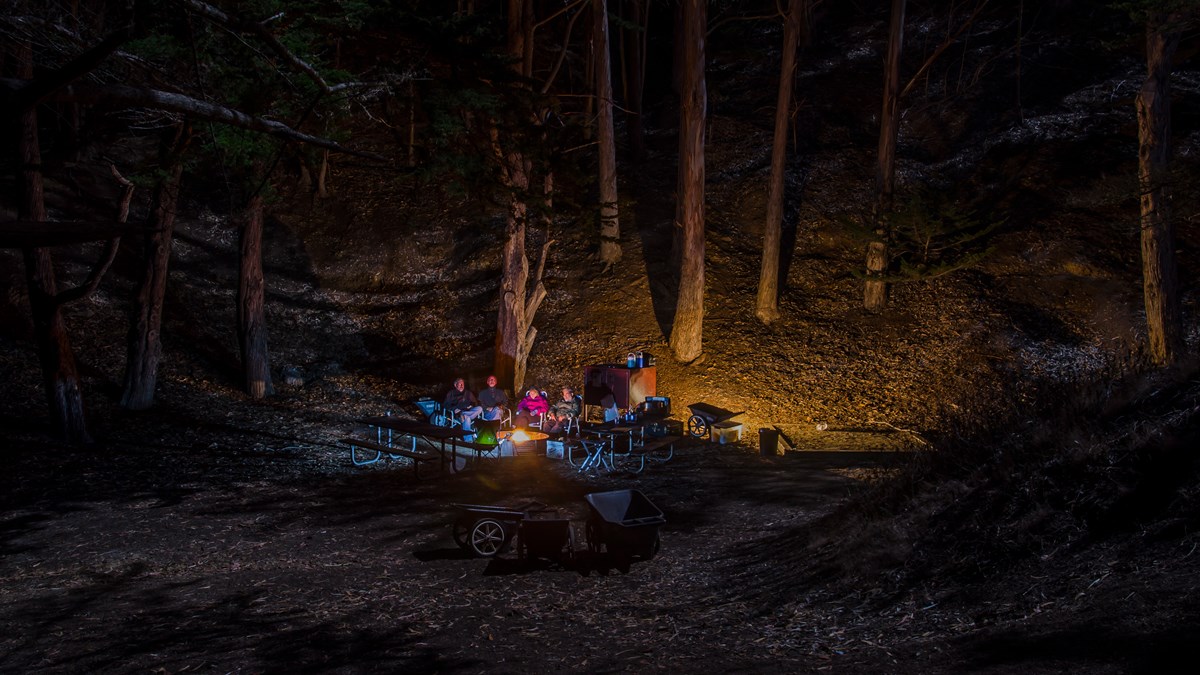 Recreational fires are permitted only at the sites below and according to the regulations on this page. In addition to the universal fire regulations, and Spare the Air Days, more site-specific rules and regulations:
Universal Fire Regulations at GGNRA
No recreational fires are permitted during Spare the Air days

Fires may be suspended by order of the park superintendent due to hot, dry weather conditions, strong winds, or extreme fire danger. Look for park alerts.

No gathering, cutting, or scavenging of firewood or kindling is permitted in the park from any source. All firewood must be brought into the park.

Burn Clean. Do not use accelerants such as lighter fluid, as they leave pollution and poisons in the air. Paper and kindling are preferred fire starter material.

LEAVE NO TRACE. Trash must be removed from beaches, campsites, and picnic areas.

Do not burn treated or painted wood.

Do not burn pallets or any wood containing nails or other hardware.

Do not burn trash or debris. Most trash gives off pollution and poisonous gases.

Fires shall be attended at all times by a responsible adult (18 year of age or older).

Minors must be supervised. A responsible leader, 18 years or older, must be present for every 10 children under the age of 18.
Beach Fire Regulations
Muir Beach
Fires allowed only in provided fire rings
Fires allowed beginning at 9AM
Fires must be out and groups must vacate the beach by 1-hour after sunset.
Fire rings are available on a first-come first-serve basis near the south end of the parking lot
Six fire rings are available May through November. Three fire rings are available December through April.
See Beach Fire Section on Special Park Use Permits page for more information.
Ocean Beach
More details on the following information, including No Burn Season at Ocean Beach is available on Ocean Beach Fire Program.
Fires permitted March 1 - October 31 (no fires permitted November 1 - end of February)
Fires allowed only in provided fire rings between Stairwells 15 and 20
No fires permitted from 9:30PM - 6AM
No glass or alcohol is allowed on the beach
Fires must be extinguished with WATER ONLY. Bring a bucket to collect ocean water, or bring your own water. Covering the fire with sand does not extinguish the fire. Instead it insulates the hot coals and fills the pits with sand.
The parking lots at Ocean Beach close at 10PM each night and are owned and managed by the City of San Francisco
See Beach Fire Section on Special Park Use Permits page for more information.
Campfire Regulations
Campfires permitted only at the Kirby Cove Campground & Picnic Area in the fire grills provided by the park.
Only wood or charcoal may be burned in these grills.
Campfires must be completely extinguished with water, using the "drown, stir and feel" method.
Charcoal Fire Regulations
Charcoal fires are permitted in fixed grills provided by the park at the following picnic areas:

Baker Beach
Battery Wallace
China Beach
Kirby Cove
Rodeo Beach
Muir Beach
East Beach
West Bluff
Crissy Field

Visitors may use portable barbecues in established picnic areas, in the Kirby Cove Campground, or at Muir and Ocean beaches unless signed or prohibited otherwise.
Fire coals must be extinguished and disposed of in receptacles provided by the park.
Only liquid fuel stoves are permitted in Haypress Campground, Hawk Campground and Bicentennial Campground.
Campers staying at Bicentennial Campground may use charcoal in the barbecue grills in the nearby Battery Wallace picnic area.
When the Bay Area Air Quality Management District declares a Spare the Air day, no campfires, beach fires, or outdoor grills are allowed at Golden Gate National Recreation Area. Your compliance reduces pollution and improves air quality.
To find out if a Spare the Air Day is in effect, look for park alerts, visit the Spare the Air website at www.SparetheAir.org
or call 1-800-HELP-AIR.
Last updated: January 25, 2023