Directions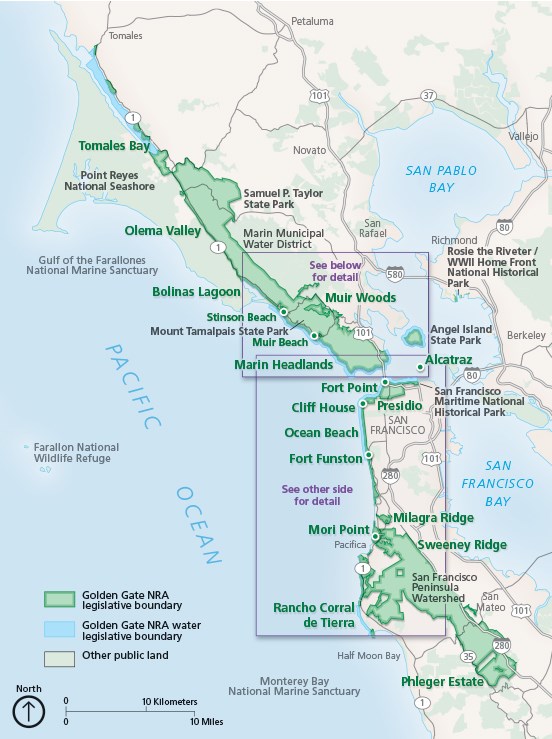 Golden Gate National Recreation Area is composed of many unique sites, so be sure to check the maps section for your visit. Not sure where to go first? Check out our Places To Go to see all of the points of interest in our park. For travel and park maps, click here. Golden Gate is accessible by:

Travelling by Car
Golden Gate NRA can be reached by Highways 1, 101 and 280 from the north and south San Francisco Bay Area, and by Highway 80 over the Bay Bridge from the East Bay.
Do you plan to travel to the park in an alternative fuel vehicle? If so, good for you! Your actions help us reduce greenhouse gas emissions and reduce petroleum use. Plan your trip with the Alternative Fueling Station Locator from the Department of Energy (use zip code 94123 to search).

Travelling by Plane
Direct flights to San Francisco, Oakland, and San Jose International Airports are within 8+ miles to the park, depending on which park site you plan on visiting within the San Francisco Bay Area.

Travelling by Public Transportation
There are various bus lines that run to and through the park. To get the best information on transit to the park areas you are interested in visiting, refer to the public transit information site: www.511.org
On weekends and holidays only, the Muir Woods Shuttle picks up passengers near Highway 101 where parking is more available and drops them off within steps to the Muir Woods entrance. The Muir Woods Shuttle operates from March 29, 2014 to October 26, 2014.Click here for details about schedules and Muir Woods Shuttle stops.

Transit & Trails
Transit and Trails connects you to the Bay Area's parks and open spaces by helping you Find, Plan and Share your outdoor adventures. Locate trailheads near you (or any location) and they will help you get there on public transportation or get the directions you need to walk, bike, or drive there.
Partner Websites and Information
There are also many park partners managing parkland in the Golden Gate, check each center's website for hours, directions, and more information beyond what you find on this site. For a listing of other agencies and park partners refer to Our Partners page.


Last updated: November 16, 2015