Directions
Alcatraz City Cruises - Pier 33
The only way to get to Alcatraz is by a ferry operated by Alcatraz City Cruises, LLC. They are located on The Embarcadero near the intersection of Bay Street - just a bit south east of Fisherman's Wharf. There is no parking at Pier 33. See map below.
Parking
On street parking in the area can be difficult to find, especially during peak summer visitation season, and nearly every street space has a parking meter with a time limit insufficient for an Alcatraz visit. An "Accessibility Drop Off Zone" is located at the entrance to Alcatraz City Cruises - Pier 33 for visitors with special needs arriving by automobile. There are fifteen commercial lots within a five-block radius of the Alcatraz City Cruises - Pier 33, with a total of more than 3,000 parking spaces. However we recommend public transportation if at all possible. Be aware that prices for parking in this area can vary greatly, as little as $8-10 for all day, to as high as $6 an hour. As a visit to Alcatraz can easily take 2 to 3 hours (or more) it can be worth while to shop around for parking. It is even better to take public transportation when possible.
Public Transportation
When in San Francisco public transportation is the best way to get around. The Muni F Line runs along Market Street (east) then turns north on The Embarcadero, and runs right past the ferry terminal (on your right) and then on through Fisherman's Wharf. For detailed information on mass transit in San Francisco please visit the San Francisco Municipal Railway web site.
Driving Directions
Click here for driving directions to the Alcatraz City Cruises Pier 33.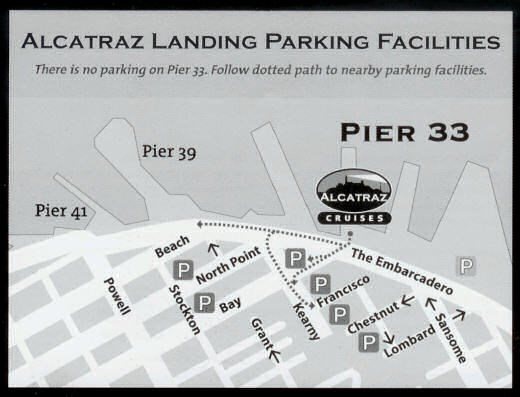 Last updated: April 27, 2021