News Release
Traffic Congestion Relief Pilot Study Planned to Improve Traffic Management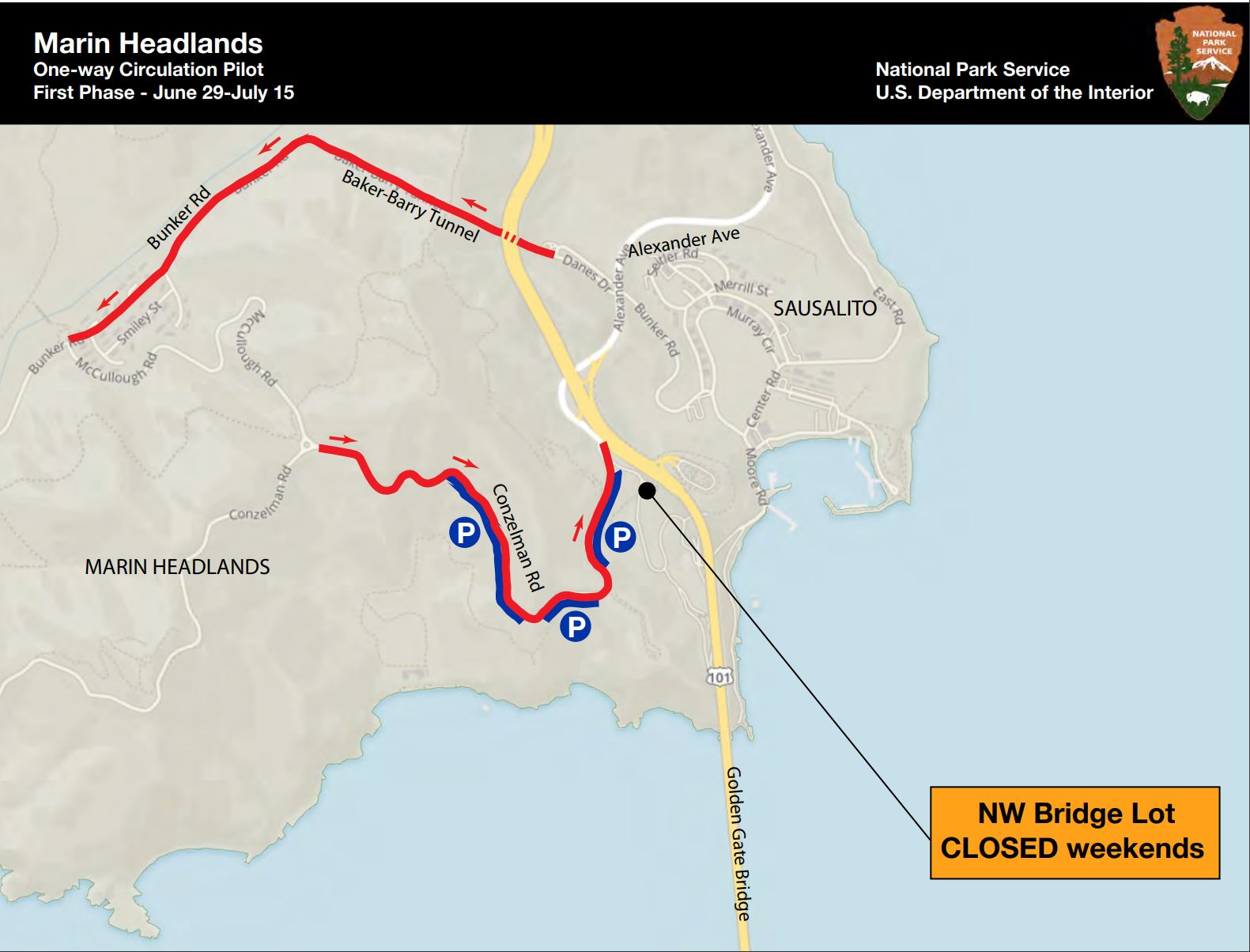 News Release Date:
June 26, 2018
Contact: GGNRA Public Affairs, 415.561.4732
FOR IMMEDIATE RELEASE: June 26, 2018
Traffic Congestion Relief Pilot Study Planned to Improve Traffic Management at Golden Gate National Recreation Area
SAN FRANCISCO, CA -  On June 29, Golden Gate National Recreation Area (GGNRA) in conjunction with Golden Gate Bridge Highway and Transportation District and, the Presidio Trust will implement a collaboratively planned series of pilots to study ways to relieve traffic congestion and major traffic delays on the Golden Gate Bridge, in the Marin Headlands, and in the Presidio.
To support this effort, GGNRA will implement the following changes from June 29 to July 15 in the Marin Headlands. Vehicle traffic through the Baker-Barry Tunnel in the Marin Headlands will only be one-way in the west bound direction. Conzelman Road will convert from two-way travel to one-way travel in the eastbound direction between McCollough Road and Alexander Avenue, with the remaining travel lane dedicated for visitor parking. To ensure existing two-way bicycle routes are not impacted, delineators have been installed along the edge line of the existing bike lane. In addition, the parking lot northwest of the Golden Gate Bridge off Conzelman Road will be closed on weekends. All park sites will remain open as scheduled.  
This pilot period will overlap with the Fourth of July holiday, which draws additional traffic to the area. Park visitors are highly encouraged to use public transit, bicycle, taxi, or rideshare services. For public transportation planning and same-day traffic information, call 5-1-1 or visit www.511.org.
To accomplish better traffic management, the study will take a sequential approach across jurisdictions to identify a final set of recommendations which will be shared at conclusion of the pilot period.
We thank you for your cooperation during this pilot period. For updates, please check GGNRA's Twitter feed @GoldenGateNPS. If you would like to share your visitor experience or comments, email goga_public_affairs@nps.gov.
---
General Questions
When exactly does the Marin Headlands traffic pattern start (day/time)?
Friday, June 29, at 7 am 
The Marin Headlands pilot is from June 29- July 15, including 4th of July.
Who is doing this traffic pilot project?
The Golden Gate National Recreation Area (GGNRA), the Presidio Trust and the Golden Gate Bridge Highway and Transportation District are jointly looking at traffic pilot project in our respective areas. The GGNRA will manage the changes on our land (primarily the Marin Headlands routes.) The Presidio Trust and the Golden Gate Bridge Highway and Transportation District will be testing their own configurations and closures across the entire 10 week pilot period.
Why are we doing this?
All agencies (and residents and visitors alike!) have long noticed a heavy increase of traffic congestion on weekends in the peak season. A team of transportation professionals have been working together across jurisdictions to try to develop feasible solutions to this varied and complex problem.

Background
Who decided on this pilot project?
Transportation planners from all agencies and subject matter experts have coordinated for months on potential solutions. They have approached field staff with scenarios and made adjustments based on feedback.  The specific changes scheduled are the best idea of what needs to be tested first to inform future decisions. It is also worth noting that the GGNRA Visitor and Resource Protection staff have been dealing with grid-lock traffic on specific days for many operational periods. They have made emergency operational decisions to allow ambulances in or taken control of the Baker-Barry Tunnel to increase the capacity for everyone trying to leave the Headlands at a given time. These anecdotal reports and operational observations were used to inform the choices of scenarios that GGNRA is piloting for these two weeks.
Why are you trying to increase visitation? 
This pilot is not an attempt to increase visitation. This research will help understand how to best respond to the increased traffic congestion on these roadways that have resulted in grid-lock and limited access for everyone in the area. 

Timing
When exactly does the Marin Headlands traffic pattern start (day/time)?
Friday, June 29, at 7 am 
The Marin Headlands pilot is from June 29- July 15, including 4th of July. Please sign up for Nixle text alerts by texting SFJULY4 to 888-777.
Why are we doing it now?
Testing during our busy season will give us the best information about the impacts of our measures and the variety of ways that the traffic will play out as a result. Testing these measures during non-busy times simply does not work to inform the busy time periods.
 
Bicycles
How will bicyclists be impacted?
Bicycles will maintain two-way traffic on Conzelman Road. Delineators have been set up to ensure the existing bike lane can continue to operate under this changed configuration. It has been noted that the delineators are very narrowly spaced. This is planned to be changed following this initial pilot period to allow for bike passing outside the lane once the road goes back to a two way configuration. The additional parking along Conzelman Road is across the road (opposite side) from the delineators. No vehicles will be allowed to park in the northwest parking lot to off-load bicycles on weekends.
Will eastbound bike access be maintained through the Baker-Barry Tunnel? Will there be a separate green light for bicycles?
Two-way bicycle traffic will continue to be maintained at all times as usual. There is not a separate green light for bicycles.  We encourage all bicycles to utilize the button that activates the yellow flashing light alerting all incoming cars of a bicycle in the tunnel.  Cyclists should look for the "push button to activate" signage. 

Strategy
Who is collecting the data?
GGNRA has contracted monitors across the pilot period who will be stationed at different locations monitoring many things such as congestion buildup, wait times for parking spaces, turnover rates at parking spaces, impacts throughout the rest of the headlands, reduction in known friction points,  and overall safety.
Who is helping with traffic control? 
GGNRA contracted parking attendants who will provide additional support to our Visitor and Resource Protection Division. Rangers will continue to be in marked government vehicles and assist visitors as usual.
How will I identify the contracted support? 
Parking attendants along Conzelman Road will wear their company's uniform. Their main job is to maintain traffic flow. They are not there to give information, take pictures, or interpret the resources. 
Last updated: July 17, 2018