News Release
Golden Gate National Recreation Area Invites Feedback for 2021 Proposed Fee Changes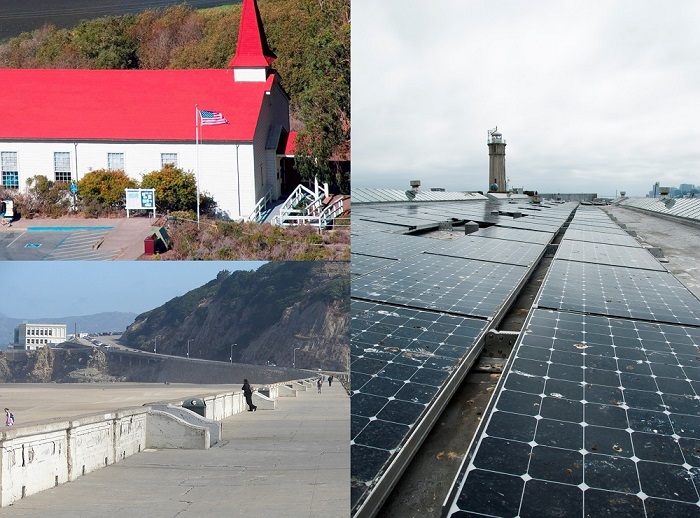 News Release Date:
May 19, 2021
SAN FRANCISCO—Golden Gate National Recreation Area, which hosted more than 12 million visitors last year, is proposing an increase to fees for some activities to keep up with the costs of managing the park. Amid the pandemic, many areas of the park have seen a dramatic increase in visitation. Revenue from these fees will contribute toward a variety of improvement projects meant to enhance visitor services and resource protection.   
The proposal includes raising fees for camping and day use in the Marin Headlands. Additionally, the park plans to expand or introduce parking fees at four NPS-controlled lots in the Presidio of San Francisco and begin charging a fee for an after-hours tour at Fort Point National Historic Site.  
Some of the affected activities have never before had fees, even while the costs of maintaining visitor facilities and services has increased significantly over the years. In 2020, Golden Gate National Recreation Area was the second most-visited national park and in the year before it had an estimated $1.4 billion in economic output to local gateway economies surrounding the park.  
Eighty percent of fee money is retained in the park. Without fee revenue from visitors, these improvements would not be possible:  
Upgrade to restroom facilities at Marin Headlands Visitor Center and Rodeo Beach  

Removal of sand at Ocean Beach to maintain visitor access to promenade and beach   

Restoration of native plants at popular natural and cultural resource sites  

Rehabilitation of vault toilet facilities parkwide  
Repair and replacement of signs throughout San Mateo County parklands  

Repair of Alcatraz Island tour site photovoltaic system  
Additionally, fee revenue helps us maintain critical supplies of park brochures and materials, provide interpretation for evening programming at Alcatraz Island, and provide additional staffing at high-visitation areas to assist in responding to emergencies and supplying visitors with information.   
The campgrounds and day use area affected by this proposal are frequently used by visitors. In response to this demand one location, Kirby Cove, will extend its 2021 season for camping and day use by approximately a month. Kirby Cove and the other Marin Headlands campgrounds require considerable staffing and resources to maintain. The fee change would bring costs inline with those at other nearby parks that offer camping.  
Parking fees in the Presidio are generally far cheaper than those for other parking lots in the area. As a result, the four affected lots receive high levels of use and are monitored by the US Park Police. A fee increase will prioritize parking availability for those who intend to visit the park, rather than for those who wish only to find a safe and inexpensive place to store their vehicle, or other non-park uses. 
The Candlelight Tour at Fort Point National Historic Site takes place after-hours, when the site is ordinarily closed to visitors. Charging a fee for the tour will now mean staffing and interpretive material costs for the program are adequately accounted for.  
Golden Gate National Recreation Area does not charge an entrance fee at any of its sites, including its most popular areas such as Crissy Field and Ocean Beach. The proposed changes were determined following thorough review from National Park Service concession and fee program staff. For more information about other fees at the park, please visit the Fees & Passes webpage.  
A list of the proposed fee changes is shown below:  
Site   

2020 Fee   

2021 Proposed Fee   

*Kirby Cove Day Use   

$45   

$75   

*Kirby Cove Camping   

$30   

$40   

*Bicentennial Camping   

$20   

$25   

*Hawk Camping   

$5   

$25   

*Haypress Camping   

$5   

$25   

*Haypress Group Camping   

$5   

$75   

**Fort Point Candlelight Tour - Adult   

$0   

$19  

**Fort Point Candlelight Tour - Youth   

$0   

$11   

**Fort Point Candlelight Tour – Senior &    
   Access Pass Holders   

$0  

$9.50  

Battery East Parking   

$1.20/hour, $7/day Saturday/Sunday only   

$3/hour, Daily  

West Bluff Parking   

$1.20/hour, $7/day Monday - Sunday   

$3/hour, Daily  

  

Merchant Road Parking   

$0   

$3/hour, Daily  

  

Langdon Court Parking   

$0   

$3/hour, Daily  

  
* Reservation fees for camping and day-use are $6.50 per reservation if made online through Recreation.gov, or $8.00 per reservation if made through its call center.   
** Reservation fees for tour tickets are $1.00 per ticket.   
The NPS is accepting public comments on the proposed fee changes from May 19, 2021 to June 18, 2021. Comments can be sent by email to goga_business@nps.gov or by phone at 415-561-4700. If approved, the fee changes would take effect October 1, 2021. 
Last updated: September 29, 2021