Spreading the Word on Climate Change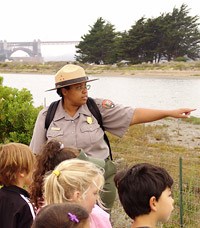 Education is at the heart of the park's initiatives to reduce our own and our visitors' carbon footprint. The park has a unique position to reach millions of visitors and educate the public about climate change and the need to lead a more sustainable lifestyle.
It starts with Golden Gate's rangers, Public Affairs Division and other staff, as well as our partners and volunteers. We are educating ourselves with relevant and accurate information and then helping our visitors understand the threats and solutions through public outreach.
Here's our commitment:
Develop and promote exhibits, multimedia, events, lectures, and brochures for our park visitors … both adult and children.
Develop programs and materials to assist local schools and teachers explain the urgency of climate change to students.
Work with our local and regional media outlets to spread the word through Public Service Announcements, news releases and media packets.
Establish an internal and external communications channels to keep our staff, partners, volunteers and visitors informed of the latest information. These periodic reports will be relayed through podcasts, newsletter articles and Internet/Intranet updates.
Actively engage underrepresented communities in education and interpretive programs on climate change.
Track our progress and share the results with staff and partners
Check out the sea level rise exhibit installed at Rodeo Beach.

Golden Gate is a founding member of the Bay Area Climate Literacy Impact Collaborative (
BayCLIC
), a consortium of over thirty environmental education institutions working in partnership to make the San Francisco Bay Area the leader in climate education and action. BayCLIC is supported by our partner the
Institute at the Golden Gate
.
---

Trash is a big part of our society and what we do with that trash affects greenhouse gas emissions, wildlife and our quality of life.
Last updated: February 22, 2019