Volunteer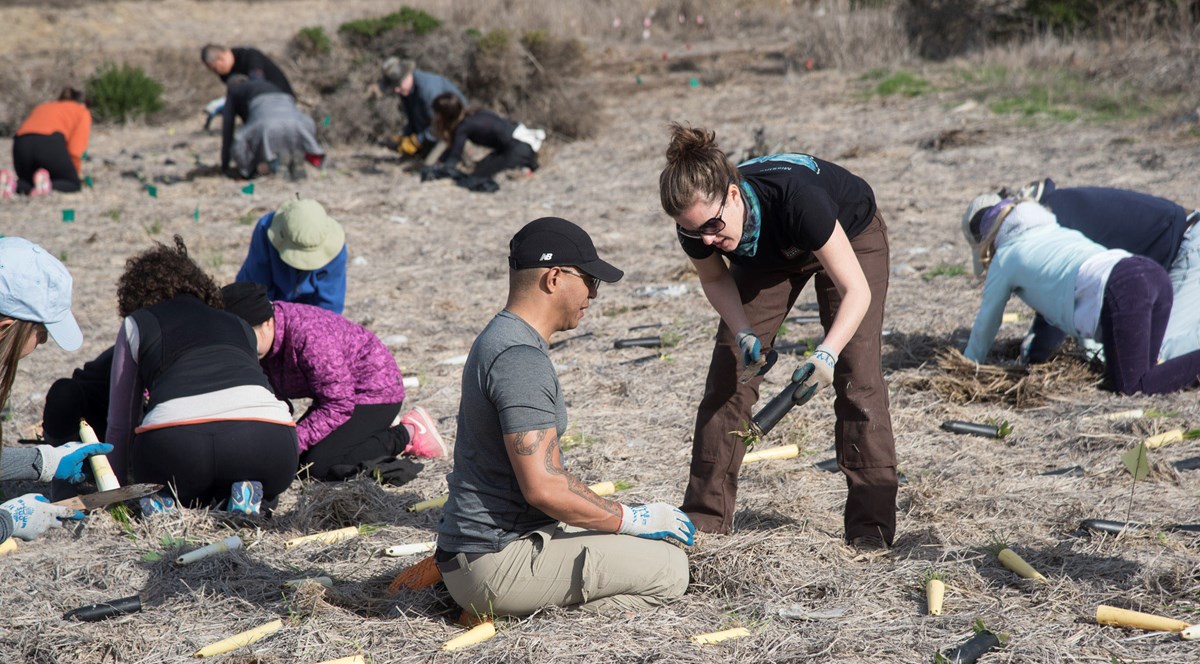 Learn and Explore
You Can Make A Difference…
Anyone can donate their time and effort to providing essential services at GGNRA. Volunteer opportunities at Golden Gate National Recreation Area are as diverse and abundant, as the natural and cultural resources of the park.
Volunteers at Golden Gate play a vital role in almost all aspects of park operations:
Designing and conducting information programs for the general public.

Removing non-native plants, growing native plants, or working in one of the park's nurseries.

Cleaning up garbage and restoring historic structures and sites

Working with park scientists to protect endangered species and conduct scientific research
Each volunteer's contribution makes a big difference! Depending on the opportunity, volunteers may donate several months at a time or perhaps a few hours. Volunteers at Golden Gate National Recreation Area: Muir Woods National Monument, Alcatraz Island, Presidio of San Francisco, and Fort Point National Historic Site help present the diverse resources of one of America's most popular National Parks to today's visitors, and help preserve these precious resource for future generations.
Resources & Benefits
Join us, and become a part of one of the largest and most diverse volunteer programs in the National Park System.
Volunteers who earn 250 or more hours can receive a pass entitling them to free entry to all Federal lands for 12 months. The Volunteer Pass is honored nationwide at all National Park Service, Forest Service, Bureau of Land Management, Bureau of Reclamation and U.S. Fish and Wildlife Service areas where standard amenity fees are charged.

Long term volunteer opportunities are offered by the National Park Service. Living in park options may be available.

All volunteers receive orientation and training.

The National Park Service is an equal opportunity employer.
Current Volunteer Opportunities
Coastal Cleanup Day:
There are no projects being hosted anywhere in the park this year for Coastal Cleanup Day, but you can still participate in the statewide effort to clean up our coasts and local areas. Visit the
California Coastal Commission's website
for more information!
Connect With Us:
Volunteer Program
Fort Mason, Building 201
San Francisco, CA 94123
Volunteer Hotline: (415) 561-4755


Last updated: December 8, 2020