Lees Ferry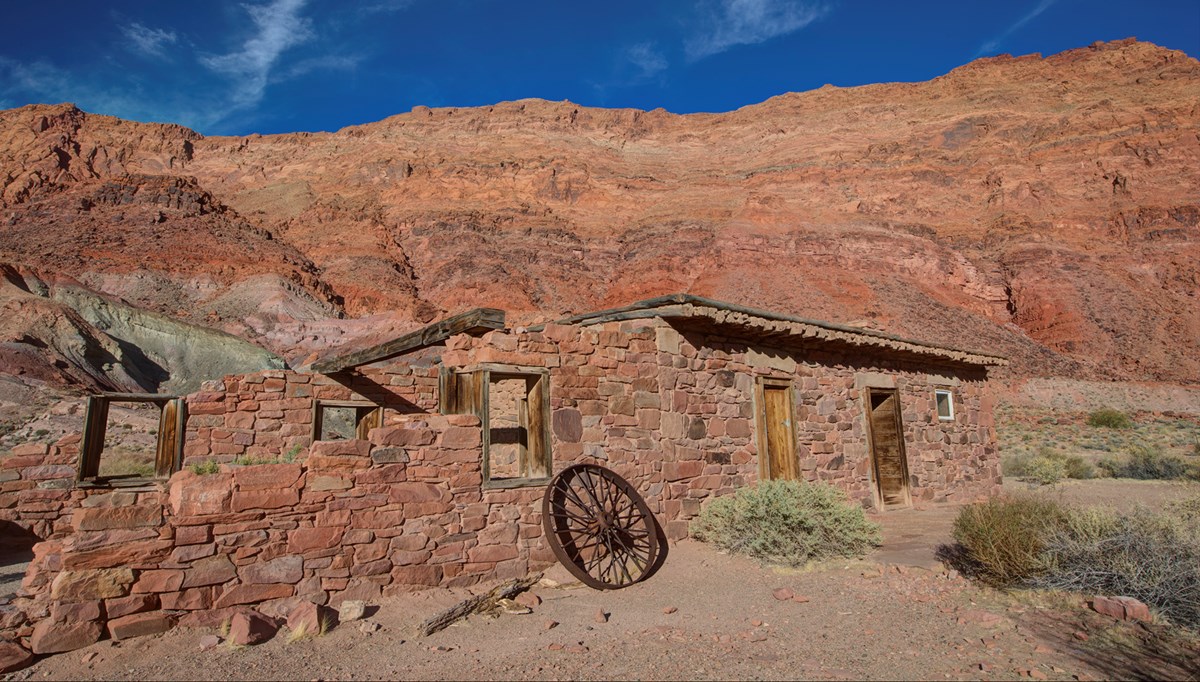 Lees Ferry is the only place within Glen Canyon where visitors can drive to the Colorado River in over 700 miles of canyon country, right up to the first rapid in the Grand Canyon. A natural corridor between Utah and Arizona, Lees Ferry figured prominently in the exploration and settlement of northern Arizona. Lees Ferry is now a meeting of the old and the new.
Here at the very start of the Grand Canyon, adventurous river runners launch their boats for trips down the canyon. Fishermen enjoy world-class trout fishing upstream to Glen Canyon Dam. Backpackers finish their 4 or 5 day hike through the Paria Canyon Wilderness Area here. Hikers can explore canyons and desert ridges. Learn more on the Day Hikes page.
Learn more about Lees Ferry History.
Lees Ferry Historic Site & River Trail
Just upstream from the Lees Ferry launch ramp is the ferry crossing site and several historic buildings. Different ferryboats and pioneers, miners, Indians, and tourists crossed here from 1872 until 1928. Of special interest is Charles H. Spencer's attempt to extract gold from the clay hills here in 1910. Two of the stone buildings, a steam boiler, and the remains of a sunken paddlewheel steamboat remain from his efforts.
The trail is about a 2 mile (3.2 km) round trip over mixed terrain with nominal elevation gain. Take the steep Spencer Trail spur and climb over 1,500 ft up switchbacks. There is little shade, so do not hike in heat of summer. See the Day Hikes page.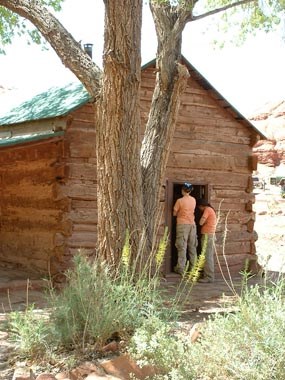 Lonely Dell Ranch Historic Site
This historic ranch, near the mouth of the Paria River, was home to the families who operated Lees Ferry. The place was so isolated that the families working at the crossing needed to be self-sufficient, growing food for themselves and their animals. Hard labor changed the barren desert into a green oasis. The main ranch buildings are about 700 feet (213 m) up the dirt road from the parking area. The complete self-guided walking tour of the orchard, log cabins, stone ranch house, and pioneer cemetery is about a 1-mile (1.6-km) round trip. There are picnic tables and shade trees at the ranch. Take drinking water with you.
Lonely Dell Orchard
Walk among the fruit trees in the orchard and search for a ripe snack. Collection of fruit at Lonely Dell Ranch Orchard is permitted for personal consumption only and not for purposes of sale or exchange. Fruit collected at Lonely Dell Ranch Orchard shall not exceed 5 gallons per person per day.
Getting to Lees Ferry
Lees Ferry is 42 miles (61 km) from Page via Hwy 89 south and Hwy 89A west. It is 85 miles (125 km) from the North Rim of the Grand Canyon via Hwy 89A and Hwy 67. The Lees Ferry Junction and Park Entrance is in Marble Canyon, just west of Navajo Bridge Interpretive Center. A paved road leads 5 miles (8 km) to the Ferry area. Services available at Lees Ferry include a National Park Service campground, dump station and public launch ramp. There is a gas station, store, and post office at Marble Canyon, next to the park entrance. More services are found west on Hwy 89A.
Last updated: November 25, 2020