Superintendents Compendium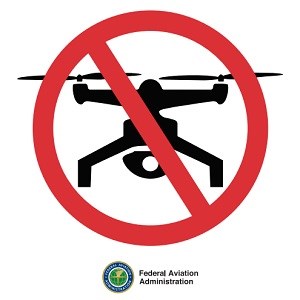 No Drone Zone
Launching, landing or operating unmanned or remote controlled aircraft in Glen Canyon National Recreation Area and Rainbow Bridge National Monument is prohibited.
Department of the Interior Secretary's Order 3379 mandates a cessation of all non-emergency unmanned aircraft. This order supercedes any existing regulations as of January 29, 2020 and will remain in effect until further notice.
Unmanned Aircraft defined: The term "unmanned aircraft" means a device that is used or intended to be used for flight in the air without the possibility of direct human intervention from within or on the device, and the associated operational elements and components that are required for the pilot or system operator in command to operate or control the device (such as cameras, sensors, communication links). This term includes all types of devices that meet this definition (e.g., model airplanes, quadcopters, drones) that are used for any purpose, including for recreation or commerce.
Read more about unmanned aircraft in the national parks.
Superintendent's Compendium Defined
Signed: William Shott, Superintendent, July 9, 2019. Signature on file.
Addendums made to Compendium since last publication:
4.30 Use of E-bikes
The term ''e-bike" means a two- or three-wheeled cycle with fully operable pedals and an electric motor of less than 750 watts ( I h.p.).
E-bikes are allowed in Glen Canyon National Recreation Area where traditional bicycles are allowed. E-bikes are prohibited where traditional bicycles are prohibited. Except where use of motor vehicles by the public is allowed, using the electric motor to move an e-bike without pedaling is prohibited.
A person operating an e-bike is subject to the following sections of 36 CFR part 4 that apply to the use of traditional bicycles: sections 4.12, 4.13, 4.20, 4.21, 4.22, 4.23, and 4.30(h)(2)-(5).
Except as specified in this Compendium, the use of an e-bike within Glen Canyon National Recreation Area is governed by State law, which is adopted and made a part of this Compendium. Any violation of State law adopted by this paragraph is prohibited.
October 2019 addendum (425 KB pdf)
1.5 Closures and public use limits (a)(1) Visiting hours, public use limits, closures
1.5 Closures and public use limits(a)(2) Designated areas for specific use or activity or conditions
See specific sections in this document for additional information regarding designated areas and conditions for engaging in certain activities.
Unless otherwise posted, the following areas are closed to launching motorized vessels November through April:
Antelope Point Marina Public Launch Ramp.

Stateline Launch Ramp.

Lone Rock Beach.
All public access courtesy docks and ramps including paved and dirt within Glen Canyon National Recreation Area have an established 30 minute length of time for any party or group, to include launching retrieving and derigging of any vessel. A special use permit is required for anytime longer than the 30 minute regulatory timeframe.
The following areas have been designated as Federal Facilities in which the possession of a firearm is prohibited inside the facilities:
Glen Canyon NRA Headquarters in Page, AZ.

Carl Hayden Visitor Center.

Wahweap District Ranger Office.

Wahweap Fire Station.

Wahweap Warehouse.

Wahweap Maintenance Building.

Lees Ferry Ranger Station.

Lees Ferry Maintenance Building.

Dangling Rope Ranger Station.

Dangling Rope Maintenance Building.

Bullfrog District Ranger Office.

Bullfrog Fire Station.

Bullfrog Visitor Center.

Bullfrog Maintenance Building.

Halls Crossing Ranger Station/Visitor Contact Station.

Halls Crossing Maintenance Building.

Hite Ranger Station.

Hite Water Treatment Building.

Hans Flat Ranger Station
1.6 Permits
Scientific research, 1.5.

Vessel retrieval or derigging of a vessel that exceeds 30 minutes, 1.5

Collecting research specimens, 2.5.

Groups with over 40 persons, 2.10(a)

Operating a power saw in developed areas, 2.12(a)(2).

Operating a portable motor or engine in undeveloped areas, 2.12(a)(3).

Operating a public address system, 2.12)(a)(4).

Air delivery, 2.17(a)(3).

Noncommercial soliciting, 2.37.

Using, possessing, storing, or transporting explosives, blasting agents, or explosive materials, 2.38(a).

Using or possessing fireworks and firecrackers, 2.38(b).

Special events, 2.50(a).

Public assemblies and meetings, 2.51(a).

Sale and distribution of printed matter, 2.52(a).

Grazing, 2.60(a)(1),(2),(3).

Residing on federal lands, 2.61(a).

Installing a monument or other commemorative installation, 2.62(a).

Towing a person using a parasail, hang-glider or other airborne device, 3.12(b).

Commercial notices or advertisements, 5.1.

Commercial operations, 5.3.

Commercial photography or filming, 5.5.

Construction or repair of any building, structure, facility, road, trail, or airstrip on federal lands, 5.7.

Exceed Vessel Horsepower Limitation, 7.70(c)(1).
2.1 Preservation of natural, cultural, and archeological resources
2.2 Wildlife Protection
2.3 Fishing
2.4 Weapons, traps, and nets
2.10 Camping and Food Storage, 2.11 Picnicking

2.13(a)(1) Fires: designated areas and conditions
2.14 Sanitation and refuse
2.15 Pets, 2.16 Pack Animals
2.17 Aircraft and Air Delivery
2.18 Snowmobiles, 2.19 Winter Activities
2.20 - 2.62 More Recreation/Resource Protection Regulations
3 Boating and Water Use Activities

No permit required.
4 Vehicles and Traffic Safety
Last updated: January 14, 2021