Alerts & Conditions
View the park webcams, most positioned at launch ramps and marinas, to see park conditions district by district.

Check the Seasonal Hours to see what times the places you want to visit are open.

Is the lake down? Is it coming back up? Jump to On the Water for more information about the changing lake levels.

News Releases cover breaking news about Glen Canyon and your visit here. Are you looking for more in-depth or ongoing information about Glen Canyon? Check our Advisories page for important issues.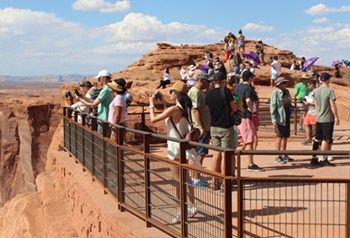 Horseshoe Bend
The iconic Horseshoe Bend is a busy place. Improvements at Horseshoe Bend Overlook are currently underway, including a new accessible trail, shade structures, and a larger parking lot. A new viewing platform at the rim opened Summer 2018.
The City of Page requires Horseshoe Bend visitors to pay for parking at the Horseshoe Bend trailhead.
Private vehicles: $10 per car • $5 per motorcycle
Commercial van/bus: $35 up to 14 passengers • $70 up to 35 passengers • $140 over 35 passengers.
National Park Service passes do not apply for the parking lot. Contact the City of Page for questions about the parking at Horseshoe Bend: (928) 645-4201.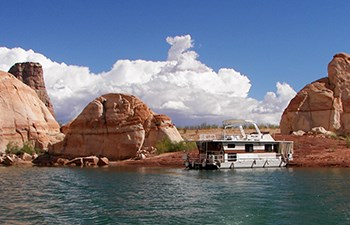 On the Water
The lake level is changing every day: keep alert!
The lake is going up, fast! Navigation hazards change daily, boaters should use caution and be very watchful of unexpected underwater hazards as well as other boaters and kayaks.
We only mark the main channel with navigational and hazard buoys so if people go into side canyons be sure to go slow, watch for other boaters, kayaks, and rocks, remember to stay 150' away from other boats when going faster than wakeless speed.
There are a lot of blind corners in narrow side canyons so always expect another vessel to be going the opposite direction and be ready to react if necessary.
Cliff jumping or jumping off anything man made or natural 15' or higher is illegal and there have been several fatalities because of it over the years.
Do not swim around boats that have engines or generators running due to the danger of prop cuts and carbon monoxide poisoning.
Boating at night is always extremely dangerous and should be avoided if possible.
Check the National Weather Service Marine webpage for 3-day forecasts and specific information on wind, storm, and heat conditions at Lake Powell.
Visit the Bureau of Reclamation Water Operations webpage for data on lake levels, inflow, and release.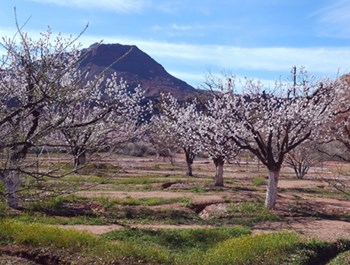 Weather Conditions
Spring is springing, so be ready for anything, including big temperature variations—sunny days and cold nights. Prepare yourself for variable weather conditions by dressing in layers and wearing a hat and sunblock. Expect wind! Northern Arizona is known for unpredictable winds, especially in spring. Afternoon storms can bring flash floods, even when the skies are blue above you. Check the forecast, especially before boating. A good place to start is the National Weather Service forecast for Page, AZ or our Weather page.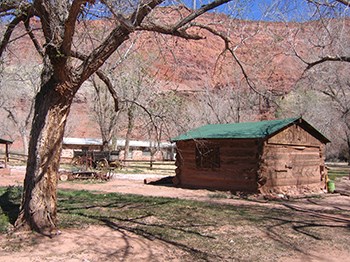 Lonely Dell Access Road Construction
The Federal Highways Administration in coordination with the National Park Service has begun work to stabilize the banks of the Paria River. This project will close the Access Road to the Lonely Dell Historic Site until work is completed, estimated June 2019. During this time hikers traversing the Paria Canyon and those who want to visit the ranch and orchard are encouraged to use alternate routes to the historic site and the 14 day parking area.
One suggested route begins 300 feet north of the Paria Bridge and enters the historic district at the Southwest corner of the orchard.
While visitors are encouraged to visit the historic site they are prohibited from entering the work zone.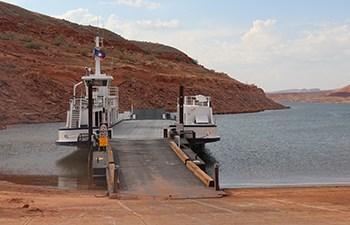 Charles Hall Ferry Temporarily Closed
The ferry that runs between Bullfrog and Halls Crossing continues to be down for repairs. There is no estimated completion date. Utah travelers should know that without the ferry, State Route 276 does not connect and they must use Hwy 95 to drive north and south around Lake Powell. Find more information on the ferry page of the UDOT website.
Last updated: May 10, 2019