Alerts & Conditions
Alerts
Park Closure
Closure of Greenehaven Wash due to public health, welfare and safety issues in regards to deceased cattle that are stuck in the mud as water levels are rising. Greenehaven Wash will remain closed until further notice.
more
Caution
Quagga mussel shells are sharp and tiny. They will cut through skin, clothes, and paws. Please wear water shoes and put booties on your pets when recreating on beaches.
more
Information
The Charles Hall Ferry, which runs between Halls Crossing and Bullfrog, is temporarily out of service due to mechanical failure. Problem is being diagnosed.
more
---
View the park webcams, most positioned at launch ramps and marinas, to see park conditions district by district.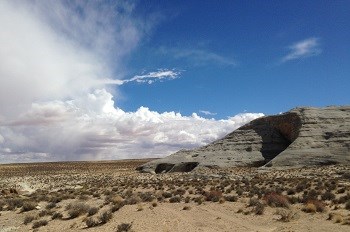 Weather Conditions
Spring is in full swing. Flowers are blooming and temperatures are climbing, but conditions are still variable. Prepare yourself by dressing in layers and wearing a hat and sunblock. Northern Arizona is known for windy springs. Check the forecast, especially before boating. A good place to start is the National Weather Service forecast for Page, AZ.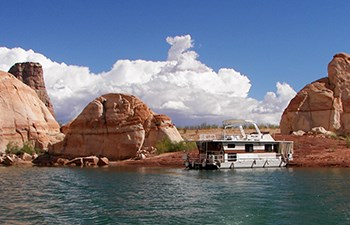 On the Water
Check the National Weather Service Marine webpage for 3-day forecasts and specific information on conditions at Lake Powell. Mouse over Lake Powell on the map for an overview, then select either Arizona or Utah side for in-depth area forecasts.
Visit the Bureau of Reclamation Water Operations webpage for data on lake levels, inflow, and release.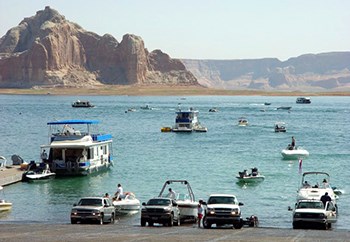 Have Patience in Busy Settings
We know you are excited to explore the park, and so are all your fellow visitors. This can make for busy and hectic conditions on roads, in parking lots, on launch ramps, and on the water. Keep yourself and everyone safe by driving with caution, respecting speed limits, and staying aware of your surroundings.
There are plenty of spots for solitude in Glen Canyon's backcountry and Lake Powell's coves, but expect crowded conditions in popular frontcountry areas. Have patience and enjoy the journey.
Last updated: May 25, 2018