Contact Us
If you are having an emergency, call 911 or hail National Park Service on Marine Band 16.
Glen Canyon National Recreation Area
P.O. Box 1507
Page, AZ 86040
Got A Question?
Glen Canyon Information. This inbox is checked weekly.
Receptionist available at Glen Canyon Headquarters from 7 am to 4 pm MST, Monday through Friday. The phone is not monitored when the building is closed.
Lost & Found
If you have lost an item in the park and want to see if it has been turned in to our lost and found, please fill out a Lost Item Report.
Social Media
We use social media to reach new audiences and create a vibrant community of park advocates. We also look to promote a deeper understanding of national parks by providing accurate, engaging, and timely content, as well as share important news and events from more than 400 parks and National Park Service (NPS) programs. Follow, share, and be a part of the conversation with the NPS! Follow us on Facebook and Instagram.
---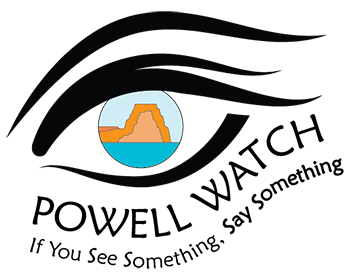 Powell Watch
Are you tired of seeing your fellow boaters dump their trash and human waste on beaches? Did you find graffiti carved on canyon walls or other damage to the landscape? Help us out on Lake Powell by being part of our neighborhood watch program.
If you see any resource damage or illegal activites, send an email to our Dispatch Center, who can process accordingly and notify law enforcement. If you can, include coordinates and/or photos with your report. Send to GLCA_Dispatch_Center@nps.gov.
This is an information only platform. In an emergency, call 911 or hail National Park Service on Marine Band 16.


Last updated: January 20, 2021