Leave No Trace at Glen Canyon
Leave No Trace is a national program that protects the outdoors by teaching and inspiring people to enjoy it responsibly. The seven principles of Leave No Trace promote responsible outdoor recreation by building awareness, appreciation, and respect for public lands. Learn the best ways to minimize your impact as you visit Glen Canyon National Recreation Area.
"Although Leave No Trace has its roots in backcountry settings, the Principles have been adapted so that they can be applied anywhere — from remote wilderness areas, to local parks and even in your own backyard."
- Leave No Trace Center For for Outdoor Ethics.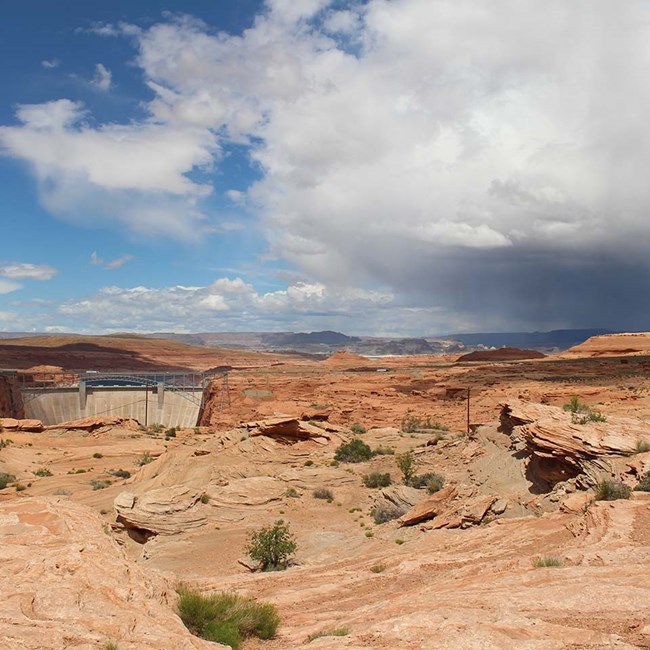 Plan Ahead and Prepare
Checking local weather will help you prepare or plan around less than ideal conditions. Strong winds, extreme heat, storms, potential flash floods, and even effects of wildfires from surrounding areas can happen during the summer months. Always bring enough water for each person in your travel party. A desert climate is still dry no matter the temperature or time of year.

Grab a map! Many places at the park are remote with limited to no amenities. Cell phone reception can be limited to none. Paper maps of the park and of Lake Powell, knowledge of gas stations, a vehicle/vessel kit if you find yourself stranded can be the difference between an fun road trip and an emergency.

Do I need a pass or permit? Fees are required to enter the park, launch your boat, park at Horseshoe Bend, use ORV routes, and use of developed campgrounds. More details on the Fees and Passes page. Fee free days are listed here as well!

Backcountry permits are required for all overnight stays in the Escalante District of Glen Canyon National Recreation Area. Obtain permits at the Escalante Interagency Visitor Center in the town of Escalante or at one of the entry trailheads. Day use does not require a backcountry permit, but please sign the trail register.

More questions? Once you arrive at the park, checking in with rangers at Visitor Centers or Fee Booth Stations can help answer any last-minute questions.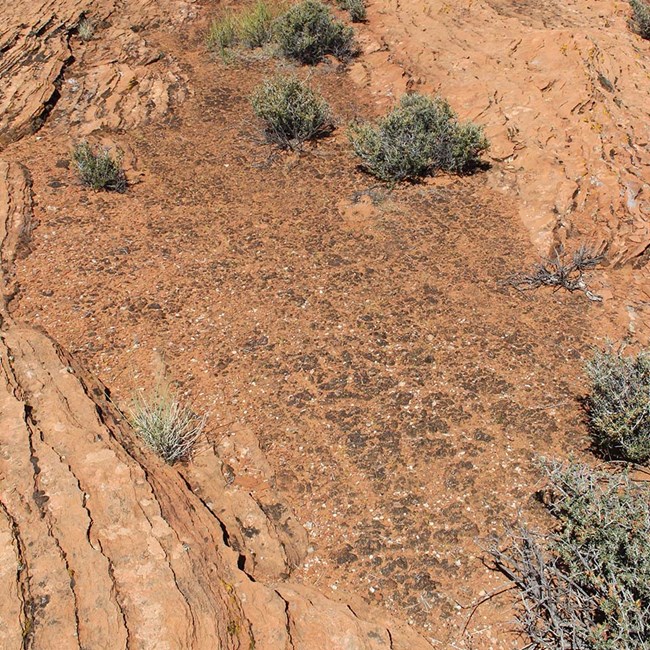 Travel and Camp on Durable Surfaces
Hike in canyon drainages and on slick rock when possible. Avoid creating a network of social trails. By using existing paths and campsites you prevent unnecessary damage. Consider the idea that good campsites are found and not made.

Stay on designated roads and ORV routes. Park in designated parking areas to avoid the creeping impact of expanding parking areas.

Don't bust the crust
Cryptobiotic soil crusts are alive and essential for arid ecosystems. Once stepped on, this fragile crust takes years to regrow. When reaching your trailhead, do not drive off the road. Leaving the road creates new roads as others follow your tracks.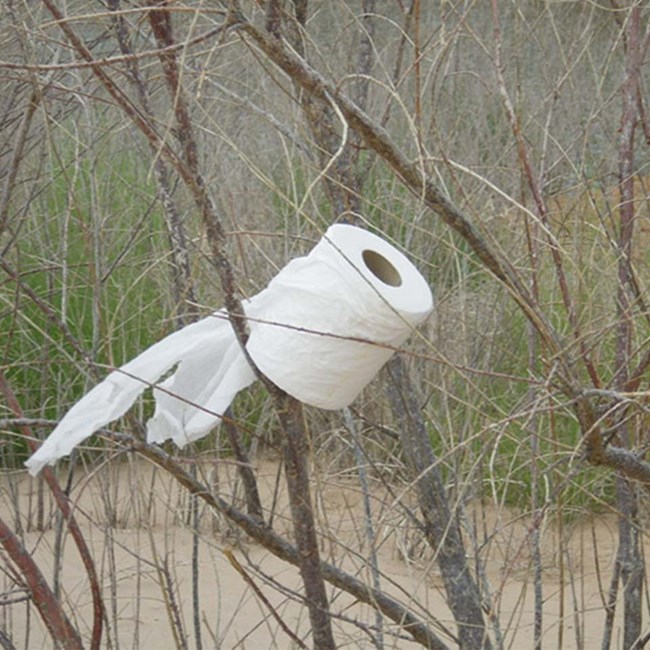 Human Waste Disposal
If a restroom is not provided, all human body waste solids shall be contained and carried out using a portable toilet or a specifically engineered bag waste containment system.

Use of a plastic or paper bag as a receptacle for solid human waste and/or for disposal of solid human waste is prohibited unless part of a specifically engineered bag waste containment system containing enzymes and polymers to treat human solid waste, capable of being sealed securely and state approved for disposal in ordinary trash receptacles. Visitors are responsible for providing their own removal system that is adequate for the size of their group and length of stay. Packing out human waste is required in Coyote Gulch, within 1/4 mile of the shore of Lake Powell, the San Juan River, Escalante River, Dirty Devil River or the Colorado River, and anywhere else the minimum 300 feet from a water source cannot be attained.
Read more details about proper waste disposal in the Superintendent's Compendium.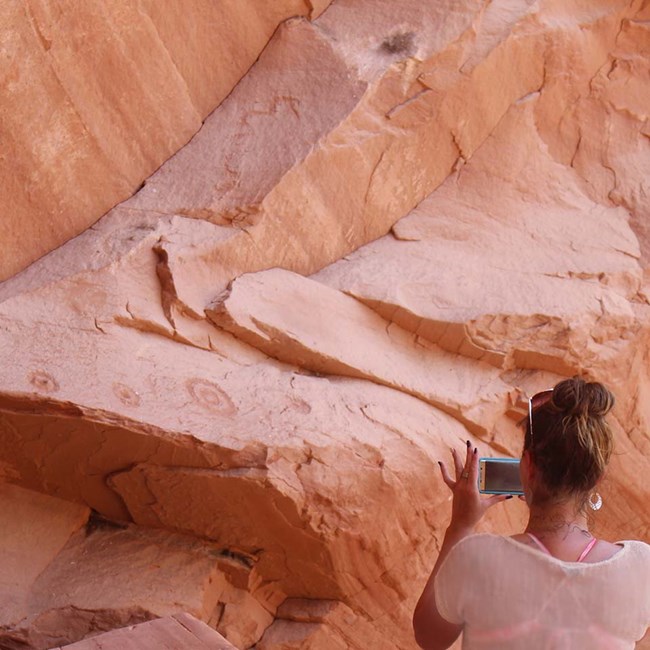 Leave What you Find
Leave areas as you found them. Natural objects of beauty or interest such as antlers, petrified wood or colored rocks add to the mood of the backcountry and should be left so others can experience a sense of discovery. In national parks and many other protected places, it is illegal to remove natural objects.
Leave what you find also means leave how you find it. Adding to existing cairns can disrupt the real purpose of navigation for the people that follow. Homemade carins don't add to the "vibe" for your social media post. Trust us.

Visit with Respect. People have called this place home for thousands of years. These historic inscriptions and existing native petroglyphs help document the diverse use and presence of people throughout the land. Don't touch the images you find on rocks and canyon walls. Natural oils on your hands can damage images. Don't take anything you find home with you. Petroglyphs, stone and wood structures, and scattered artifices have strong ties to people of the area today.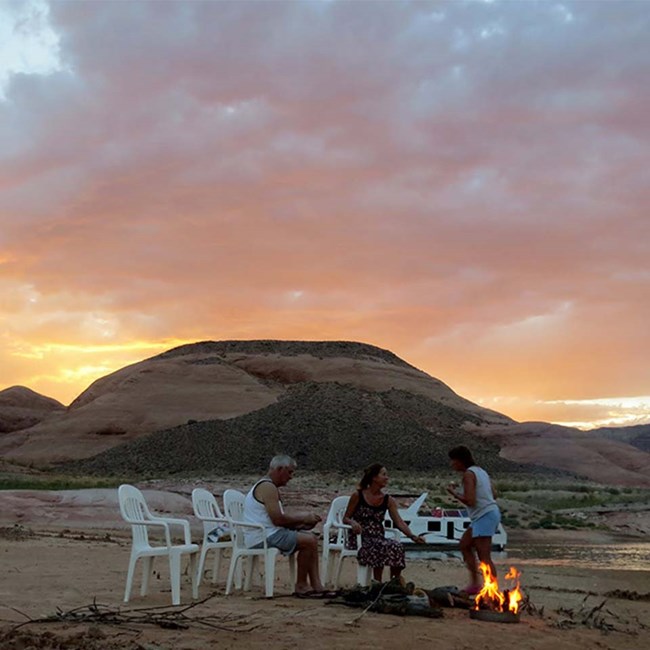 Minimize Campfire Impacts
Following parks rules on where you can have fires is the best way to lessen your fire impact. The following areas are designated for campfires:
Fires are only allowed at existing provided fire rings in the designated campgrounds at Wahweap, Bullfrog, Halls Crossing and Lees Ferry and along the campsites the Colorado River between Glen Canyon Dam and Lees Ferry.
Along Lake Powell's shoreline below high water level (3700 feet), except within the Wahweap, Dangling Rope, Bullfrog, Halls Crossing, or Lees Ferry developed areas.
Above Lake Powell's high water level (3700 feet) within Glen Canyon NRA, except within the watershed drainage of the Escalante River, this includes Llewellyn and Cottonwood Canyons, and in the Orange Cliffs Unit.
In the Orange Cliffs Unit, charcoal fires are allowed in fire pans at designated vehicle campsites. Users must provide their own fire pan and pack out the fire pan along with all ash and charcoal associated with the use of the fire pan.
Clean up your fire pit after use. Don't burn materials other than wood like trash or glass. Remember fires need to be at least 300 feet away from archeological sites, marinas, fuel docks ( except within the galleys or on grills of vessels moored at marinas). Fires should never exceed four feet in height or width.
Check before you head out to learn more about specific fire rules and regulations by reading 2.13(a)(1) Fires: designated areas and conditions within the Superintendents Compendium.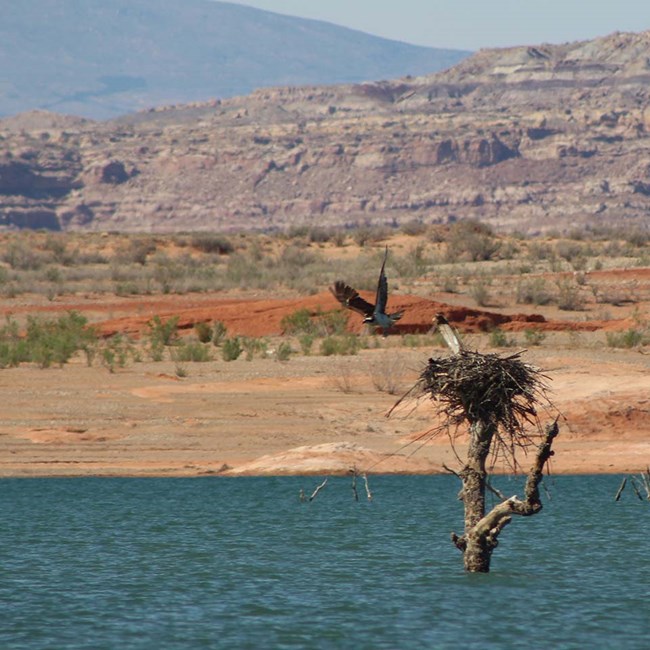 Respecting Wildlife
Do not disturb wildlife or plants just for a "better look." Observe wildlife from a distance so they are not scared or forced to flee. Large groups often cause more damage to the environment and can disturb wildlife so keep your group small. If you have a larger group, divide into smaller groups if possible to minimize your impacts.
Quick movements and loud noises are stressful to animals. Travel quietly and do not pursue, feed or force animals to flee. In hot or cold weather, disturbance can affect an animal's ability to withstand the rigorous environment. Do not touch, get close to, feed or pick up wild animals. It is stressful to the animal, and it is possible that the animal may harbor rabies or other diseases.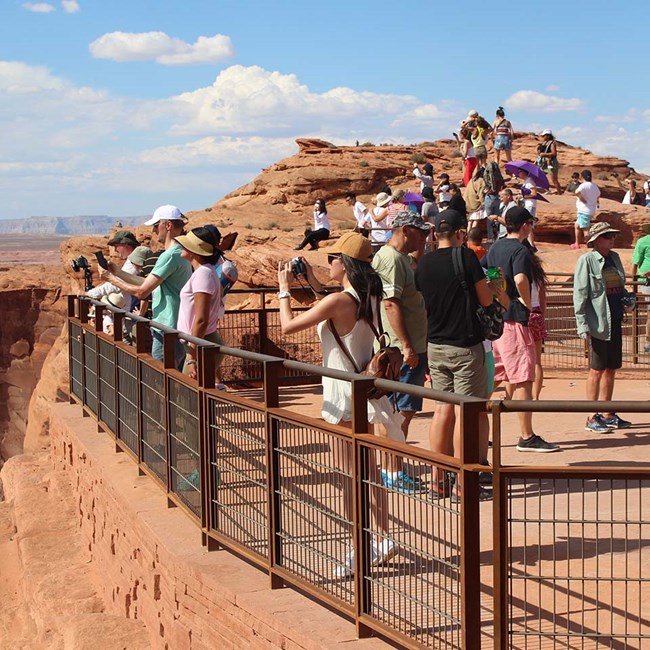 Be Considerate of Other Visitors
Many come to Glen Canyon to take in wide open spaces and the scenic landscape of the Colorado Plateau. The feeling of solitude is often enhance when group size is small, contacts are infrequent and behavior is unobtrusive. Respect those who make their way to the park. Understand that holidays and weekends are often busier with longer lines for entrance stations and boat launches than the off season and week days.

Keep pets under control at all times — your pet is not in the wildlife category. Please pick up dog feces from camps and trails. Some areas prohibit dogs or require them to be on a leash at all times.Check where pets can visit before you go.
Last updated: April 27, 2022