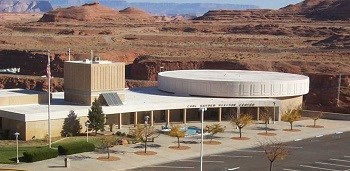 Carl Hayden Visitor Center at Glen Canyon Dam
Mid-May through mid-September, 8 am–6 pm MST daily
Mid-Septemeber through October, 8 am–5 pm daily
November through February, 8 am–4 pm MST daily
February through mid-May, 8 am–5 pm MST daily
Closed Thanksgiving, Christmas, and New Year's Day
Phone: 928-608-6200; Tours of the Dam: 928-608-6072; Bookstore: 928-608-6068.
Location: Highway 89 on west side of Glen Canyon Dam
Attractions: Interactive exhibits, introductory films, a relief map of the entire Glen Canyon area, restrooms, a bookstore, and tours of the dam provided by Glen Canyon Conservancy.
Tours are $5, and as a federal power plant facility, security measures are in place. While no bags, purses, knives, weapons, or food are allowed on the tour, wallets, cameras, and clear water bottles are welcome.