Visitor Centers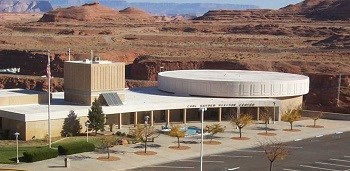 Carl Hayden Visitor Center at Glen Canyon Dam
Mid-May through mid-September, 8 am–6 pm MST daily
Mid-Septemeber through October, 8 am–5 pm daily
November through February, 8 am–4 pm MST daily
February through mid-May, 8 am–5 pm MST daily
Closed Thanksgiving, Christmas Eve, Christmas, and New Year's Day
Phone: 928-608-6200; Tours of the Dam: 928-608-6072; Bookstore: 928-608-6068.
Location: Highway 89 on west side of Glen Canyon Dam
Attractions: Interactive exhibits, introductory films, a relief map of the entire Glen Canyon area, restrooms, a bookstore, and tours of the dam provided by Glen Canyon Conservancy.
Tours are $5, and as a federal power plant facility, security measures are in place. While no bags, purses, knives, weapons, or food are allowed on the tour, wallets, cameras, and clear water bottles are welcome.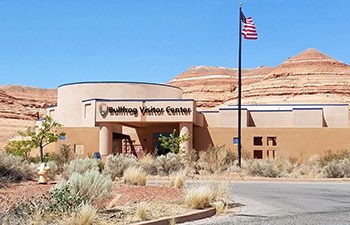 Bullfrog Visitor Center
Hours vary
Phone: 435-684-7423
Location: Highway 276 north of Bullfrog Marina
Attractions: Exhibits relating to geology and the human and natural history of Glen Canyon. Ancestral Puebloan and pioneer artifacts. A life-size model of a slot canyon. Bookstore, restrooms, medical clinic (May thru early October only).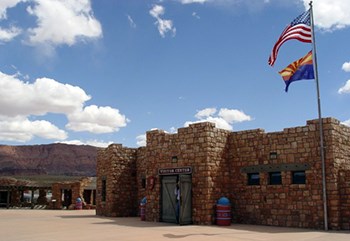 Navajo Bridge Interpretive Center
April through November, open daily 9 am–5 pm MST
Closed Thanksgiving
Phone: 928-355-2319
Location: Highway 89A on west side of Navajo Bridge
Attractions: Bookstore, outdoor exhibits, and self guided walks across the historic Navajo Bridge. This is a popular spot to look for a California Condor.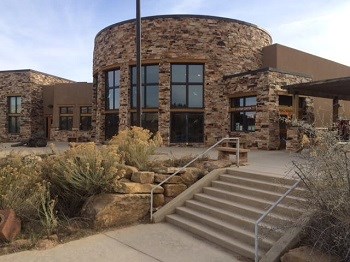 Escalante Interagency Visitor Center
Mid-April to October, 7:30 am–5:30 pm daily
October to Thanksgiving, 8:00 am–4:30 pm daily
Mid-November to mid-April, 8:00 am–4:30 pm Monday–Friday
Closed Thanksgiving, Christmas Eve, Christmas, and New Year's Day
Phone: 435-826-5499
Location: 755 West Main Street in Escalante, Utah
Attractions: Trip planning exhibits, ecology exhibits, introductory films, restrooms, bookstore, and picnic area
The visitor center is staffed by Bureau of Land Management, National Park Service, and Forest Service personnel providing information on the Escalante Grand Staircase National Monument, Glen Canyon National Recreation Area, and the Dixie National Forest.
Visitor Center Hours of Operations

Last updated: June 26, 2020