Alerts & Conditions
Consistent with CDC guidance masking requirements will vary by park based on local conditions, however masks are still required on all forms of enclosed public transportation. In areas CDC identifies as high COVID-19 community level, masks are required for everyone in all NPS buildings regardless of vaccination status. In most low and medium COVID-19 community level areas, masks are optional, but visitors should follow signs and instructions from park staff and volunteers. Visitors and employees are always welcome to wear a mask if it makes them more comfortable.
Partners, Concessioners, State and Local Jurisdictions
Our partners Glen Canyon Conservancy are operating their Page AZ flagship location, Carl Hayden Visitor Center, Navajo Bridge Interpretive Center, Bullfrog Visitor Center, Escalante Interagency Visitor Center, and online information.
Visit with Respect - Navajo Nation
Glen Canyon National Recreation Area is located in a large area across Arizona and Utah, and shares a border with the Navajo Nation. The park fully supports tribal ordinances issued in response to the COVID-19 pandemic. Learn more about the Navajo Nation's Reopening Plan and mask requirements.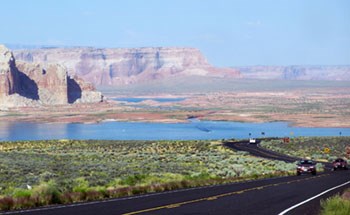 Quick Links
How will Lake Powell's changing water levels affect your visit?

View the park webcams, most positioned at launch ramps and marinas, to see park conditions district by district.

Check the Seasonal Hours to see what times the places you want to visit are open.

Check the regularly updated Road Conditions report from nearby Grand Staircase-Escalante National Monument. Roads that lead into or near Glen Canyon are highlighted.

News Releases cover breaking news about Glen Canyon and your visit here. Are you looking for more in-depth or ongoing information about Glen Canyon? Check our Advisories page for important issues.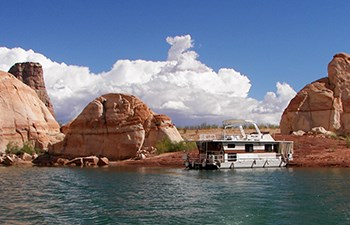 The lake level is changing every day: keep alert!
Navigation hazards change daily, boaters should use caution and be very watchful of unexpected underwater/freshly-out-of-the-water hazards as well as other boaters and kayaks. Hazard buoys do not mark every hazard on the water. Be aware of pieces of branches that could be as large as full trees floating in the lake. Water levels are significantly different than past seasons, so commonly known boating paths and saved GPS routes may not be safe with current lake levels.

We only mark the main channel with navigational and hazard buoys so if people go into side canyons be sure to go slow, watch for other boaters, kayaks, and rocks, remember to go wakeless speed when needed. There are a lot of blind corners in narrow side canyons so always expect another vessel to be going the opposite direction and be ready to react if necessary.

As always, watch your children around water. If they are 12 years or younger they must wear life jackets.

Due to increased visitation, visitors to any Lake Powell beaches are advised to take standard precautions for possible water quality issues. This includes properly disposing of human and pet waste, practicing safe sanitation, washing their hands often and showering after swimming. Never swim in waters that have algal scum floating on the water which may indicate that a Harmful Algal Bloom is occurring. Always wash your hands before eating, shower with soap after playing in the water, and never go in the water if you have open sores or cuts. For more information: Lake Powell Recreational Water Advisory

Cliff jumping or jumping off anything man made or natural 15' or higher is illegal. There have been several fatalities due to cliff jumping over the years.

Do not swim around boats that have engines or generators running due to the danger of prop cuts and carbon monoxide poisoning.

Boating at night is always extremely dangerous and should be avoided if possible.

Drive at wakeless speed (under 5mph, or however slow it takes to not throw a wake) when within 100 feet of:
-A designated area
-A downed skier, tuber
-Wading, fishing in water, floating, swimming (person in the water)
-Another vessel (propelled, anchored or drifting vessel)
-Designated launch site
-Diving flag marker

Check the National Weather Service Marine webpage for 3-day forecasts and specific information on wind, storm, and heat conditions at Lake Powell.

Visit the Bureau of Reclamation Water Operations webpage for data on lake levels, inflow, and release.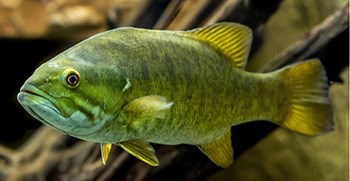 Help us detect invasive Smallmouth Bass

Smallmouth Bass establishment is a dire threat to Grand Canyon's native fishes, including Humpback Chub. Drought and low levels in Lake Powell have made dam releases warmer and increased the risk of nonnative fish pass-through. Smallmouth Bass start to spawn in water warmer than 61°F (16°C). They guard nests in calm water habitats like backwaters or tributary pools. Reproduction of Smallmouth Bass was documented in the Lees Ferry Reach for the first time in 2022. Smallmouth Bass pose a serious risk to the rainbow trout fishery in the Lees Ferry Reach and downstream native fish populations.

Watch for Smallmouth Bass in eddies, backwaters, and tributary mouths. If bass are captured while angling, please harvest; do not release them alive. If you see or capture any bass, please email Emily Omana (emily_omana@nps.gov) or Jeff Arnold(jeff_arnold@nps.gov) with location and date. Photos greatly appreciated!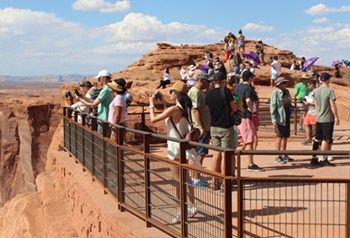 Horseshoe Bend
The iconic Horseshoe Bend is a busy place. Improvements at Horseshoe Bend Overlook are currently underway, including a new accessible trail, shade structures, and a larger parking lot.
The City of Page requires Horseshoe Bend visitors to pay for parking at the Horseshoe Bend trailhead.
Private vehicles: $10 per car • $5 per motorcycle
Commercial van/bus: $35 up to 14 passengers • $70 up to 35 passengers • $140 over 35 passengers.
National Park Service passes do not apply for the parking lot. Contact the City of Page for questions about the parking at Horseshoe Bend.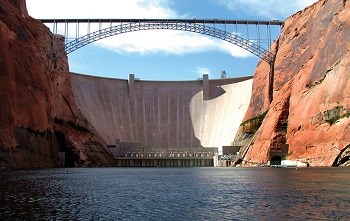 Tours of Glen Canyon Dam
Following guidance from the White House, Centers for Disease Control and Prevention (CDC), and state and local public health authorities, the dam is closed to the public. For more information about Glen Canyon Dam, please visit the US Bureau of Reclamation.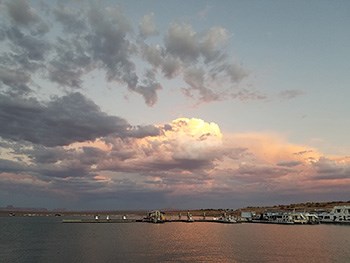 Weather Conditions
Be ready for temperature extremes. Plan your day with the weather in mind. Despite the giant lake all around you, this is always a desert. Stay hydrated by drinking plenty of water, and eat salty snacks to help relpace the electrlytes you lose through sweat. Wear sun protection, hats, light loose clothing, sunscreen. Know the signs of heat and cold illnesses. NEVER leave children or pets in parked, unattended vehicles.

Expect wind! Northern Arizona is known for unpredictable winds. Afternoon storms can bring flash floods, even when the skies are blue above you. Check the forecast, especially before boating. A good place to start is the National Weather Service forecast for Page, AZ or our Weather page.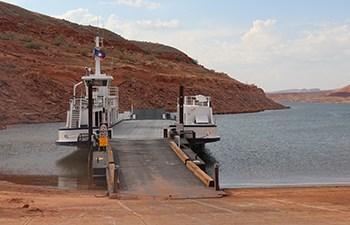 Charles Hall Ferry Current Operations
The ferry is not operable due to low water. The Utah Department of Transportation has no plans to operate the ferry in 2023. Drivers will need to utilize Utah State Routes 276 and 95 instead of the ferry.
Find more information by calling the Utah Department of Transportation at 435-893-4747, or the ferry page of the UDOT website.