Horseshoe Bend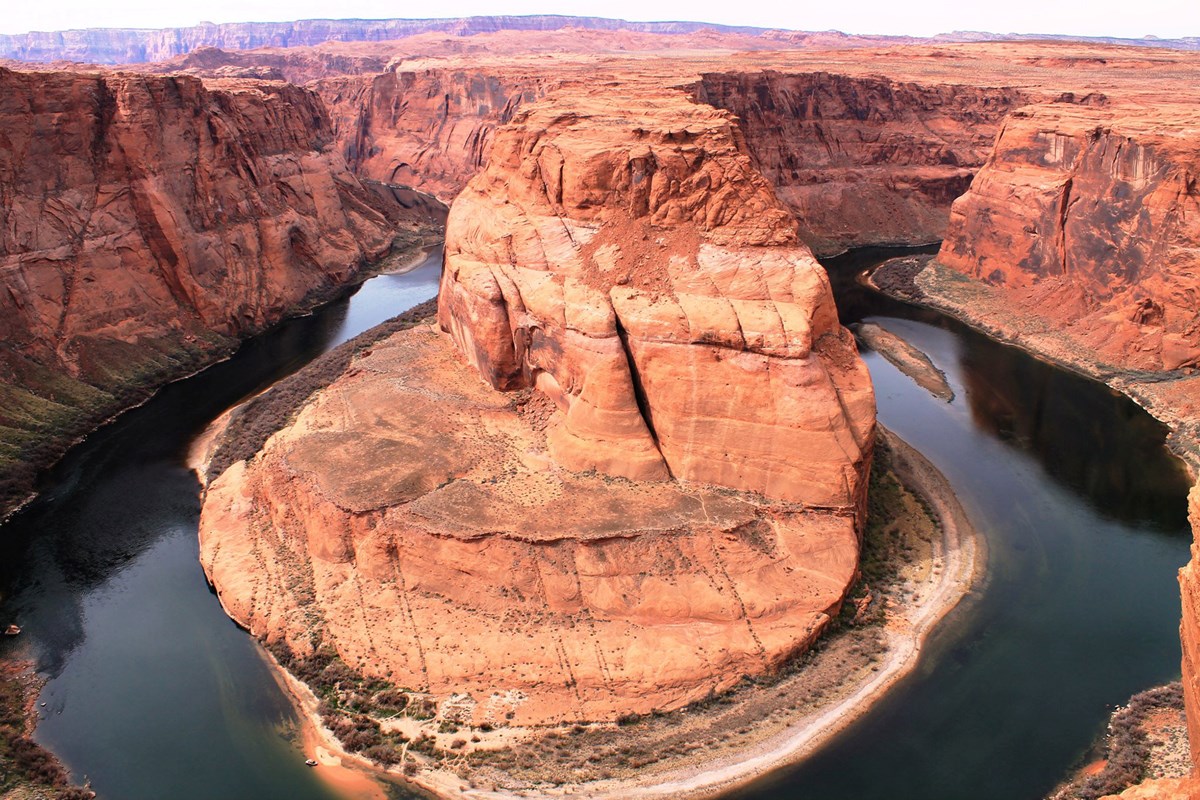 A social media darling, Horseshoe Bend has become one of the most recognized and visited places in the entire park. The parking lot and trailhead is located off U.S. Hwy 89, approximately 5 miles (8 km) south of the Carl Hayden Visitor Center.
Changes are underway in this busy and beautiful place, including expanded parking and trail maintenance. Please respect construction closures. A viewing platform with hand rails opened on the rim in Summer 2018. Much of the rim remains exposed, so watch your footing and keep track of children.
Hiking
The hike to the overlook is 1.5 miles (2.4 km) round-trip over sandy terrain. There is a hill that challenges some hikers. Take advantage of the shade shelter at the top to catch your breath and enjoy the view.
As with any hike, be prepared with plenty of water, sturdy footwear, sunscreen, and other basic hiking essentials. See the Hiking page for more on preparedness. Know that there is little shade along the Horseshoe Bend Trail. Avoid hiking during the hottest part of the day.
Parking Fees
Horseshoe Bend itself is in the park, but the parking lot is on city land. The City of Page requires visitors to pay for parking at the Horseshoe Bend trailhead. National Park Service passes do not apply for the parking lot. Contact the City of Page for questions about the parking at Horseshoe Bend: (928) 645-4201, or at their website here. PLEASE NOTE: On Holidays and busy weekends, the City of Page may require all visitors to use a shuttle to visit once the parking lot is full. Check with them if you plan to visit during busy times.
Private vehicles
$10 per car
$5 per motorcycle
Commercial van/bus
$35 up to 14 passengers
$70 up to 35 passengers
$140 over 35 passengers
An Entrenched Meander
Below the rim, the Colorado River makes a wide sweep around a sandstone escarpment. On its long downward journey to the sea, the river meandered, sometimes making wide bends, but always seeking the path of least resistance. Around 5 million years ago, the Colorado Plateau uplifted and the meandering rivers that crossed the ancient landscape were trapped in their beds. Over time, the rivers cut through the uplifted layers of sandstone.
Here at Horseshoe Bend, the Colorado River created a roughly 1,000 ft (305 m) deep, 270º horseshoe-shaped bend in Glen Canyon.
Last updated: June 17, 2019