News Release
Access Increases for Memorial Day Holiday at Glen Canyon National Recreation Area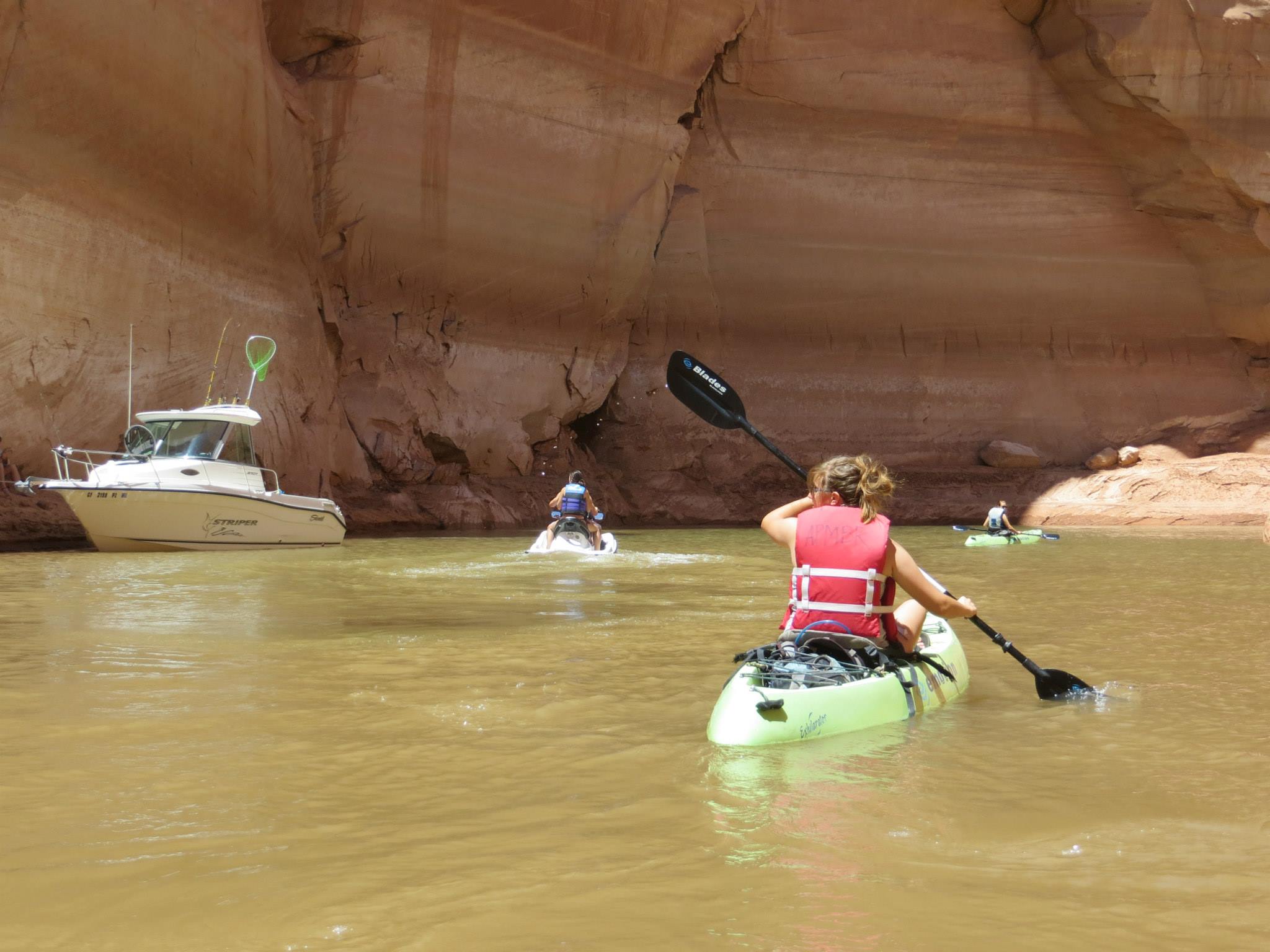 News Release Date:
May 24, 2023
Contact: Mary Plumb
Due to a high snowpack, a higher spring runoff continues to increase Lake Powell water levels. The lake has been rising over one foot per day.  As of May 24, Lake Powell's elevation is 3550.7 feet (above sea level). An overview is available of projected water levels and potentially concurrent re-opening of visitor access points at this previous news release.
In south Lake Powell (near Page, Ariz.), the Stateline Auxiliary Ramp and Antelope Point Marina Business Ramp remain open to all motorized vessels. (Interested customers should contact Antelope Point Guest Services to inquire about their specific vessel(s), 928-645-5900 ext. 5032.).  
On Saturday, May 27, the Wahweap Main Ramp will open to all motorized vessels and the Stateline Main Ramp will open to non-motorized vessels. The Wahweap Swim Beach area will close and will reopen in a new location in the coming weeks. Other options for swimming in south Lake Powell include the Lone Rock Primitive Campground and other accessible shorelines. (Swimming is at your own risk; no lifeguards are present.) 
In north Lake Powell, the Bullfrog North Ramp remains open to all motorized vessels. On May 22, the Bullfrog Main Ramp Spur reopened to small, motorized vessels (up to 25 feet in length) and a courtesy dock is available. To reduce congestion, boaters are asked to please limit use of the courtesy dock to 10 minutes or less. Colorado River rafters are asked to take out at the Bullfrog Spur Ramp.    
Boaters should be advised that large debris fields are being flushed downriver north of Halls Crossing. Exercise caution if you may be boating in that area.  
Please expect congestion and exercise caution due to a higher concentration of boaters in all visitor use areas. Approach the shore with caution and watch for shallows and submerged debris. Always wear a life jacket. Life threatening dangers to avoid include swimming at marinas, flash floods, cliff jumping, and carbon monoxide emitted by generators or engines that are running.   
Lake Powell's water levels change throughout the year and are determined by a wide range of factors. It is imperative that boaters check the park's Changing Lake Levels for the status of preferred visitor use areas before heading to the lake. Information is available 24/7 about water levels, marina operations, and water-based visitor services. Have questions about Glen Canyon's visitor centers, camping, boating, guided services, etc.? Find the information here to plan your visit.
Invasive, exotic quagga mussels have been confirmed both above and below the Glen Canyon Dam. All watercraft operators are required by law to clean, drain, and dry their vessels (including paddlecraft) and all equipment prior to launching in any other body of water. More information is available on theMussel Update page. 
Prior to visiting, visitors are encouraged to be aware of current park alerts and general safety information.
Plan like a park ranger by following these useful tips before your adventure begins. Use the free NPS App, where visitors can plan a trip, find things to do and places to visit with interactive maps, tours, accessibility information, and more! To learn more about having every park at your fingertips.
Glen Canyon National Recreation Area's 1.25-million-acres stretch from Lees Ferry in Arizona to the Orange Cliffs of southern Utah, encompassing scenic vistas, geologic wonders, proposed wilderness areas, and a vast panorama of human history. The park wishes everyone a safe and enjoyable visit.    
Last updated: May 24, 2023