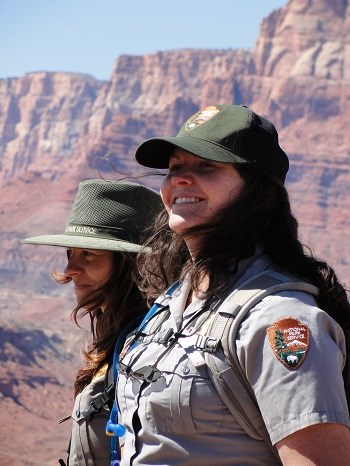 A wide variety of exciting and challenging employment opportunities await you at Glen Canyon National Recreation Area and Rainbow Bridge National Monument. We fill positions in many fields, including interpretation, maintenance, administration, resource management, law enforcement, and visitor services. Some jobs are office-oriented, others focus on working with the public, and many involve working outdoors. Each job performs a vital function—providing visitors an opportunity to enjoy a unique experience, while working hard to preserve natural and cultural resources for future generations.
Keep reading to find current job openings, application information, and answers to frequently asked questions. Check out more information about working for the National Park Service nationwide.
The Federal government is an equal opportunity employer. Selections will be made solely on the basis of merit, fitness, and qualifications without regard to race, color, religion, age, sex, marital status, political affiliation, national origin, physical handicap, sexual orientation, membership or non-membership in an employee organization, or any other non-merit factors.
Local Jobs
Some positions become available to people who live nearby Glen Canyon National Recreation Area. Every open postition will require the following form: Certification of Living Contiguous to the Area. That way we know for sure that you are local. Check here often for job announcements and note opening and closing dates for specific listings.