Trash Tracker
Trash Tracker 2023 Information

To all supporters of Trash Tracker:

We regret to inform you that we will be unable to operate the Trash Tracker program for the 2023 season, however we hope to resume operations in 2024.

Trash Tracker is an incredibly successful and long-lived partnership volunteer program. The hard work that volunteers and employees have put in for this program over the past 34 years has shown the world the power of people who just want to help. If you are unfamiliar with the depth of that impact, please read about the history of the program on the rest of this page.

The safety of our volunteers, employees, and visitors is always our highest priority. Aramark has been impacted economically by the drought and is not able to support the program this year. Without the resources to properly support the program we cannot sufficiently ensure that promise of safety to the volunteers. If you are interested in other volunteer opportunities in Glen Canyon, please check our volunteer webpage. We will continue to evaluate the situation as it evolves. Thank you for your dedication to keeping Lake Powell and Glen Canyon beautiful.

Signed January 3, 2023
Michelle Kerns, Superintendent, Glen Canyon National Recreation Area
Kelly Zwierzchowski, Aramark Destinations Vice President of Operations, Southwest Region

---
The Original Volunteer Vacation

Since 1989, the Trash Tracker program has been a co-operative effort between the National Park Service (NPS) and Lake Powell Resorts and Marinas (Aramark) to clean up the 1,960 miles of Lake Powell's shoreline.

Participants in the program are members of the NPS Volunteer-In-Parks (VIP) Program and spend 5 days aboard a houseboat that is owned and operated by Aramark. Volunteers for the Trash Tracker program clean up trash along the shoreline. The Trash Tracker's destination changes on each trip.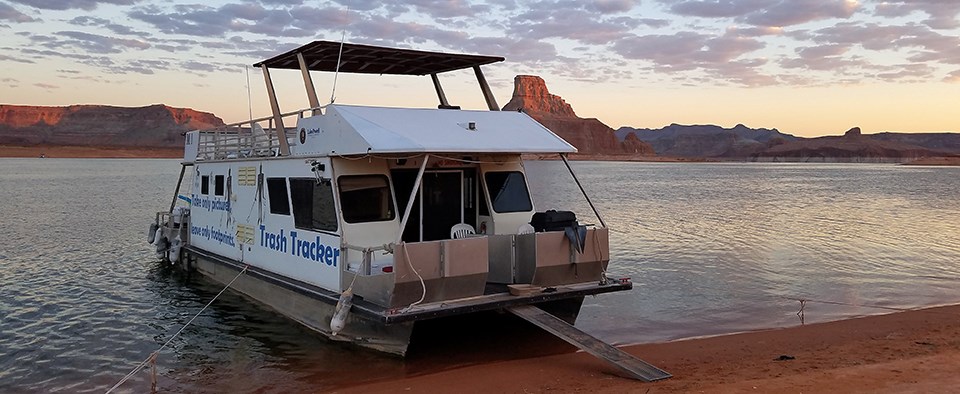 A Bit of History
1989: Steve Ward, native son of Page AZ, founded program as a reaction to the lake level dropping for the first time and exposing large amounts of trash

He approached NPS with the idea of working with his employer, Del Webb (Now Lake Powell Resorts & Marinas)

Concessioner provided boats, NPS provided volunteers

He thought program would be obsolete after five years

"After I retire I'm sure I'll look back at the Trash Tracker Program as my biggest contribution to Lake Powell. After all, it's my back yard. I've got to do all I can to keep it clean."

1993: returnee volunteers Bruce George and Pat Origas are married on board the Trash Tracker houseboat. They continued to volunteer and eventually became captains.

2004: Trash Tracker program receives Take Pride In America volunteer program award

2016: Salt Lake City magazine's best of awards: Voluntourism
---
How Has The Program Helped?
The Trash Tracker is used in conjunction with Glen Canyon National Recreation Area's Water Quality Program to keep Lake Powell pure. In past years, canyons and beaches have closed due to excessive human waste, but now Lake Powell can be considered one of the cleanest lakes on the country.
Trash Tracker Benefits
Data collection may not have been perfect in the early days of the Trash Tracker program, but here is a collection of the number of volunteers, the amount of shoreline they cleaned, and the pounds of trash picked up since we started keeping those records.
| Year | Pounds of trash | bags of trash | volunteers | hours donated | miles of shoreline cleaned |
| --- | --- | --- | --- | --- | --- |
Download This Dataset


Last updated: January 5, 2023