Trash Tracker
The Original Volunteer Vacation

Since 1989, the Trash Tracker program has been a co-operative effort between the National Park Service (NPS) and Lake Powell Resorts and Marinas (Aramark) to clean up the 1,960 miles of Lake Powell's shoreline.

Participants in the program are members of the NPS Volunteer-In-Parks (VIP) Program and spend 5 days aboard a houseboat that is owned and operated by Aramark. Volunteers for the Trash Tracker program clean up trash along the shoreline. The Trash Tracker's destination changes on each trip.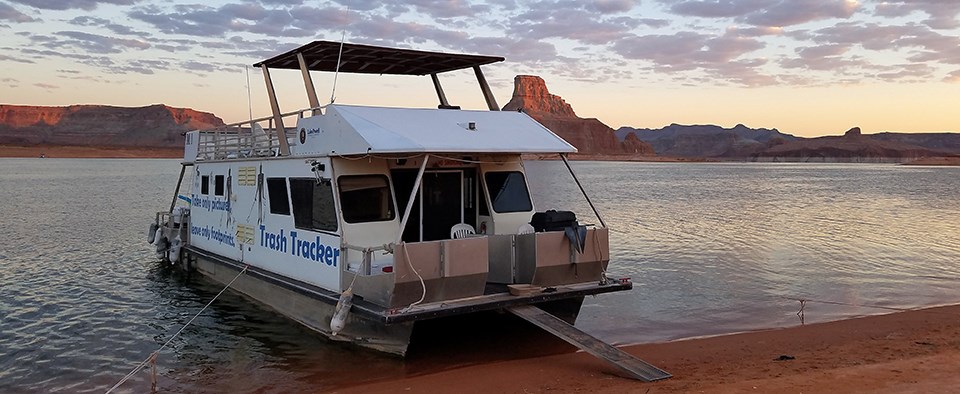 Volunteer Requirements
Must be at least 18 years of age

Be in good physical condition, including following all CDC guidelines for Covid-19
Be willing to work 8 hours a day
Work will be performed under the direct supervision of the Trash Tracker pilot or his/her designated representative. Project work will be performed during daylight hours, in an outdoor setting, and volunteers should expect to be exposed to rugged, rocky terrain and extreme weather conditions. Work will involve picking up, transporting, and unloading trash, debris, and waste collected from the Lake Powell shoreline.
The Trash Tracker Program is a high visibility project and those associated with the program must present a professional image at all times. Volunteers will, in the course of their work, have a great opportunity to enhance the experience of numerous visitors here at Lake Powell.
Qualifications
All volunteers must be 18 years of age or older and willing to perform basic clean-up functions. Volunteers must be in good health and able to do bending, lifting, and walking for extended periods in temperatures reaching the 100's during the summer months. Due to close living conditions aboard the houseboat, volunteer must be adaptable, flexible, and respectful of others.
Limitations
Although the assigned location may be near developed park areas, volunteers should be prepared to have only basic amenities available for the entire trip. The park and Lake Powell Resorts will provide certain items. All volunteers must provide food and other personal items not on this list. The Trash Tracker Pilot, according to the work schedule, will coordinate leisure time.
Time Commitment
Volunteers will be asked to commit to working a minimum of 6-7 hours per day removing trash, debris and waste from the shoreline of Lake Powell.
Crew members bring their enthusiasm and gear. They also bring their own breakfast and lunch food and provide one dinner for all crew members one night of the trip. If you plan on applying, please read the Equipment List page. Participants receive a Trash Tracker t-shirt, a magnificent experience on Lake Powell and the personal satisfaction of taking care of the park.

---
HOW HAS THE PROGRAM HELPED?
The Trash Tracker is used in conjunction with Glen Canyon National Recreation Area's Water Quality Program to keep Lake Powell pure. In past years, canyons and beaches have closed due to excessive human waste, but now Lake Powell can be considered one of the cleanest lakes on the country.

---
Trash Tracker Benefits
Data collection may not have been perfect in the early days of the Trash Tracker program, but here is a collection of the number of volunteers, the amount of shoreline they cleaned, and the pounds of trash picked up since we started keeping those records.
| Year | Pounds of trash | bags of trash | volunteers | hours donated | miles of shoreline cleaned |
| --- | --- | --- | --- | --- | --- |
Download This Dataset
Apply for a Trip
Trips are limited to 4 volunteers and are booked on a first come first come served basis. Volunteers must be at least 18 years old. All volunteers must be fully vaccinated for COVID-19 at the time of volunteering. This is a very popular program and trips fill quickly. The more flexible you are, the more likely it is that we will be able to place you. Please refer to the trip calendar at the bottom of the page for exact dates.

In order to be booked with your friends, please indicate the names of others in your group on the application request form. If this is not done, you will not be scheduled on the same trip. If you have the same physical address, you may put both names on one application form. Otherwise, you must fill out a separate application form.

In the interest of fairness to all applicants, here is how the application process will happen. No applications will be accepted before 7:00 am MST on February 15, 2022. All emails and phone calls come with a time stamp, and will be processed in the order they are received. If an application comes in before 7:00 am, it will be put on the bottom of the pile of applications. Once your application request is proccessed and the trips are seleced, you will be notified.
Questions and/or reservations may be directed to 928-608-6350,
or Trash Tracker Reservations. If this link does not work, please send your email to glca_trackergrit (at) nps . gov with the subject "Trash Tracker Reservations"
To apply: please fill out the form provided and mail to the address below or email to the address above. Note: our fax machine is no longer operational. Emails are preferred.
Glen Canyon NRA Attn-Trash Tracker
PO Box 1507
Page AZ 86040
Please fill out the application form. This is a new form for 2022. Do not use older forms, they are obsolete.

If you are chosen for a Trash Tracker trip, you will need to follow all CDC guidelines for COVID-19.

If you have questions about whether you are physically fit enough to perform this job, please double check the job description so you can make that decision on your own. Once you board the houseboat, your safety is in your hands.
Trip Schedule
Trips are subject to change and/or cancellation. Applications will be accepted beginning Feb 15, 2022 at 7:00am MST.
TRIPS HIGHLIGHTED ORANGE ARE FULL
TRIPS HIGHLIGHTED RED ARE CANCELED DUE TO COVID-19. If a trip is cancelled, a replacement trip may not be available.
Trash Tracker 2022 - Trip Schedule

Dates

1

2

3

4

5

6

7

8

9

10

11

12

13

14

15

16

17

18

19

20

21

22

23

24

25

26

27

28

29

30

31

March

April

Trip #1
April 28 - May 2

May

Trip #1

Trip #2
May 8-12

Trip #3
May 19-23

Trip #4
May 27-31

June

Trip #5
June 4-8

Trip #6
June 12-16

Trip #7
June 23-27

July

Trip #8
July 3-7

Trip #9
July 10-14

Trip #10
July 21-25

Trip #11
July 28- Aug1

August

11

Trip #12
Aug 4-8

Trip #13
Aug 11-15

Trip #14
Aug 18-22

Trip #15
Aug 25-29

September

Trip #16
Sept 2-6

Trip #17
Sept 10-14

Trip #18
Sept 22-26

Trip #19

October

Trip #19
Sept 29-Oct 3

Trip #20
Oct 7-11

Trip #21
Oct 15-19

Trip #22
Oct 23-27

November
Wahweap Trips are highlighted YELLOW
Bullfrog Trips are highlighted BLUE. There are currently no Bullfrog trips planned for 2022.

Last updated: February 18, 2022