Goods & Services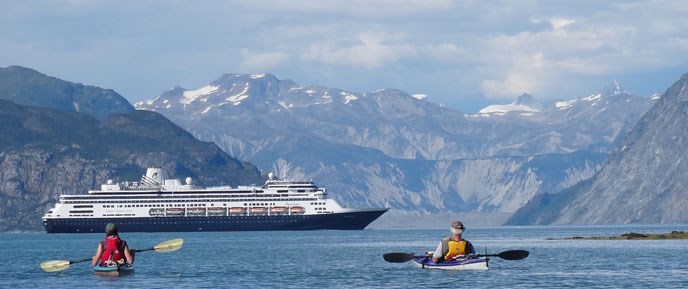 Bartlett Cove Services
Please see our basic regulations regarding use of these facilities.
Fuel Dock:
The Bartlett Cove fuel dock is managed and operated by the Glacier Bay Lodge in Bartlett Cove. The Glacier Bay Lodge can be contacted on VHF channel 16, or at 697-4000, from May to September. For fuel services, contact the Glacier Bay Lodge upon your arrival at the fuel dock, and an attendant will meet you within 15 minutes. Fuel is not available in the off season.
Please note: There is no shore access from the fuel dock, and may not be used for loading or off-loading freight or passengers. This dock is only to be used for fueling and waste pumpout.
Pumpout:
A waste pumpout is available at the fuel dock. The discharge of "blackwater" (water contaminated with human waste) is prohibited in Bartlett Cove waters.
Water and Power:
Fresh, potable water is available at the dock. Vessels may not use electrical shore power unless otherwise authorized by a park ranger.
Glacier Bay Lodge:
Public restrooms, phone, showers, laundry, storage, dorm rooms, a restaurant and the NPS Visitor Center and Park Ranger programs are all located at the
Glacier Bay Lodge
during the summer. Camping fuel (white gas & propane canisters) and bear spray may also be purchased at the Lodge.
Kayak Rentals:
Glacier Bay Sea Kayaks
provides kayak rentals, outfitting, and a variety of guided and unguided adventures. They are located in Bartlett Cove near the public dock.
Gustavus Services
Located approximately 10 miles from Bartlett Cove, Gustavus is a small community of about 450, and is the "Gateway to Glacier Bay." Gustavus offers a variety of visitor services and activities, including a grocery store, antique gas station and gift shop, building supply store, Post Office, and multiple art galleries. Please note that groceries are not available in Bartlett Cove, but taxi service is available during the summer months between Bartlett Cove and Gustavus.

State of Alaska Official Travel Website
This is the state's informational page on traveling in Alaska, including links to the Alaska Business License website, State Travel Resources, Alaska Marine Highway, Alaska Fish & Game and more.



Last updated: August 16, 2018