Sun Road Shuttle Now Operating; North Fork Campgrounds Open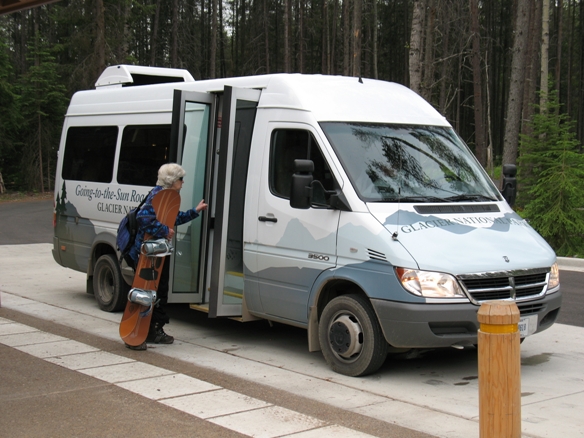 News Release Date:
July 2, 2010
Contact: Amy Vanderbilt, 406 888-5838
Contact: Wade Muehlhof, 406 888-7895
WEST GLACIER, MONT. – Glacier National Park's free, optional Going-to-the-Sun Road (Sun Road) shuttle service began operating for the summer on Thursday, July 1 and continues operations through Labor Day, Monday, September 6. This free, step-on step-off, no frills shuttle provides an alternative for visitors traveling the Sun Road from 7 a.m. to 7 p.m. to locations along the Sun Road and Apgar Village. The last evening buses depart Logan Pass for points east and west at 7 p.m. Started in July 2007, the Sun Road shuttle system is part of Glacier's program to reduce vehicle traffic and minimize impacts on visitors throughout the multi - year Sun Road rehabilitation.
Visitors to Logan Pass will find a newly relocated shuttle stop. The shuttle stop has been moved away from the main entrance to the Visitor Center to improve traffic flow and safety for both vehicle and pedestrian traffic. Benches have been added to provide visitor comfort while waiting for the shuttle. In 2009, 156,726 people utilized the free shuttle to travel the Sun Road. Ridership on the transit system increased by more than 50,000 compared to 2008.
The transit service provides an alternative mode of transportation for those who don't mind leaving their vehicles behind. This option is available in addition to popular guided tours by Sun Tours from a Blackfeet perspective (800-786-9220 or 406-226-9220 or www.glaciersuntours.com) and aboard the historic red buses with Glacier Park, Inc. (406- 892- 2525 or www.glacierparkinc.com).
The popular Highline trail is currently closed from Logan Pass to the Haystack Butte saddle and is projected to open for the season on the weekend of July 10, conditions permitting. The Inside North Fork Road has re-opened after minor road repairs due to recent flooding. Logging Creek and Quartz Creek campgrounds open Thursday, July 1. Only three of the seven camping sites at Logging Creek are currently open due to flooding. Granite Park Chalet is open, and Sperry Chalet opens Wednesday, July 7. All other park concessions are open.
Visitors should plan for no more than a 40-minute construction delay when traveling the entire length of the Sun Road one way. Night work is scheduled for Monday evening through Friday morning from 9 p.m. to 7 a.m. on the west side of the Continental Divide with no passage allowed during the entire 10-hour nightshift. The Sun Road on the east side of the Divide has the same nighttime restrictions, but there is one short, 15-minute window for passage through the construction zone at 2 a.m. There is no night work scheduled for Friday through Sunday night.
With summer in full swing, park visitors are reminded to be extremely careful around bridges and rocks near water as they are often wet and slippery both from water as well as from algae and moss. Water-related accidents are the number one cause of death in Glacier National Park. Rivers and streams are running high and fast and logs and other debris are often not visible. Boaters are reminded to be prepared, wear required life jackets, know your ability, have proper safety gear on board and know how to use it. Hikers and campers should take precautions while in bear country and everyone is reminded that fireworks are NOT allowed in Glacier National Park or other public lands.
Current road status is available at: https://www.nps.gov/applications/glac/roadstatus/roadstatus.cfm.Road conditions for Glacier National Park are available by calling 511, the Montana Department of Transportation Traveler Information System. If a phone does not support 511, call 800-226-7623. Both numbers are toll-free. Select "Glacier Park Tourist Information" (option # 5) from the menu. For other park information, visit Glacier's Web site athttps://www.nps.gov/glac or call 406-888-7800.
-NPS-
Last updated: March 31, 2012