News Release
Search Underway in Glacier National Park for Missing 19-Year-Old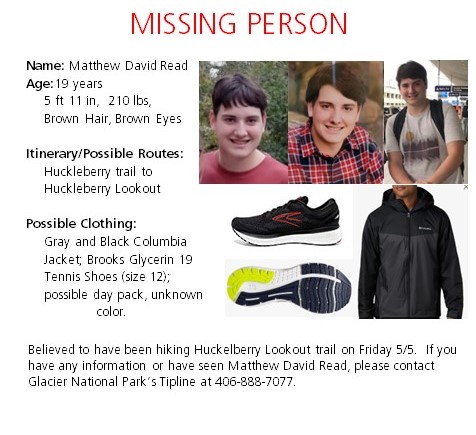 News Release Date:
May 8, 2023
Contact: Gina Kerzman, 406-888-5838
Contact: Park Tip Line, 406-888-7077
WEST GLACIER, Mont. [May 8, 2023] – Search efforts are underway in Glacier National Park for a 19-year-old man missing since Friday.

The vehicle of the missing man was found at the trailhead of Huckleberry Trail on Sunday. He was last heard from on Friday afternoon and was thought to start his hike around noon that day. Rangers were alerted on Sunday that he was overdue.

Rangers are searching for a 19-year-old Caucasian male with short brown hair, brown eyes, 5'11", about 210 pounds. He may be wearing a gray and black Columbia rain jacket with either blue and yellow or black and red shoes.

Rangers conducted a hasty search Sunday afternoon. This morning an expanded search party of about 30 individuals began with Park rangers, US Border Patrol, and Flathead County Sheriff's office along with county search dogs. Two Bear Air flew last night and will fly again when weather cooperates. Conditions in the park this morning are rainy, overcast, and foggy.

Conditions on Huckleberry Trail at the upper reaches are winter-like with snow over the trail at higher altitudes. Due to the on-going search, Huckleberry Trail is closed.

Anyone that may have information or was in the area and saw an individual that fits the description is encouraged to contact the park tip line at 406-888-7077.
Last updated: May 8, 2023