Sun Road Vehicle Access to be Extended on West Side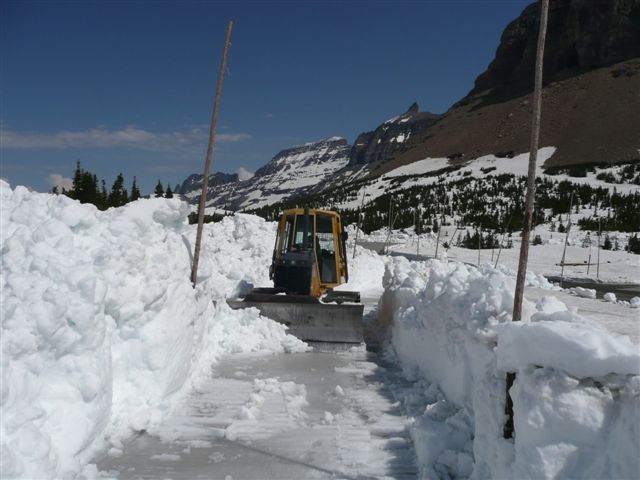 News Release Date:
June 19, 2009
Contact: Amy Vanderbilt, 406 888-5838
Contact: Wade Muehlhof, 406-888-7895
WEST GLACIER, MONT. – Glacier National Park officials announce plans to extend vehicle access on the west side of Going-to-the Sun Road (Sun Road) from Avalanche to Big Bend by mid morning Friday, June 19, conditions permitting. Crews continue to clear snow and ready the alpine section of the Sun Road near Logan Pass, and the entire 50 miles of the historic Sun Road will soon open to vehicle traffic across Logan Pass as soon as road conditions and weather permit. Contractors will also pave the storm damaged section of road near the east tunnel concurrent with final road preparations.

As of Friday, June 19 the west side Sun Road will be open 29 miles between West Glacier and Big Bend. Vehicle access is open to Jackson Glacier Overlook on the east side of Sun Road, a distance of 14 miles. The Inside North Fork Road is currently closed at Logging Creek Ranger Station and Fish Creek Campground due to road repairs. Hiker/biker access is limited when construction work and road preparation work is occurring; signs will be posted to indicate restrictions. All other roads in Glacier National Park are open.

In addition to plowing and widening of snow banks for two-way vehicle access, preparation work on the alpine portion of the Sun Road also includes the assembly and installation of removable guardrail, installation of signs, clearing debris from culverts and along the road as well as road sweeping. Photos of spring snow removal are available at: https://www.nps.gov/glac/photosmultimedia/plowing2009.htm.

Hikers/bicyclists are welcome on park roads that are closed to vehicle use, as conditions permit. Recreational users are reminded that pets are NOT allowed on park roads when roads are used as trails. Many springtime park visitors often enjoy hiking and/or bicycling on the Sun Road beyond vehicle gates. Hikers and bicyclists also need to watch for heavy equipment operating on the Sun Road, as there will be construction work on the Sun Road on both the east and west sides on Saturday (6/20) and possibly on the east side on Sunday (6/21).

Current road status is available at: https://www.nps.gov/applications/glac/roadstatus/roadstatus.cfm. Information is updated as conditions change. Visitors can also phone 406-888-7800 for general park information, including the specific location of hiker/bicycle closures. Road conditions for Glacier National Park are available by calling 511, the Montana Department of Transportation Traveler Information System. If a phone does not support 511, call 800-226-7623. Both numbers are toll-free. Select "Glacier Park Tourist Information" (option # 5) from the menu to hear Glacier's road report.
-NPS-
Last updated: February 24, 2015