Two Historic Park Buildings Rehabilitated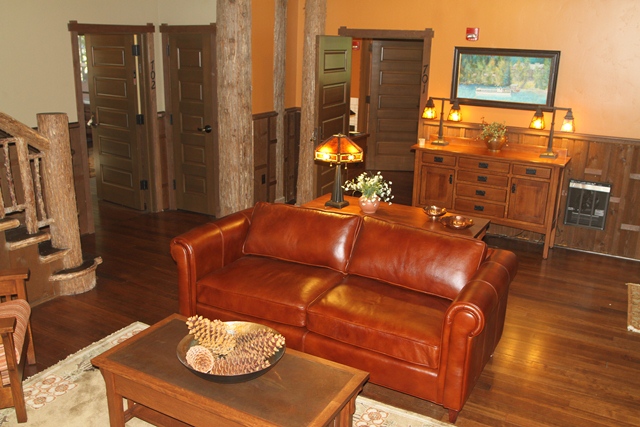 News Release Date:
July 8, 2013
Contact: Denise Germann, 406 888-5838
Contact: Jennifer Lutman, 406 888-7895
WEST GLACIER, MONT. – Two historic buildings near Lake McDonald Lodge in Glacier National Park, the Cobb House and Snyder Hall, have been successfully rehabilitated and are now available as visitor lodging through park concessioner, Glacier Park, Inc. 
"We are very pleased to have been able to rehabilitate these important historic structures while at the same time expanding the variety of visitor lodging that is available in Glacier National Park," said Acting Glacier National Park Superintendent Kym Hall. "These renovations also help improve the number of visitor lodging units that can meet the needs of guests with mobility challenges as each building is now accessible." 
The Cobb House has been converted to four upscale units, including three two-bedroom suites, and one large one-bedroom accessible suite. The former living room has been refurbished and provides a common room for guest use. The two-story bungalow style Cobb House was built by John Lewis, the owner of the Lake McDonald Lodge in 1918. It was used as the Lewis family home. More recently, the Cobb House has been used as housing for concession employees.     
Snyder Hall has been converted to eight budget or "hostel" rooms with common restroom and shower facilities, including accessible options. Snyder Hall was built in 1911 for dances and public assemblies, but has served as concession employee housing in recent decades. 
Renovations of these historic structures included stabilization, replacement of mechanical, plumbing and electrical systems, and ensuring buildings meet current code requirements for accessibility, and fire alarm and suppression. Glacier Park, Inc., contracted with A&E Architects of Missoula to design the rehabilitation and with Swank Enterprises of Kalispell to complete the work. Construction began in September 2012 and was recently completed.   
Vice President and General Manager of Glacier Park, Inc. Ron Cadrette said, "Both buildings opened to the public July 1 and are fully booked through the end of this season. We are pleased to have facilitated these projects and hope they serve the public well in the decades to come." 
The rehabilitation of the Cobb House and Snyder Hall and the conversion to guest accommodations are part of Glacier National Park's Commercial Services Plan. The plan called for the construction of new concession employee housing at a central location near Lake McDonald Lodge and the adaptive reuse of these two historic structures. The goals of these actions are to better separate guest and employee activities, address life and safety issues, improve housing conditions, and improve the range of visitor accommodations. New employee dormitories for Glacier Park, Inc. in the Lake McDonald Lodge area were completed in 2009 and 2011. 
For more information on lodging in Glacier National Park visit https://www.nps.gov/glac/planyourvisit/lodging.htm. 
   - NPS -
Last updated: February 24, 2015