News Release
Glacier Achieves Full Certification as International Dark Sky Park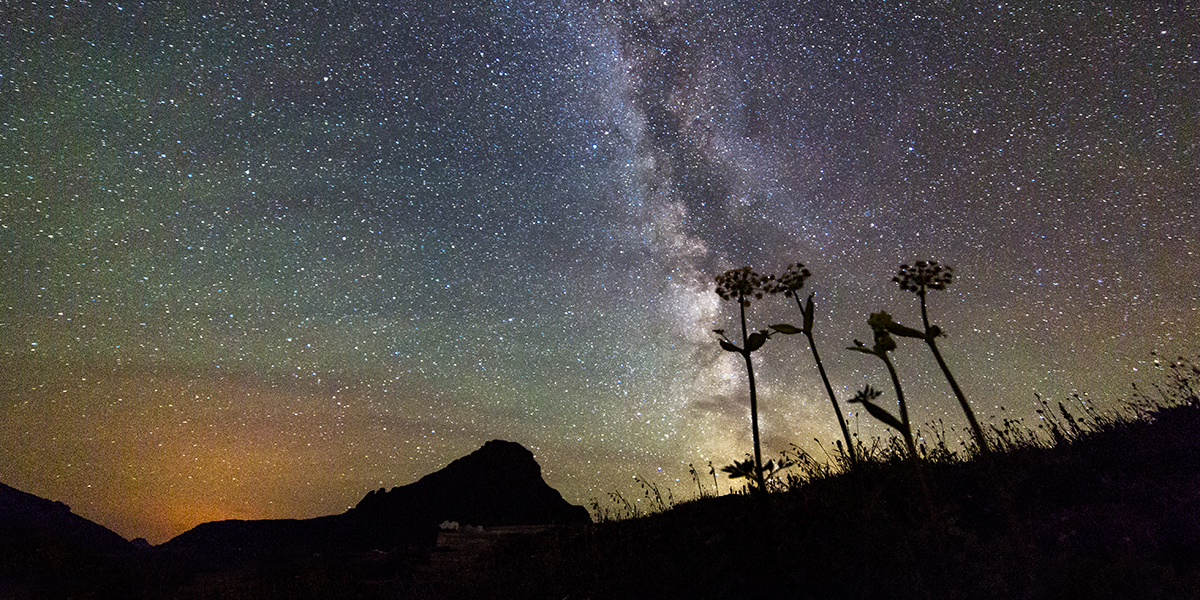 News Release Date:
August 12, 2021
Contact: Gina Kerzman, 406-888-5838
WEST GLACIER, Mont. [August 12, 2021] - Today, Waterton Lakes National Park (Alberta, Canada) and Glacier National Park (Montana, USA) are proud to announce that they have received full certification as an International Dark Sky Park, after meeting the International Dark Sky Association (IDA) outdoor lighting requirements.

Waterton-Glacier International Dark Sky Park has installed dark sky-friendly lighting while ensuring lighting used is necessary for public safety. These lights and fixtures reduce the harmful impacts of artificial lighting on wildlife, protect human health and preserve night skies for optimal viewing.

Parks Canada is adding to its reputation as an international leader in the preservation of night skies with this certification in Waterton Lakes National Park. In 2021, new LED streetlights were installed in Waterton Lakes in accordance with Parks Canada outdoor lighting guidelines and IDA standards. This completed the requirements for certification as a dark sky park. Waterton Lakes' new streetlights feature a custom LED colour temperature, PC Amber (1650K). Parks Canada will continue to replace park lighting with these new LEDs over time. With this certification, Waterton Lakes joins 12 other Parks Canada-administered places with dark sky designations.

In Glacier National Park, new LED streetlights were installed in the West Glacier headquarters area and park residences received either new, dark sky-friendly fixtures and LED bulbs, or simply had the existing bulbs replaced. Additionally, replacement fixtures have been purchased for the East Glacier, St. Mary, and Many Glacier areas of the park for installation later this year.

Dark Sky Park certification helps raise awareness about light pollution and highlights how Waterton-Glacier International Dark Sky Park is reducing the impacts of outdoor lighting. It also provides opportunities for visitors to experience the night sky at its best in both parks.

Quotes:

"The dark skies in the Waterton–Glacier International Peace Park truly are spectacular. Designation of the Peace Park as the world's first international transboundary Dark Sky Park shows the world our commitment to protecting the environment, while offering opportunities for visitors to connect with nature, even at night."

Ron Hallman
President & Chief Executive Officer, Parks Canada

"Dark night skies are an important wilderness characteristic at Glacier National Park. Clearly seeing the expanse of the universe increases a person's sense of solitude well beyond that of the terrestrial landscape. A Dark Skies designation aids International Peace Park visitors in finding their own wilderness solitude."

Pete Webster
Acting Superintendent, Glacier National Park

Quick Facts
Waterton Lakes National Park and Glacier National Park now hold four joint designations: International Peace Park, Biosphere Reserve and World Heritage Site, and the first transboundary IDA International Dark Sky Park.

Dark Sky initiatives improve ecological health, especially for nocturnal animals, benefit human health, reduce energy waste and provide night sky viewing opportunities.
Light pollution is artificial light directed towards the sky, representing energy inefficiency and waste. Dark sky-compliant lighting reduces light's impact on the night sky by reducing glow and generally directing light downward.

Unnecessary artificial light at night can affect ecological health as well as wildlife behavior and patterns. It has negative effects on humans and nocturnal animals as several species depend on darkness for foraging, mating and migration.
Related Links 
Contacts:

Dallas Meidinger
Partnering, Engagement and Communications Officer, Waterton Lakes Field Unit
Parks Canada Agency
403-632-5026
dallas.meidinger@canada.ca

Media Relations
Parks Canada Agency
855-862-1812
pc.medias-media.pc@canada.ca

Gina Kerzman
Public Affairs Officer, Glacier National Park
406-888-5838
e-mail us
Last updated: August 12, 2021