News Release
Howe Ridge and Boundary Fires Update Friday, September 21, 2018; 8:30 am
Date:
September 21, 2018
Contact:
Fire Information, 406-578-8256
West Glacier, MT. - Weather: Today will be mostly cloudy with a chance of rain showers. Low temperatures will be 31-36 degrees; highs will be 46-51. Southwest winds will be 7-15 mph, gusting up to 20 mph. The next few days will bring increasing chances of wetting rain and stronger winds to the fires.

Howe Ridge: Today, crews will be doing trail rehabilitation in the Camas Creek and Rocky Point areas, as well as suppression repair activities near Kelly's Camp and the Lake McDonald Ranger Station. As traffic increases, so does danger to firefighters working along roads. Please stay aware and keep eyes on the road.

Boundary: Smoke remains active and visible in an avalanche chute on the east side of the fire, with very little smoke showing on the rest of the fire. Today, the Waterton Lake trail is reopened for public use; the Boundary Trail remains closed. Parks Canada and US Fire Managers continue to coordinate efforts closely and are in constant communication about the fire activity and response.

GENERAL FIRE INFORMATION
The majority of Glacier National Park is open. The Howe Ridge fire is burning in less than 1% of Glacier's 1 million acres. The temporary closure area for public safety and fire suppression access is less than 5% of the park.

The Going-to-the-Sun Road is open to private vehicle travel and visitors can drive the entire length of the road. Drivers will not be able to stop along the road between Lake McDonald Lodge and the Avalanche Creek developed area. Avalanche is open for day use recreation, including day use areas, restrooms, the Trail of the Cedars, and the Avalanche Lake Trail. Flattop Trail and The Loop Trail are also open.

Closures: The North Lake McDonald road is closed as well as the Inside North Fork Road from Fish Creek to Logging Creek due to the Howe Ridge Fire. Trail closures are associated with the Howe Ridge and Boundary fires; full trail closures are reflected on the park's website at: https://home.nps.gov/applications/glac/infobull/closures.cfm.
Aircraft Assigned:
A Type 1 and a Type 3 helicopter are currently assigned to the incident. A Temporary Flight Restriction (TFR) is in place over the Howe Ridge Fire. Drones can shut down critical fire operations, and launching, landing or operating drones is prohibited in Glacier National Park.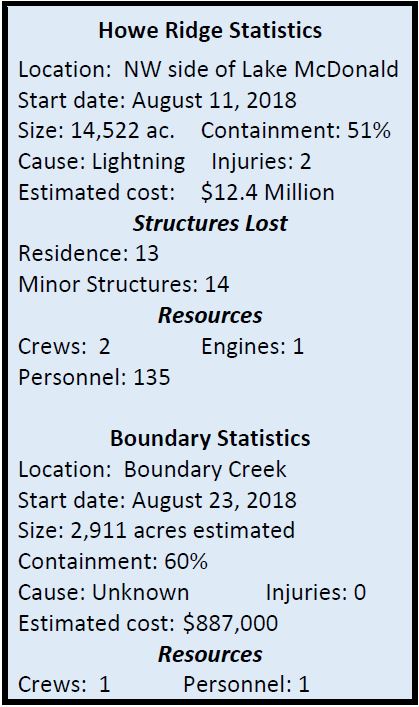 Last updated: September 21, 2018