News Release
Hard-sided Only Camping in Many Glacier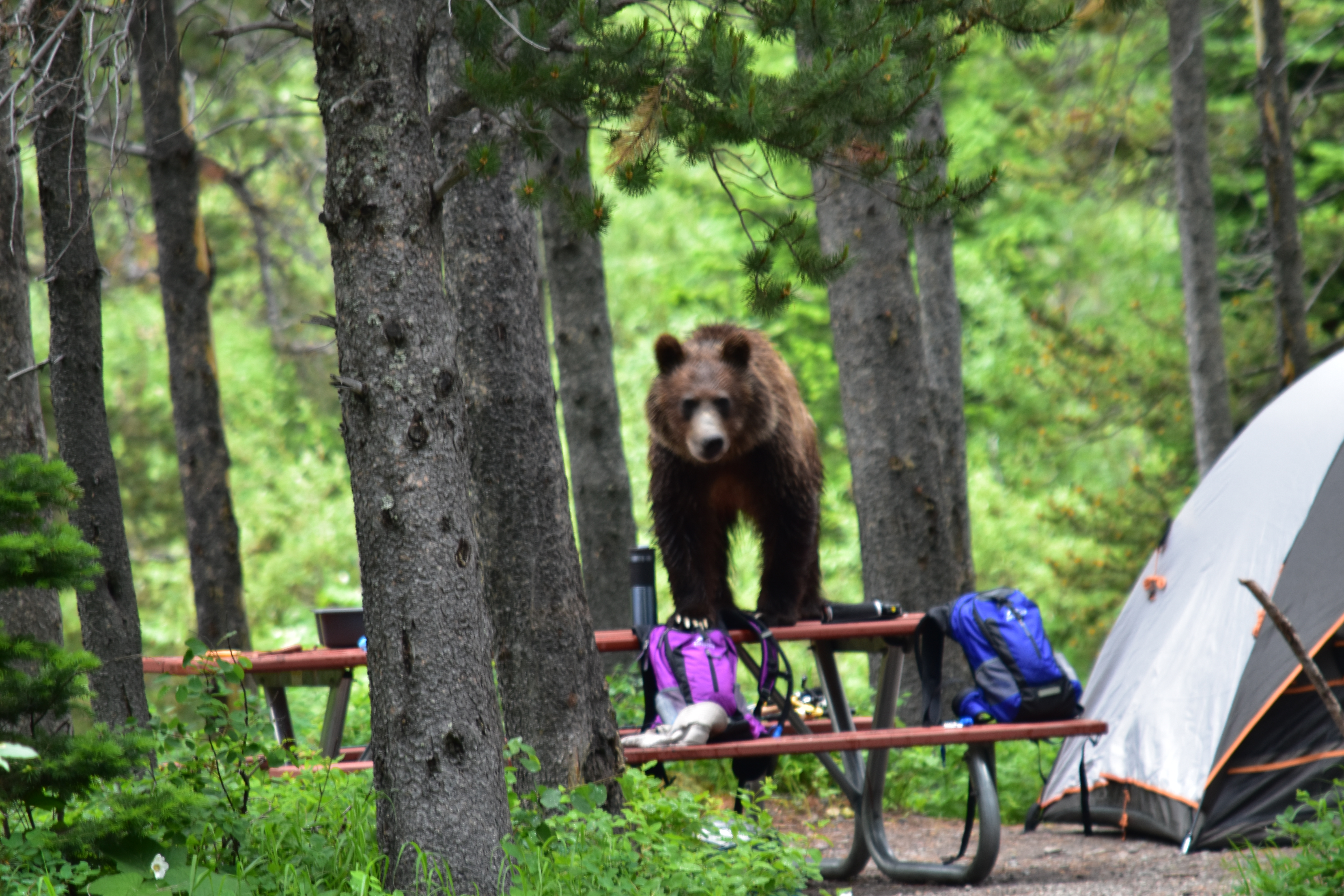 News Release Date:
June 30, 2018
Contact: Lauren Alley, 406-888-5838
-UPDATE-

Today (July 16) Glacier National Park lifted restrictions on tent camping in the Many Glacier Campground. The park did not capture the grizzly bear involved in the incident, despite trapping efforts.

The park will continue to monitor for unusual grizzly bear behavior in the Many Glacier area. The same bear involved in the Many Glacier Campground incident was reported on the Swifter Nature Trail several days earlier. At that time the bear was not exhibiting aggressive behavior, but was reportedly unafraid of visitors. 

The park takes a proactive approach to food storage, and urges visitors to follow proper food storage protocols to prevent bears from obtaining human food and becoming food conditioned. Over a two day period this last weekend, rangers made 19 contacts for food storage violations, issuing both citations and warnings. They confiscated 12 unattended coolers from parking areas, and moved unattended food to bear boxes at 2 campsites.

The park welcomes bear sighting reports from visitors at ranger stations to help monitor bear activity. 
---

West Glacier, MT – Effective immediately, the Many Glacier Campground will temporarily be limited to hard-sided camping. This means that tents and soft-sided campers will not be permitted until further notice. Camper vehicles such as VW buses and pickup trucks with small canvas pop-ups are allowed as long as the canvas is not exposed. 

On Friday morning at 10:30 am, a small grizzly bear weighing approximately 150 pounds, entered the Many Glacier Campground. It crossed a stream, entered a campsite, and compelled two campers to move away from a picnic table where they were cleaning two recently caught Brook Trout. One of the campers sprayed the bear with bear spray from a distance of 15 feet. The spray was unsuccessful in deterring the bear's approach, and it proceeded to climb on top of the picnic table and consume the fish. It also sniffed, pawed, and bit two nearby backpacks. 

Park rangers responded and used hazing techniques to encourage the bear to move out of the campground. Prior to its departure, it dug into two fire pits, sniffed picnic tables, a tent, and an RV with visitors inside. 

The park is attempting to trap the grizzly bear for further management action. The bear exhibits numerous signs of food-conditioning and meets the definition of a conditioned bear in Glacier National Park's Bear Management Guidelines. A non-conditioned bear would typically not enter a campsite with people present and resist human attempts to scare it away. Conditioned bears are usually removed from the population by being placed in zoos or euthanized. 

Once bears have successfully obtained unnatural food from people or become accustomed to foraging in developed areas, it is very difficult to change their behavior to return to wild areas and natural food sources. Once they have received a human food reward, they often become a safety hazard as they become increasingly aggressive seeking out and obtaining subsequent food rewards.  In 1976, a conditioned grizzly bear dragged a camper from her tent in the Many Glacier Campground and killed her. 

Glacier National Park has a proactive bear management program that seeks to prevent conditioning through public education, bear-wise waste management, aggressive enforcement of food storage regulations, and application of hazing and aversive conditioning techniques to teach bears to avoid humans and developed areas. 

Visitors and residents are urged to learn more about the importance of food storage while living and recreating in bear country for bear and human safety.
Last updated: July 17, 2018