Kids & Youth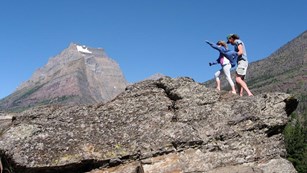 Park Fun
Find activities to do, whether you're planning a visit or visiting from home!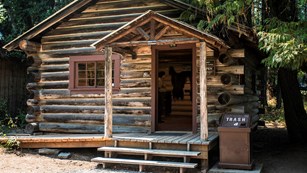 Apgar Nature Center
Apgar Nature Center is a historic cabin in Apgar Village devoted to hands-on exhibits and activities.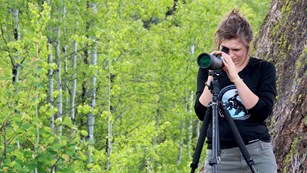 Teens
Learn about conservation programs for ages 15 and up.
Glacier National Park is a wild and magical place full of fun learning opportunities for all. Check out what is available to you.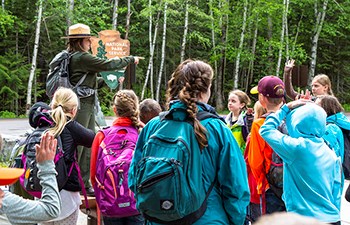 Join a Park Ranger!
There are a ton of ranger-led activities throughout the summer, and even some in winter. Kids are welcome on any program, as long as you are accompanied by an adult. Check the Ranger-led Activity Schedule for dates, times, and descriptions.
Some of the summer activities were made with you in mind. Family and kid friendly programs include: Junior Ranger Discovery Talk and Explorers Walk, Animal Olympics for Kids, Glacier Superheroes, and Native American Games. Plus, there are opportunities to view stars through telescopes or wildlife through spotting scopes. And of course, there is hiking too!
---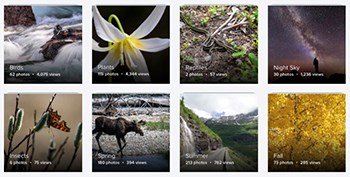 View Glacier Photos
See park activities, mountains, animals, and plants in our Flickr photo galleries.

---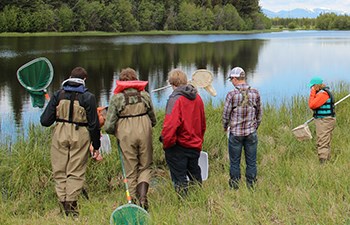 Glacier Institute Field Courses & Camps
Go on an adventure in learning as part of an outdoor class or multi-day youth camp with Glacier Institute, a private nonprofit partner. The Institute's Big Creek Youth Camp and Youth Adventure Series offer different programs for ages ranging from 6 to 16. Topics include wilderness skills, forest and fire ecology, and art. They even have a Family Camp and adult field courses too.

---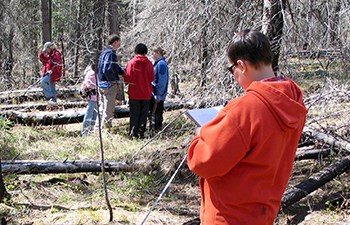 Are you Doing a School Project?
---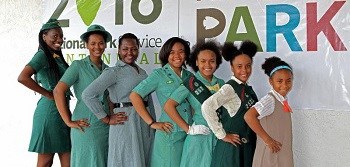 Are you a Boy Scout or Girl Scout?
Find out how Boy Scouts and Girl Scouts can earn a Resource Stewardship Patch and become a Scout Ranger.
---
Are you a Fourth Grader?
Fourth grade students (and their families) can enter Glacier National Park (and other public lands) for free by downloading and presenting a paper voucher from the Every Kid in a Park website and exchanging it for their 4th Grade Pass. The pass is valid for the duration of the 4th grade school year through the following summer (September-August).

---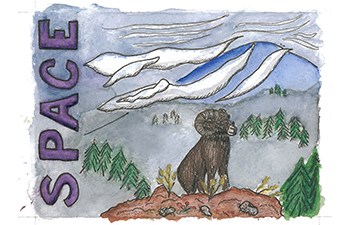 Do you Like to Draw?
Annual Pass Artwork Contest
Every year, Glacier National Park and the Glacier National Park Conservancy accept art submissions from sixth through twelfth grade students for the annual park pass artwork contest. The winning art will be displayed on the Glacier National Park Annual Park Pass.
Entries will be judged on the use of color, design and accuracy of a scene that displays the majesty of Glacier National Park. Art may include any natural or cultural resource of the park, or symbol of the National Park Service. Each entry must include original artwork. Check back here for next year's deadline. Download more information and entry form.
View previous winners in our flickr album.
---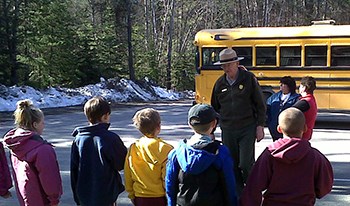 Are you a Teacher or Educator?
Interested in bringing students to Glacier, or bringing Glacier into your classroom? Education Programs, like field trips and lessons/activities for teachers, are available from the park and our education partners.
Glacier Institute, runs the Big Creek Outdoor Education Center on the park boundary. They also conduct programs from their Field Camp site in Apgar.
---
More Resources for Reading & Activities
Discover the Forest near you on this website from U.S. Forest Service.
Last updated: June 6, 2019