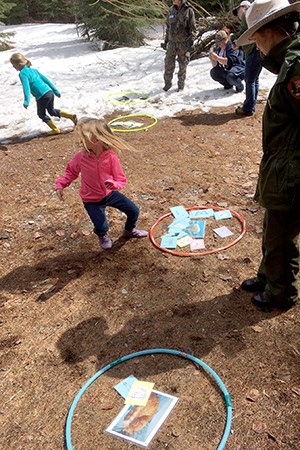 Glacier is a wild place that protects: wild animals, plants, waterways, scenery, and quiet places to sit and observe nature. The animals here depend on this wild place for their home and they have special body parts and behaviors that help them to live here without help from people.
Grade: 1st grade
Locations: Apgar Village and St. Mary
Duration: 4 hours, view our Wild Animals and Wild Places Field Trip Schedule to see a basic outline for the day.
Group Size: 45 students total
Skills: Observe (using all senses), sort/classify, compare & contrast, role-play, match, count, communicate findings
Vocabulary: Food chain, herbivore, carnivore, natural world, natural resources, habitat, wild, domestic, lakes, mountains, rivers, valleys
Essential Questions:
What makes a place wild?
Why do we keep places wild?
In what kinds of places do things live?
How do living things get energy?
What lives in wild places?
National and State Standards:
Montana State Standards
MT.SCI.K-12.3 Students, through the inquiry process, demonstrate knowledge of characteristics, structures and function of living things, the process and diversity of life, and how living organisms interact with each other and their environment.
Next Generation Science Standards
K-LS1-1 Use observations to describe patterns of what plants and animals (including humans) need to survive.