Glacier Plant Stewards: Restoring Native Plants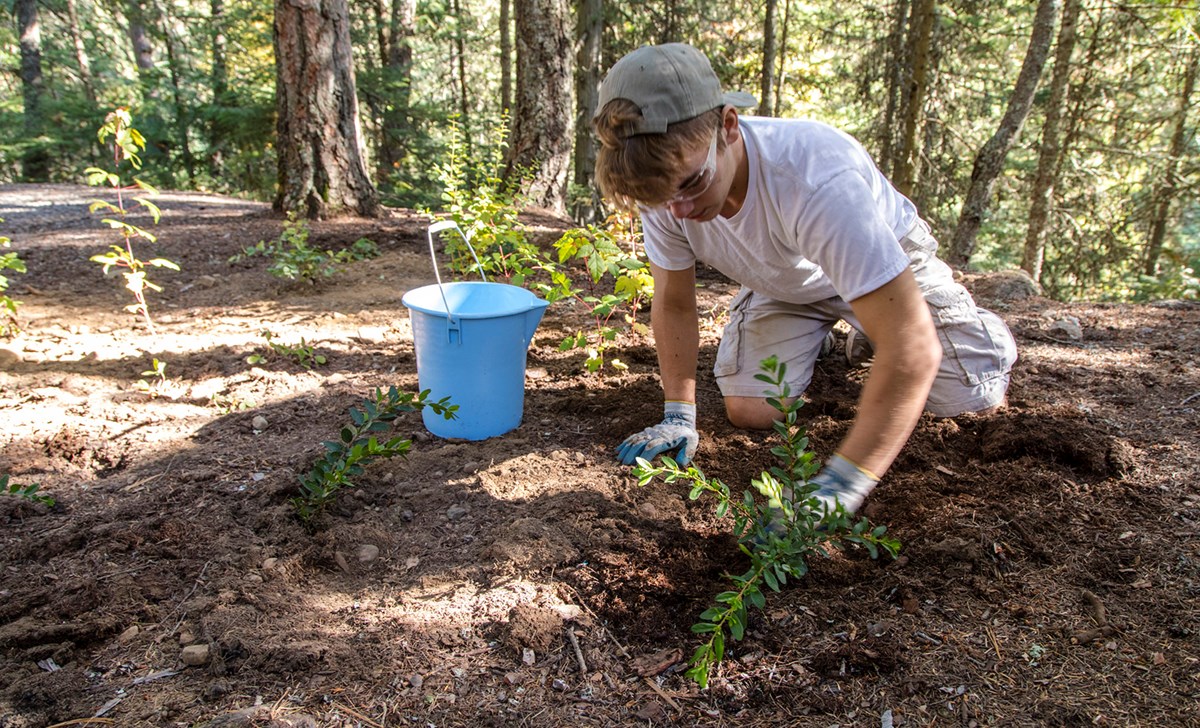 Students will participate in a hands-on native plant restoration project at an impacted area in the park. The activities will be led by a ranger or native plant nursery staff.
By following a site plan the students will restore human impacts with native plants using genetically appropriate plants and proper planting techniques. The Native Plant Restoration Program supports the National Park Service Mission of protecting natural resources.
Grades: 6–12
Locations: West or East side of the park
Duration: 2–2.5 hours
Group Size: 20 students maximum
Skills: Observe (using all senses), sort/classify, compare & contrast, match, count, communicate findings
Vocabulary: (See the bolded words in the objectives below.)
Subjects: Biodiversity, Biology: Plants, Plant Restoration, Human Impacts, Stewardship, Ecology, Wilderness
Montana Content and Performance Standards:
Science Standard 1: Design scientific investigations...
Science Standard 3: Demonstrate knowledge of living things...
Objectives
Students will be able to:
Explain the importance of plant restoration in Glacier National Park

Understand their role of stewardship in Glacier National Park

Understand the difference between natural and human caused disturbances and why we restore after only human disturbance

How do you define native vs non-native plants

Understand that one of the main reasons for restoring after human disturbance is to inhibit weed establishment and maintain the natural diversity of Glacier's plant communities.

Properly plant native plants for best survival.

Critically evaluate when, where, what and how to plant based on site conditions.
Field Trip Logistics
Teachers wishing to have their students participate in the plant restoration field trip must have their classes divided into groups of no more than 10 students. For example, a bus of 20 students would be divided into 2 groups of 10 students each.
Reserve Your Trip
Visit the Scheduling & Guidelines page to find the reservation form as well as tips for a successful day in the park.
If you have questions, email or call the Education Specialist at 406-888-5837.
Preparing for Your Trip
Students that spend time preparing for their visit get more out of a field trip to the park. Activities post-visit also help to reinforce information learned during the trip.
The following are some suggested activities and supplementary materials:
Last updated: September 26, 2019