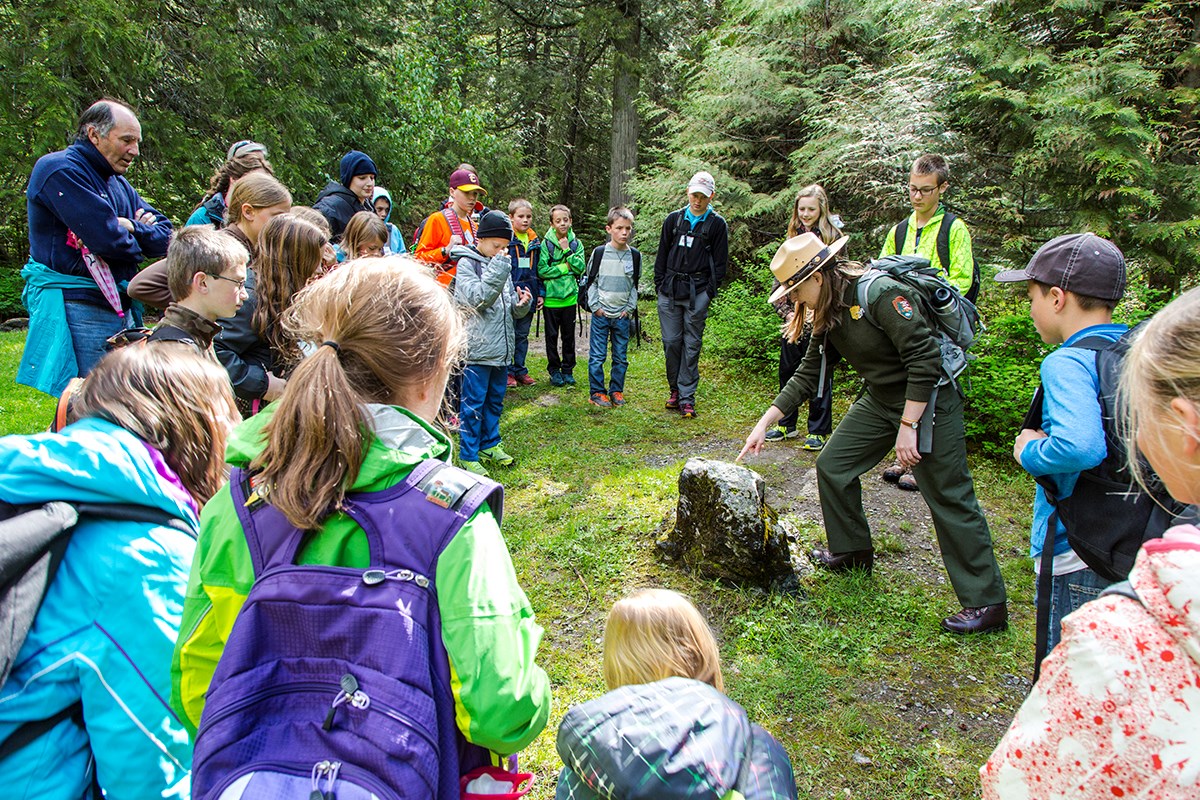 Glacier National Park preserves and protects forests in their "natural" state for the biodiverse communities they support.
Grades: 3–4
Locations: Trail of the Cedars, St. Mary, and Two Medicine
Duration: 4.5 hours, view our Forest Processes Field Trip Schedule to see a basic outline for the day
Group Size: 60 students total, 2 groups of 30 students
Skills: Communicate, Observe, Identify, Model
Vocabulary: Old growth forest, soil, nutrients, cedar, hemlock, Blackfeet, Salish, Kootenai, Pend d'Oreille, succession, snag, decomposition, photosynthesis, interrelationships
Essential Questions:
What makes forests in Glacier National Park special?
Why does Glacier National Park protect forests?
What is the value of a "natural" forest?
How are forests important?
What living communities are supported by a "natural" forest?
Are all forests the same?
National and State Standards:
Montana State Standards
MT.SCI.K-12.1 Students, through the inquiry process, demonstrate the ability to design, conduct, evaluate, and communicate results and reasonable conclusions of scientific investigations.
MT.SCI.K-12.3 Students, through the inquiry process, demonstrate knowledge of characteristics, structures and function of living things, the process and diversity of life, and how living organisms interact with each other and their environment.
MT.SCI.K-12.5 Students, through the inquiry process, understand how scientific knowledge and technological developments impact communities, cultures and societies.
Next Generation Science Standards
3-LS4-4 Make a claim about the merit of a solution to a problem caused when the environment changes and the types of plants and animals that live there may change.
5-LS2-1 Develop a model to describe the movement of matter among plants, animals, decomposers and the environment.
LS4.D Populations live in a variety of habitats, and change in those habitats affects the organisms living there.