Internships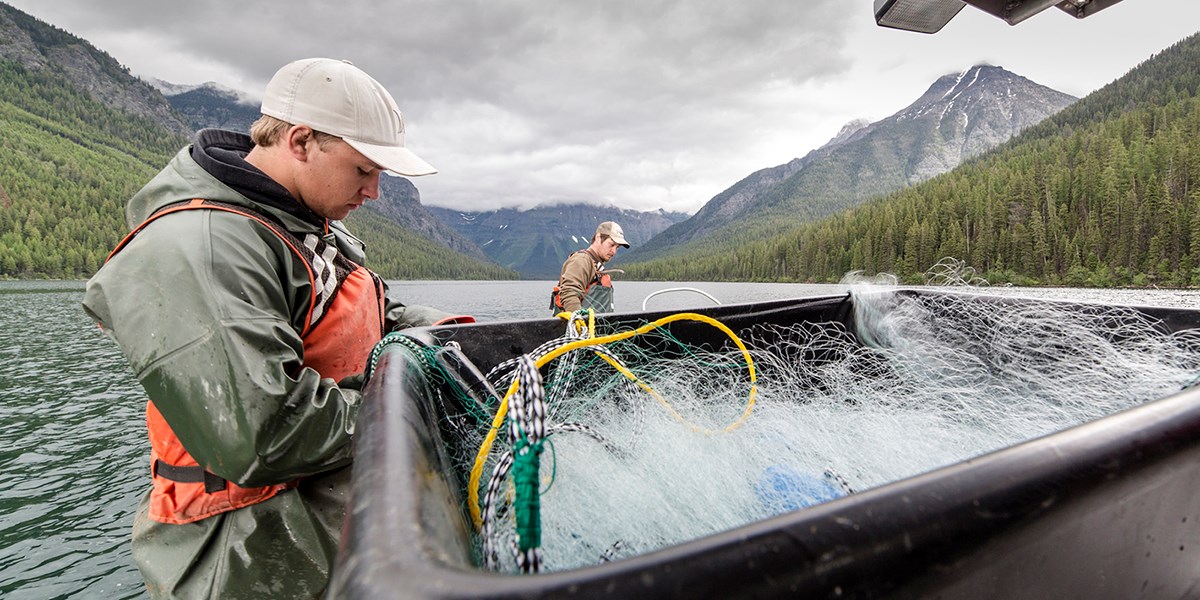 Internship Opportunities in Glacier National Park

Interpretive Internships
Park Interpreters are the public face of Glacier National Park. Interns in the Division of Interpretation are responsible for researching, preparing and presenting programs like guided walks and hikes, interpretive talks, boat tours, and illustrated programs on the park's interpretive themes (wildlife, geology, ecology, human history, climate change, etc). These programs are given in a diversity of park locations including campgrounds, trails, visitor centers, historic boats, and historic park hotels. Interns staff visitor centers and provide information and informal interpretation to visitors during fixed station and roving assignments. For more details, please view the Interpretation Internships page.

Astronomy Internships
Glacier's astronomy outreach and education program began in 2008 and has grown to become one of the National Park Service's premiere astronomy programs. Each summer Glacier's volunteer and intern astronomers provide over 10,000 visitors with the chance to experience the night sky and solar viewing. Astronomy volunteers and interns will need to be patient communicators who are able to help a diverse audience learn about astronomy during nightly sky tours and telescope viewing as well as assisting with larger star parties at Logan Pass. Using the park's equipment, astronomy interns will set up nightly on the west and/or east sides of the park, provide a guided sky tour of Native American and Greek constellations, then move to the telescopes. East side astronomy interns will also present programs using the park's new observatory and 20 inch telescope. For more details, please view the Astronomy Volunteers and Interns page.

Research Learning Center Internships
The Crown of the Continent Research Learning Center (CCRLC) does not offer internships on a regular basis, but does work with other park divisions and park partners to provide some opportunities during certain years. In the past, the Research Learning Center has had interns working on sustainability issues, citizen science, and science communication. These positions are typically unpaid, but at times paid internships do occur. In additon, housing is often provided free of charge. When available, internships will be posted on this page. You can also find out about internships and paid positions on the CCRLC's Work With Us page. For more information, e-mail us. We will respond with any new information and put you on a mailing list to receive updates.

Backcountry Ranger Intern Program
Glacier National Park will be looking to hire two Backcountry Ranger Interns in 2021, one in Saint Mary, MT and one in West Glacier, MT. These positions offer a chance to discover and learn about resource and visitor protection in Glacier's recommended winderness. The backcountry ranger interns will be working with wilderness rangers to contact and educate the public, monitor for resource impacts, maintain backcountry campsites and assist with emergency operations such as Search and Rescue and Emergency Medical Services. These interns will also have exposure to Glacier National Park's wildlife managment policies. This internship opportunity will be posted for the 2021 summer season through Pathways on USAJobs.gov. For more information please email jason_griswold@nps.gov or visit the Glacier National Park Volunteer Associates.
Last updated: May 1, 2020