Internships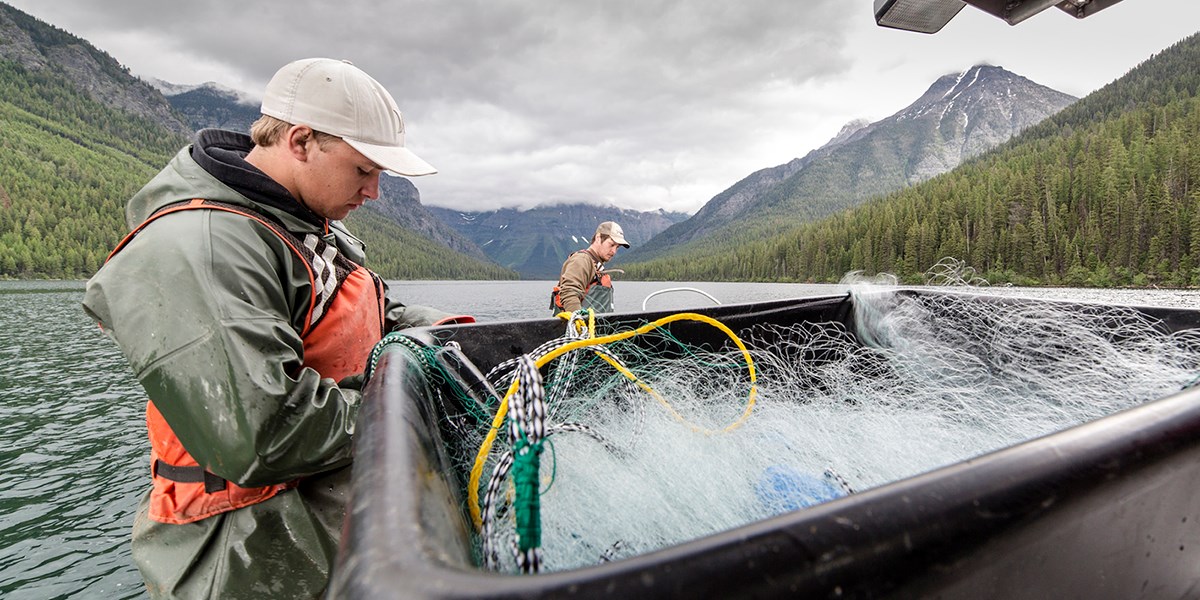 Internship Opportunities in Glacier National Park
2023 Community Volunteer Ambassador
Glacier National Park's Community Volunteer Ambassador (CVA) position is administrated by Conservation Legacy's Stewards Individual Placements program. The CVA program combines the strength of a national leader in conservation service with the National Park Service in order to train a diverse group of emerging leaders to assist park units in building lasting connections to local communities. These year-long AmeriCorps members will be placed at NPS sites nationwide and will organize, lead, and participate in community and volunteer activities and events. This unique CVA position here at Glacier National Park will start on February 6th and will engage students from across the country with park resources while working with the park's education staff, as well as helping to manage all facets of Glacier National Park's volunteer program. As a part of the next generation of conservation leaders, the CVA will gain new skills and experience through year-round training and professional development opportunities, enabling them to build a portfolio of professional skills and develop a community of support. For more information found on the Conservation Legacy website, including detailed information about Glacier's 2023 CVA position, and an application to apply, please go here, or reach out to the volunteer office at glac_volunteer_program@nps.gov. Position applications close December 9. Applications will be reviewed on a rolling basis, so applying as early as possible is encouraged.
Interpretive Internships
Park Interpreters are the public face of Glacier National Park. Interns in the Division of Interpretation are responsible for researching, preparing and presenting programs like guided walks and hikes, interpretive talks, boat tours, and illustrated programs on the park's interpretive themes (wildlife, geology, ecology, human history, climate change, etc). These programs are given in a diversity of park locations including campgrounds, trails, visitor centers, historic boats, and historic park hotels. Interns staff visitor centers and provide information and informal interpretation to visitors during fixed station and roving assignments. For more details, please view the Interpretation Internships page.

Research Learning Center Internships
The Crown of the Continent Research Learning Center (CCRLC) does not offer internships on a regular basis, but does work with other park divisions and park partners to provide some opportunities during certain years. In the past, the Research Learning Center has had interns working on sustainability issues, citizen science, and science communication. These positions are typically unpaid, but at times paid internships do occur. In addition, housing is often provided free of charge. When available, internships will be posted on this page. You can also find out about internships and paid positions on the CCRLC's Work With Us page. For more information, e-mail us. We will respond with any new information and put you on a mailing list to receive updates.

Park Ranger Intern Program
Glacier National Park will be looking to hire two Park Ranger Interns, one for the winter season (January-April), and one for the summer season (May-August). These positions offer a chance to learn about preserving wilderness character, protecting park resources, and promoting visitor safety in Glacier's recommended wilderness and backcountry. The Park Ranger interns work with wilderness and field rangers to contact and educate the public, monitor resource impacts, maintain wilderness campsites, and assist with emergency operations such as Search and Rescue and Emergency Medical Services. These positions also assist park staff with wildlife management. These internship opportunities will be posted for the upcoming season through Pathways on USAJobs.gov. For more information please visit our Wilderness Intern page and the Glacier National Park Volunteer Associates.
Last updated: November 4, 2022