Teacher-Ranger-Teacher Journal 2010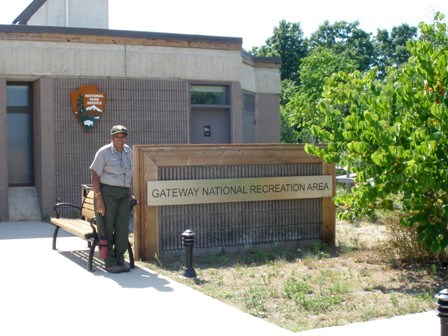 Nena Shaheed, science teacher from Pacific High School in Brooklyn, will be donning a park ranger Stetson hat instead of her lab coat this summer season. She participates in the Teacher-Ranger-Teacher program at Gateway NRA's Jamaica Bay Wildlife Refuge.
Who is Nena Shaheed?
I have been working at Pacific High School for the last six years, prior to that I worked at Rikers Island Academy for seven years.
I teach a variety of science courses, forensic science, earth science, and horticulture, to 10th-12th grade students. I look forward to sharing my experiences and adventures with my students. Many of the students have never left the borough of Brooklyn, let alone visited a national park. I think offering the students outdoor educational opportunities would expand their world and allow them to see things in a different view.
This is my second year in the Teacher-Ranger-Teacher program. Last year I worked at Acadia National Park. Gateway National Recreation Area and Acadia National park are very similar in the fact that they are located along the eastern seaboard of the United States and protect a mosaic of freshwater, estuarine, and marine resources.
This program has taught me about plants, wildlife and their natural habitats and what we can all do to protect their survival. In a metropolitan area like New York City, it is amazing to see osprey, diamondback terrapin turtles and prickly pear cactus, within range of city streets and skyscrapers.
For more information about the TRT program visit www.nps.gov/learn/trt
Journal Entries:
June 27, 2010----Boating With the Osprey
July 3, 2010---Whose Training Camp?
July 9, 2010---Getting to Know the Terrapins
July 20, 2010---Who Lives Here?
July 22, 2010---Lowering the Water
July 26, 2010---Mr. Secretary Visits Nature
July 26, 2010---Summer Camp Nature Walk
August 5, 2010---Trimming the Trail
Last updated: February 26, 2015