Who Lives Here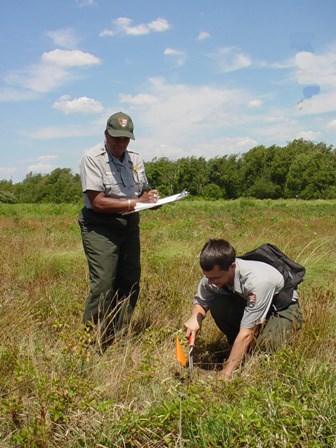 On Tuesday, July 20, 2010, I started my day with Rob, NPS Biotech, and Nick, Youth Conservation Corps volunteer, to identify insect species and population, part of Rob's insect research project. We traveled to the research area located in the grasslands of Floyd Bennett Field, where a variety of grasses, sedges, and other low growing vegetation can be found.
Rob plotted the site by mapping out experimental spots for insect collection. The collection methods included cup collection, swipe net, and leaf litter. The cup collection covered the largest area with three rows and 30 cups; the swipe net area has two rows and 20 stops; and the leaf litter has only one row and ten areas. His plan is to take 10 collections from each spot and record and analyze the data. He uses GPS at all spots to record locations.
When talking to Rob, he was very knowledgeable on insects. For example, on my first outing with him, I saw a beautiful green reddish metallic beetle. I showed it to him and he immediately collected and identified it. I was very impressed with his response and was eager to learn more on the leaf-eating beetle. It was a Dogbane Beetle (Chrysochus auratus), which is a species of 2000 leaf beetles that are found worldwide.
I was out with Rob on two occasions and enjoyed both experiences. In my opinion, I think this is a good research project because we need and should know the organisms that coexist with us in our natural environment. Good luck with your research Rob.
Last updated: February 26, 2015