Mr. Secretary Visits Nature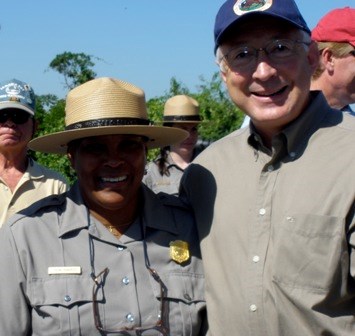 I woke up early to get to Jamaica Bay Wildlife Refuge to meet Kenneth "Ken" Lee Salazar, United States Secretary of the Interior. The purpose for his visit was two-fold: the health and restoration of Jamaica Bay and youth involvement in the national parks.
Once he arrived at the refuge, he was greeted by politicians, civic leaders, friends, and the media. He was invited to walk along the West Pond trail to observe the flora and to see youth working with NPS in the outdoors. Along the trail there were two youth groups working. The Youth Intern Program (YIP) and Youth Conservation Corps (YCC) pulled, cut, and yanked out invasive plant species.
The Secretary stopped and spoke with each young person in the field. He was personable and he listened to what they had to say. One question from the Secretary to the young people was, "How can we get more youth involved with the NPS?" One person among them responded that it should be taught in the classroom at school. The Gateway NRA Acting Superintendent Linda Canzanelli and NPS Deputy Director Dan Wenk let everyone know that there was a teacher in the midst. I explained what the Teacher-Ranger-Teacher Program was about. Also, I was planning to use the refuge for educational purposes every chance I could get. Mr. Secretary's visit at the refuge ended when he returned to the Visitor Center and left for a boat tour of Jamaica Bay.
I found Mr. Salazar friendly. I think his visit was very important for the YCC and YIC youth interns that met him and for Jamaica Bay. It is always impressive to see an official, such as the secretary take time to show concern about the youth today.
Last updated: February 26, 2015