Boating With the Osprey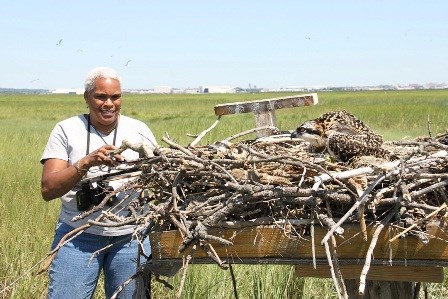 On June 27, 2010, I was asked to go on a boat tour, which was led by the American Littoral Society (ALS), with several people to observe and monitor osprey nests in Jamaica Bay. Of course, I was honored. Don Riepe (ALS Director), Carol (NPS Interpreter), Dandelion (NPS Interpreter), Lisa, and myself were preparing to travel by water on the ALS owned boat. We made several stops, walked through cord grass (Spartina alterniflora), and climbed a stepladder to get the best view of the osprey young without interfering with their immediate surroundings.
The first location we stopped at was Big Egg Marsh. As we arrived at the nest, we observed three barely feathered, young chicks. Two were alive and one had not made it. The second location was a stop at JoCo Marsh that became a rescue operation. We found two fledglings, however one of the young was entangled with fishing line. The nylon line was wrapped around the bird's neck and both legs. Don and Carol began the rescue; Don held the bird while Carol cut the nylon fishing cord with a knife. Once the fledgling was free, it was placed back in the nest. The third location was also on JoCo Marsh. At this stop we observed one live chick, which was also barely feathered. The fourth and fifth locations were suspended nests in the waterways. The final location was near Canarsie Pol. There were two live fledglings in this nest. At stops four and five, Don used the stepladder to observe and monitor the young. Meanwhile, I recorded observations and locations of all stops.
As I was researching the Jamaica Bay Wildlife Refuge, I came across an article about osprey and Jamaica Bay on the National Parks of New York Harbor website. The article stated, "One of Jamaica Bay's biggest success stories is that of the osprey. On the verge of extinction in the 1970s due to DDT pollution, the osprey population has been increasing, thanks to the efforts of the National Park Service and other agencies that work in the bay. Visitors can often spot these birds at their nests, on one of the specially built platforms in the refuge." These platform nests were the ones I visited. While observing the young chicks and fledglings, the adult osprey hovered in circles over their nests as protective parents do. By observing nine (9) living Osprey offspring and one non-survivor at five sites out of approximately fourteen nests, I thought this was very good. I was informed that there are twelve (12) active nests and twenty-five (25) living offspring. This is a very successful program.
Last updated: February 26, 2015