Trimming the Trails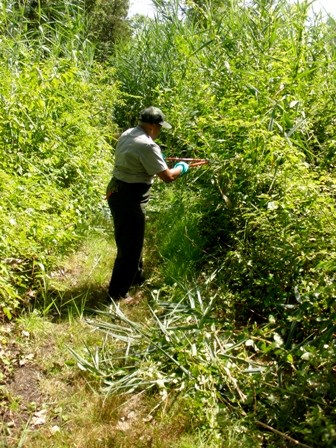 Yesterday, I was walking to the south trail of the East Pond of Jamaica Bay Wildlife Refuge to take some photographs of the waterfowl and shorebirds. As I arrived in the area, I found a large tree had fallen overnight and blocked the entrance of the trail. Ranger Doug and myself went to work to clear the trail. Doug had a chainsaw and cut the tree in pieces. I took the pieces and threw them on either side of the path until the trail was clear and passable.
Phragmites and other invasive species grow rapidly and cause many of the problems when it comes to trail cutting. Since I have been at the refuge, I have cut trails with rangers, YIP interns, and YCC volunteers. At the end of the day, the trails have to be clear enough for the visitors to move freely without getting injured.
Cutting and maintain trails is a big, important part of a park's upkeep and someone has to do it. I don't mind cutting the vegetation down and clearing the trails, because I am using the park too.
Last updated: February 26, 2015