Where Am I?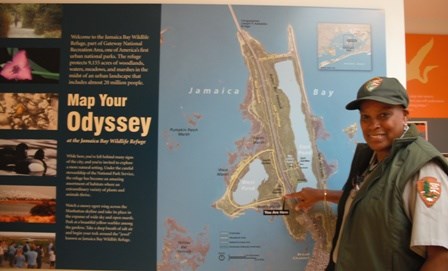 As a science teacher in New York City, I am very impressed with the National Park Service's Teacher–Ranger–Teacher Program (TRT). My name is Nena and this is my second year working in the program. Last summer, I had the pleasure of being a TRT at Acadia National Park in Maine and this year I am working at Gateway National Recreation Area. Gateway National Recreation Area consists of three units: Sandy Hook Unit, NJ; Staten Island Unit, NYC; and Jamaica Bay Unit, NYC. While these units cover two states and three boroughs in New York City, one can enjoy a rich history of forts, beaches, recreational environments, and natural habitats.
I have been assigned to work at the Jamaica Bay Wildlife Refuge, Jamaica Bay Unit. Jamaica Bay Wildlife Refuge is well known to birdwatchers, because it is considered to be one of the main east coast stopovers for migratory birds. As I traveled from the Bronx, through Manhattan and Brooklyn, and onto Queens, I finally arrived at the wildlife refuge. I could not believe that a tidal wetlands of this nature existed within an urban setting of New York City. Somehow, I can understand how the birds feel once they arrive at the wildlife refuge because I felt the same way also.
Jamaica Bay Wildlife Refuge is 9,155 acres of natural habitat, where the diverse flora and fauna move and grow freely without any or little influence by humans. Wildlife move at their own pace and do what they do naturally in habitats such as salt marshes, fresh and brackish water ponds, fields, and upland woods, as well as open bays. At any given time, one could see dozens of birds flying or walking with ease, and at will. Yes, Jamaica Bay Wildlife Refuge is a safe haven for all native and migratory animals, and I am appreciating it too.
Last updated: February 26, 2015