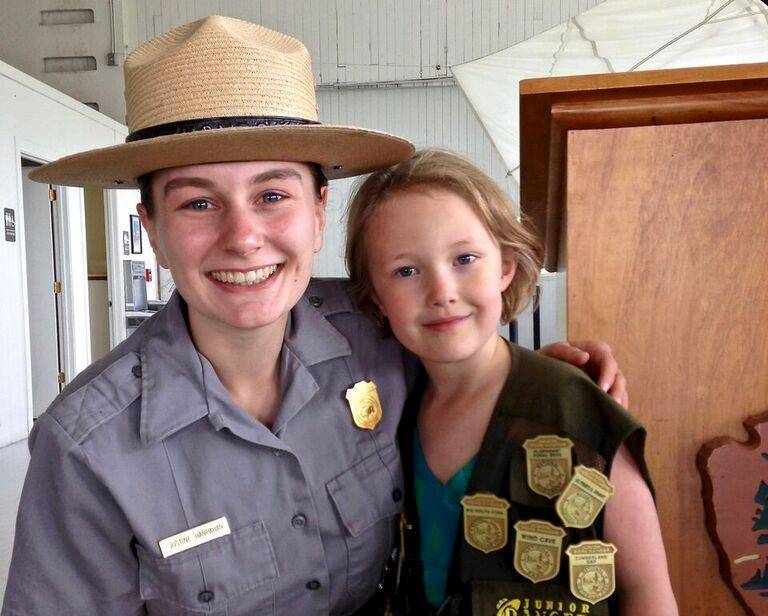 News Release Date:
April 6, 2018
Contact: Bob Cromwell, Chief of Interpretation, (360) 816-6253
Join us at Fort Vancouver National Historic Site on Saturday, April 14, 2018 from 10 am to 3 pm as we celebrate Junior Ranger Day. This event will be based at the Visitor Center, and is free to the public. 
Fort Vancouver National Historic Site invites hundreds of children each year to become Junior Rangers at this family-friendly event. Junior Rangers pledge to explore national parks, learn about our nation's land and heritage, and protect the valuable resources of the National Park Service. Through a variety of children's activities and programs at this event, youth learn about national parks and the people who protect them. The Junior Ranger motto - "Explore, Learn, and Protect" - encourages youth to become engaged with the values of the National Park Service and involved in preserving the special places of the National Park System.
This year's Junior Ranger Day event will be centered at the national park's Visitor Center, where youth ages 6 to 12 can complete three activities to earn a Junior Ranger patch and sticker. Children can make their own mask, inspired by
a current exhibit of masks
on display at the Visitor Center and their own favorite story book characters, share stories of their ancestors, and find their favorite artifact at the national park. Kids can also complete a Junior Ranger activity booklet at either Fort Vancouver or Pearson Air Museum.
The Junior Ranger program is designed for children ages 6 to 12, but younger children can complete it with help. Older kids and adults are welcome to participate as well.
What
: Junior Ranger Day at Fort Vancouver National Historic Site
Where
: The Fort Vancouver Visitor Center, 1501 East Evergreen Blvd., Vancouver, WA 98661
When
: Saturday, April 14, 2018, 10 am to 3 pm.
Cost: 
Free