News Release
Annual "Bark Ranger" Program at Fort Vancouver National Historic Site Highlights the History of Dogs and Safety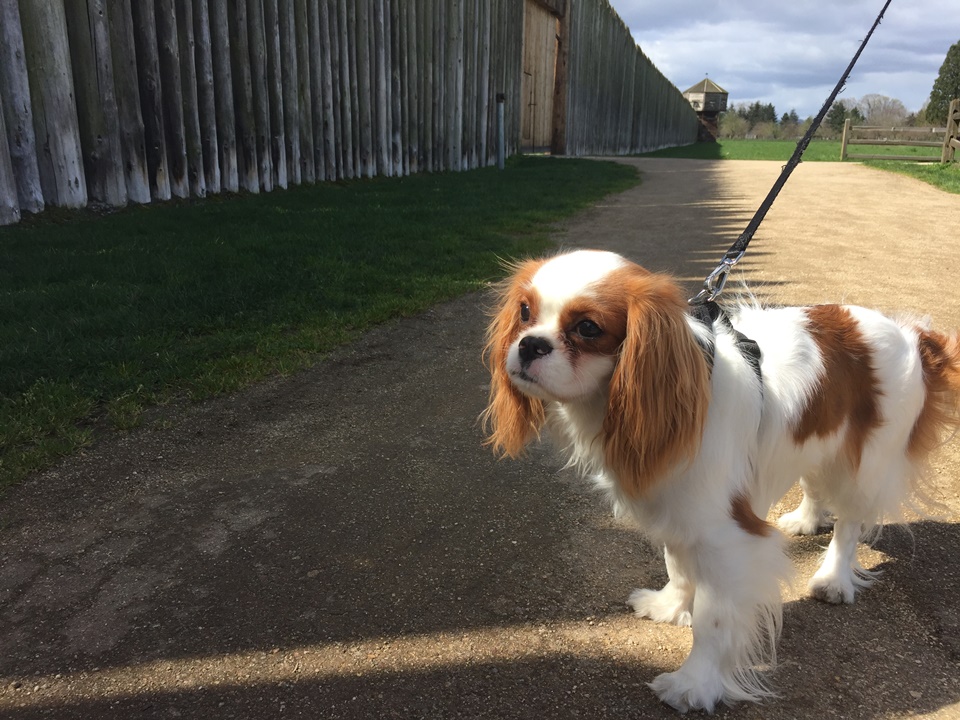 News Release Date:
May 16, 2018
Contact: Bob Cromwell, Chief of Interpretation, (360) 816-6253
This summer, a series of four walking tours will invite visitors and their dogs to explore Fort Vancouver National Historic Site. These ranger-led "Bark Ranger" tours will discuss the history of dogs at Fort Vancouver and Vancouver Barracks, as well as the overall history of the site. The tours will also highlight how to explore the national park safely with pet dogs.
Bark Ranger walking tours will begin at 10 am near the parking lot adjacent to the reconstructed Fort Vancouver. Each tour will take a different route through the park, allowing visitors to participate in multiple tours, learning new information on each visit. See below for a full list and descriptions.
"Fort Vancouver National Historic Site is a great place to socialize your best friend with other dogs," said Park Ranger Scott Irvine. "Bark Ranger tours are also a great way to learn about the fascinating history of the Pacific Northwest. We hope these tours will provide a great opportunity for dogs and their owners to visit the park."
Schedule and tour themes:
May 26 2018: The Village
Discover the history of the Hudson's Bay Company's vibrant employee village, where workers from Fort Vancouver lived.

June 23, 2018: Spruce Mill Trail
2018 marks the 100th anniversary of the end of World War I. Explore Vancouver's unique role as a wartime home front on one of our most popular walking trails.

July 28, 2018: Barracks Walk
Learn about the past, present, and future of the East Vancouver Barracks and Parade Ground.

August 25, 2018: Visitor Center Walk
Discover the diverse history of the national park, from the US Army's Vancouver Arsenal, to the story of Japanese castaways at Fort Vancouver, to the site's maritime history.
Where: 
All tours will meet outside of the national park's reconstructed Fort Vancouver parking lot (1001 East 5th Street, Vancouver, WA 98661).
When: 
All tours will begin at 10 am. Visitors are invited to arrive up to 30 minutes in advance to allow their pet dogs a chance to acclimate to the presence of other dogs.
Cost: 
Free
Participants should bring:
 Participants are not required to bring their dog, but dogs are welcome on this tour. Dogs on the tour should be friendly with other dogs and people, up-to-date on vaccines and licensed. Participants with dogs must bring waste bags, food and water as necessary, and a leash no longer than 6 feet. Learn more about regulations and policies regarding pet dogs at Fort Vancouver National Historic Site
here
.
In case of inclement weather, these tours may be rescheduled. Please check
www.nps.gov/fova
, or the park's
Facebook
or
Twitter
pages for updates.
Last updated: May 16, 2018