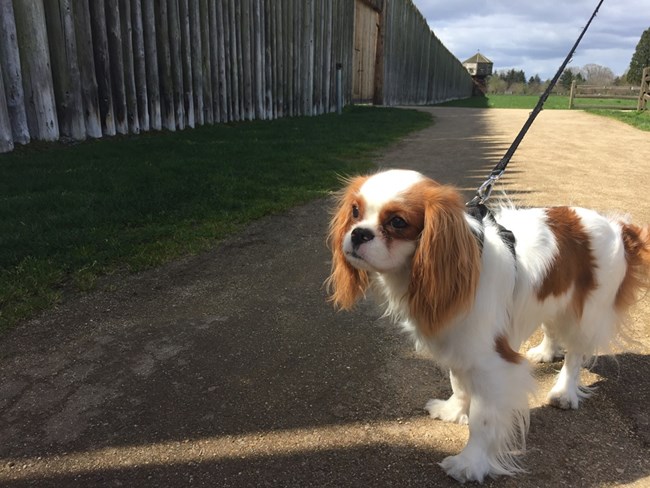 Fort Vancouver National Historic Site is a great place to bring your dog! To make sure that everyone at the national park has a great experience, it's important to follow the rules with your pup.
When you visit the national park with your dog, remember to
BARK
!
Bag your pet's poop. Help keep your national park clean by collecting and disposing of all dog waste. Public garbage cans are located throughout the park, including at the reconstructed fort, Visitor Center, and Pearson Air Museum.
Always keep your pet on a leash. For the safety and comfort of all the park's visitors, dogs must be restrained on a leash no longer than 6 feet. We know that sometimes Fido likes to run free, but keeping dogs on leashes will also protect them from joggers, bicyclists, and other dogs. For a list of Clark County dog parks, including off-leash dog parks, click here.
Respect wildlife. Though we are an urban park, Fort Vancouver can be home to migrating birds, rabbits, and other wildlife. Pets can harass or harm wildlife by making noise or scaring wildlife away. Please keep your dog at a respectful distance from any animals you may encounter.
Know where you can go. Pets are not allowed inside park facilities, including the reconstructed Fort Vancouver, the Visitor Center, and Pearson Air Museum. However, the national park is home to many great, paved trails that dogs (and their humans) love! For a map of trails at the park, click here. Pets are also welcome on the Great Meadow, which is a wonderful spot for a picnic or a family gathering!
Additionally, pets should not be left unattended
. Summer heat poses a threat to pets left in vehicles.
Certified guide animals
are an exception to these rules and may accompany their owner to all park locations.

2019 Bark Ranger Walking Tours
Explore local history and learn about dog etiquette at the national park on this free, ranger-led walking tour series designed for visitors and their dogs.
All tours start at 10 am and last approximately 30-45 minutes.
Stay tuned! 2019 tour dates will be announced later this spring.
Participants should bring
: Participants are not required to bring their dog, but dogs are welcome on this tour. Dogs on the tour should be friendly other dogs and people, and up-to-date on vaccines. Participants with dogs must bring waste bags, food and water as necessary, and a leash no longer than 6 feet.
Participants are invited to arrive up to a half hour early to allow their dogs to acclimate to the presence of other dogs, and to chat with this month's dog-related vendors.