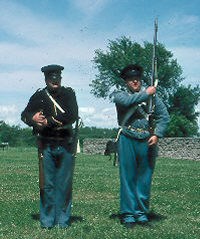 Two different kinds of soldiers were stationed at Fort Scott in the 1840s: dragoons and infantry. The infantry were the foot soldiers, while the dragoons were trained to fight both on horseback and on foot. Each of them were provided with the arms and equipment necessary to fulfill their mission on the frontier.
The dragoons were provided with carbines (later musketoons), pistols, and sabers. The saber was their weapon of choice from horseback. It was much easier to use than the carbine and did not have to be reloaded each time. Dragoons could also hold the saber with one hand while holding their horses' reins with the other. The disadvantage of the saber was that it could only be used at close range. Therefore, the preferred method of fighting for the dragoons was to ride into battle and then to dismount and use their side-arms, carbines or musketoons.
The dragoons stationed at Fort Scott carried their weapons with them during their journeys along the overland trails. From 1843-45, First Dragoons Company A from Fort Scott joined other dragoon companies from Fort Leavenworth as they patrolled the Santa Fe and the Oregon Trails. In 1846, Company A left Fort Scott to participate in the Mexican American War. At the Battle of Buena Vista, they used their weapons to help General Zachary Taylor gain a victory over the Mexican Army, which outnumbered Taylor's men two to one. First Dragoons, Company C, which had served at Fort Scott from 1842-43, also saw action during the war, in New Mexico and California. Soon after their arrival in California, the dragoons became involved in a vicious saber duel with Mexican lancers at the Battle of San Pasqual, near San Diego. Many dragoons, including Captain Benjamin Moore, the fort's first commander, lost their lives in this battle.