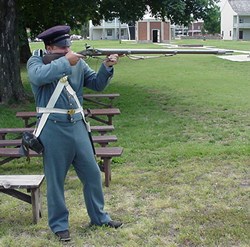 Program Title: Ready. Aim. Fire.
Type of Program: Education Program
Venue: Firing Range
Audience: Elementary Students
Tangible Resources: Weapon, Blackpowder, Accoutrements, Rounds
Intangible Concepts:
Enforcement - The army's mission at Fort Scott was to protect the Permanent Indian Frontier. Armed with the weapons appropriate to their branch of service, soldiers had some success keeping white settlers and American Indians separated, thus enforcing promises made to the Indians.
Deterrent - The mere existence of the military in this area may have helped keep the peace. Well armed soldiers both at Fort Scott and on campaign may have been enough to prevent violence in numerous encounters between the soldiers and those they confronted (e.g. Texans, American Indians).
Efficiency - In order to become efficient in the use of their weapons, soldiers had to drill on a constant basis. Following established procedures, they became proficient in handling and firing their weapons. A well trained soldier could load and fire three rounds a minute.
Safety - As important as efficiency was the safe handling of weapons. Unsafe practices could lead to injury and death of the soldier firing the weapon and those around him.
Universal Concept:
Protection - Ultimately, the soldiers' job was one of protection, namely to protect people on the frontier and American interests. While trained to fight, the hope was that by being well prepared, they could keep the peace without fighting.
Theme:
The weapons or small arms of the 1840s army assisted the soldiers at Fort Scott in their role as peacekeepers on the frontier.
Goals:
To show how the weapons worked.
To identify instances where the soldiers used their weapons to fulfill the mission of the United States Army on the frontier.
Objectives: After participating in this program, the students will be able to:
Name the weapons carried by the dragoons and the infantry.
Explain why it was important to follow each step when firing small arms.
Identify three ways that soldiers at Fort Scott used their weapons in the 1840s, (to keep the peace, to patrol the overland trails, to fight in the Mexican-American War).
Suggested Activity:
Distribute wooden guns to the students and take them through a weapons drill.
Resource Protection/Safety Concerns:
Only trained personnel will fire the weapon.
Follow all weapons safety protocol during station. Never point a weapon at anyone, even one that is not loaded.
Caution students in handling of the wooden guns.
Students should stand back during firing demonstrations.