Frequently Asked Questions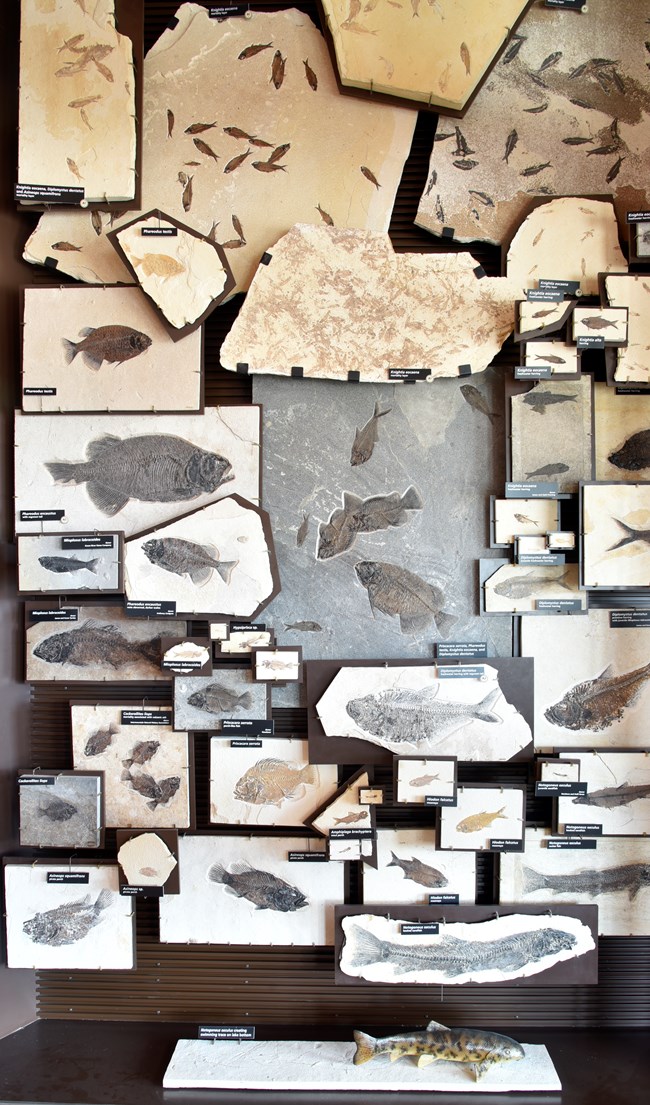 Are the fossils from here?
They are all from this area. Fossil Lake was 1600 sq. mi. and crossed over into current Utah and Idaho. Fossil Butte National Monument is 13 sq. mi., so it is less than 1% the total size of Fossil Lake.

Can I dig and keep fossils from the national monument?
No. All fossils in the national monument are protected.
What happens to the fossils found in the monument?
Fossils found in the monument are documented, cataloged, stored, and used in scientific study or displayed for the public to enjoy.
Is there any place I can go and dig my own fossils?
Some commercial fossil quarries located on state and private land outside of the national monument allow visitors to dig for a fee. Visit the Fossil Basin website for information.
Where can I see fossils?
Prepared fossils can be seen in the visitor center and museum. Fossil bearing layers (fossils appear as dark thin lines) are visible at the historic fossil quarry on the Historic Quarry Trail. Attend the summer quarry program and you may see a fossil revealed.

How old are the fossils?
The fossils are 52 million years old.

Where is the monument?
The park is the monument. The National Park Service uses many designations for its units. National monuments generally protect one resource, think fossils at Fossil Butte NM, whereas national parks protect a wide variety of resources, think geysers, bison, forests, lakes, and more at Yellowstone NP. National monuments are also generally declared by a President whereas national parks are declared by an act of Congress. Fossil Butte is one of the few monuments, however, that was declared by an act of Congress.

What is a butte?
A butte is an isolated, flat-topped hill with steep sides. Fossil Butte is not a true butte. It appears to be a butte from the park road and behind the visitor center, but it is actually a ridge. The ridge above the Historic Quarry Trail is part of Fossil Butte.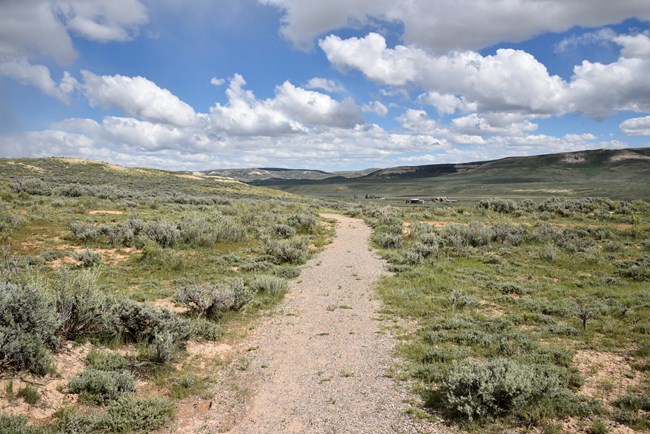 Can my dog go hiking with me?
Dogs are allowed on the Historic Quarry Trail and Nature Trail. They must be on a 6 ft or less leash and under control at all times. Pick up after them and dispose of the poop bags in trash cans.
Should I worry about rattlesnakes while hiking?
Rattlesnakes are not found in the monument. The sagebrush steppe landscape appears ideal habitat for rattlesnakes and more research needs to be done as to why rattlesnakes don't live here as they live in similar environments at similar altitudes elsewhere.
What about ticks?
Wood ticks are bothersome in the spring and summer months and can transmit Rocky Mountain Spotted Tick Fever. There are about 2 cases reported in Wyoming per year. There have been no cases of Lymes disease in southwestern Wyoming.
Is camping allowed in the monument?
No, but camping is allowed on adjacent BLM land; ask for a map at the visitor center. Camping is also available in nearby communities.


How far away are you from...?
Golden Spike National Historical Park: 130 miles / 2 hours 30 minutes
Timpanogos Cave National Monument: 174 miles / 2 hours 50 minutes (reservations required for cave tours)
Dinosaur National Monument Quarry Visitor Center: 213 miles / 3 hours 45 minutes
Grand Teton National Park South Entrance: 168 miles / 3 hours
Yellowstone National Park South Entrance: 212 miles / 4 hours

Salt Lake City Airport: 148 miles / 2 hours 20 minutes
Jackson, WY: 155 miles / 2 hours 46 minutes
West Yellowstone, MT: 271 miles / 4 hours 45 minutes
Cheyenne, WY: 353 miles / 5 hours 15 minutes
Collecting fossils or other natural or cultural items is prohibited by federal law 36 CFR 2.1.


Last updated: October 26, 2023