Basic Information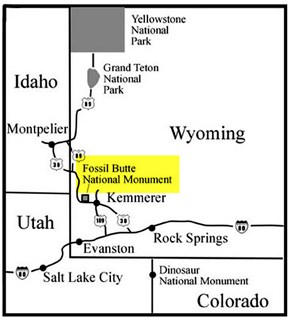 Welcome to Fossil Butte National Monument.
Every season brings something new to learn, explore and experience. The park is located in southwest Wyoming near the town of Kemmerer.
Make the most of your visit: plan ahead. Cell phone coverage is "spotty."
We welcome visitors year-round. Be sure to check park operating hours as they vary with the season.
Fossil Butte National Monument experiences a temperate climate. Summer: Warm days (70–90 degrees F) and moderate evenings (30–50 degrees F) are the norm for summer months.
Visitor safety is a high priority. When hiking, wear sturdy, comfortable hiking shoes, carry plenty of water and protect yourself from the sun and insects. Avoid hiking during thunderstorms. No need to worry about rattlesnakes, they do not live here. Do not approach or feed wildlife.

Places to stay and eat, as well as other services, may be found in nearby communities.

Pets are welcome in Fossil Butte National Monument parking areas and on trails but must be under physical restraint at all times.
Last updated: December 28, 2020